KILFLYNN DRAMA GROUP
In association with Kilflynn Community Together presented a Sam Cree's hilarious play "Don't Tell The Wife"   on Wednesday 1st, Saturday 4th and Sunday 5th March to full house each night in St Columbas Centre, Kilflynn
Due to popular demand, extra nights have been added on Friday 10th and 11th March. Set in the 1960s, the play centres around a plumber and his wife, a plumber's apprentice, and a neighbour for whom gossip seems to be a God-given right to part with. Doors open 7.30p.m Curtain 8.00p.m nightly. Bookings Maureen 087 9893847 before 6.00p.m and Mike 066 7135129 after 6.00p.m Bookings is essential as space is limited.
KILFLYNN ST. PATRICK'S DAY PARADE
Countdown to St Patrick's Day 2023 has started with plans well underway to celebrate this year's festival.
The call now goes out to clubs and community groups to get involved in this year's St Patrick's Day parade in Kilflynn.
Hundreds of people from dozens of organisations have taken part every year, showing the amazing community spirit in the village, and bringing much colour and entertainment to proceedings. Let this year be amazing.
Kilflynn Community Together are organising this year's St Patrick's Day Parade and are hoping to see all community groups taking part. Interested groups can contact Niamh on 0863144157 to book their place.
This year's parade will get underway at 4:00pm sharp on March 17th. It will be a wonderful gathering of the Kilflynn and surrounding communities.
The name of the Grand Marshall, the person who will lead the 2023 Kilflynn parade, will be announced nearer the day. Follow our FB page for more updates
PARKER'S PUB & VENUE
Entertainment St. Patrick's Weekend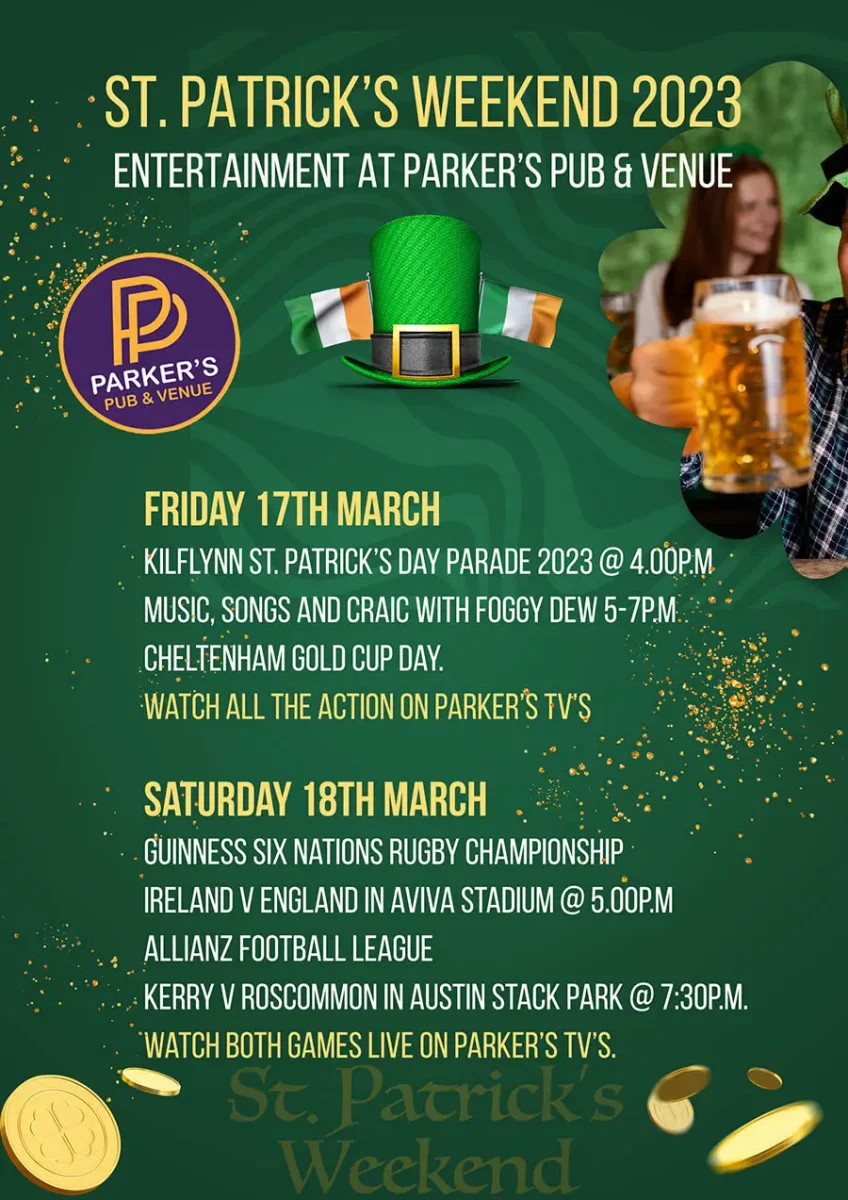 THE REBEL MUSIC QUEEN COMES TO THE KINGDOM
Eimear Glackin, also known as Eimhear Rebel, is set to perform in Parker's Pub and Venue, Kilflynn on Sunday 16th April 2023 at 6.30p.m. This is Eimhear and her band's first appearance in the Kingdom.
With a growing fan base Eimhéar Ní Ghlacaín, has become one of the most popular artists on the Irish rebel scene. Her passionate and heartfelt renditions of our favourite ballads have earned her the title "Queen of Irish Rebel ", as she continues to draw crowds and sell out concerts across the globe. Tickets for the event are available on Eventbrite.ie at only 10 euro plus booking fee.
CROTTA SENIOR HURLERS
The Crotta Senior hurlers commence their 2023 season with a trip to Ardfert on Sunday 5th March to play
St. Brendan's in the first round of the County Senior hurling league div 1, and game finished level on a score of 1-13 apiece.
The visitors led by 1-09 to 0-05 at the interval break. Crotta are home to Causeway in round 2 of the county league on Sunday 12th March at 2.00p.m.
Best of luck to the Senior hurlers and their management for the 2023 season.
ABBEYDORNEY/KILFLYNN ACTIVE RETIRED
Meeting this Wednesday 8th March from 10.30 a.m. to 1.30pm in the Abbeydorney Parish Community Hall where a meal will be served. Any enquiries, please contact 066 7135831.
KILFLYNN CITY RUNNING GROUP
The Kilflynn City Club Stacks Mountain half in aid of the amazing charity of  Bru Columbanus on  Saturday 1st April 2023 A stunning half marathon and 10k that starts and finishes in Kilflynn village taking in all that Kilflynn has to offer from stunning views to hidden trails and pathways
Sign up now at https://kilflynncityrun.net
ST. MARY'S CHURCH, KILFLYNN
Mass Intention for the week in St. Mary's Church:
On Wednesday 8th March at 10.00a.m
On Friday 10th March at 10.00a.m and Saturday 11th March at 6.00 p.m. Edmund Hannon, Gortclohy Elizabeth Hannafin, Leith Joan Shine & Francis Cashell and deceased members of the Cashell Family, Clounafineela, Kilflynn. Blessed Candles available from the Parish Office €7 per pack of 6. Stations Of the Cross for Lent: Monday at 8.00 p.m. in Kilflynn and Tuesday & Thursday in Abbeydorney at 7.00 p.m. Parishioners have volunteered to lead the Stations
Parish Office can be contacted by phone 066 4018996 Tuesday, Thursday & Friday 10.00 a.m. to 1.00 p.m. or by email: abbeydorney@dioceseofkerry.ie
Masses from St. Bernard's Church, Abbeydorney are streamed live on www.dioceseofkerry.ie, on Sunday at 10 a.m. Go to Abbeydorney Parish and click on watch live Mass. Webcam has been installed in Kilflynn Church – To watch Masses go to www.dioceseofkerry.ie – Abbeydorney Parish and click on 'watch Mass'. Diocesan
KERRY SENIOR HURLERS
The Kerry senior hurlers travel to Kildare on Satu 11th March to play the home side at St. Conleth's Park, Newbridge in the Allianz National League Div 2A Round 4 at 2.00p.m best wishes to the Kerry players and their management.
CROTTA LOTTO RESULTS
The Crotta hurling club weekly lotto draw was held on Monday 6th March at Parker's Pub, Kilflynn.
The next draw will take place in Herbert's Bar, Kilflynn. on Monday 13th March at 10.30p.m with a €3,200 Jackpot.
Tickets available 3 for €5 online visit www.crottagaa.club or this link https://play.clubforce.com/play_newa.asp?ll_id=427#Anchor or Herbert's Bar/Village Store, Parker's Pub, Zam Zam Kabab, Foley Shop Lixnaw, Abbeydorney Post Office or from Club ticket sellers. Many thanks to all who contribute to our weekly Club Lotto. The Club cannot emphasise enough the importance of our members promoting the Club Lotto among family, friends, and work colleagues. Your continued support is greatly appreciated.
KERRY CAMOGIE
NATIONAL CAMOGIE LEAGUE DIVISION 2A
Kerry 1-11  Cavan 1-2
Kerry took another step towards a possible league semi-final with a convincing win over a newly promoted Cavan side who have yet to register a point in the campaign. In fairness, Cavan were missing their best player in the veteran Niamh Keenaghan, but Kerry lined out without Ashbourne cup winners Rachel McCarthy in defence and Jackie Horgan up front, as well as talented scorer Amy O'Sullivan. Half-time Kerry 0-6 Cavan 1-01. The Crotta Hurling club was well represented on the team by Aoife Behan (wing back).  Kerry travel to Derry next weekend having yet to taste defeat this year and with a chance of a League final still well within their grasp. Throw in is Best wishes to the Kerry players and their management.
KILFLYNN TODDLER GROUP
The Kilflynn toddler group meets up every Thursday mornings in St. Columbus Centre, Kilflynn at 10.00-11.30 am
ABBEYDORNEY/KILFLYNN ST. VINCENT DE PAUL
Confidential number 087 7086253. St. Vincent de Paul Society clothes can be donated locally at the Disposal Facility at Abbeydorney GAA Complex or the Railway Bar Car Park, Lixnaw. Your support is greatly appreciated.
ALONE
Alone are currently looking for befriending volunteers in your area. Visit www.alone.ie for more details and to sign up. If you have concerns about your own wellbeing or are an older person who would like to receive ALONE's Support & Befriending services, contact ALONE on 0818 222 024 from 8am – 8pm, seven days a week