OLD CEMETERY PRAYER EVENING
We have a remembrance evening for all those buried in the old cemetery in Kilflynn village on Wednesday 8th June, at 8. 00p.m joining us will be Fr. Denis O'Mahoney and Rev Jim Stevens.
Please join us to recall and honour the memory of our families and neighbours and all that have gone before us, and those that may no longer have people to remember them.
This gathering will give everybody the opportunity, if they wish, to contribute to the upkeep of the cemetery. looking forward to seeing you, and others who may be interested in joining our prayer evening. There will be light refreshments afterwards in St Columba's Centre. In the event of unsuitable weather conditions, the ceremony will be held indoors
THE HISTORY MAKERS
On Tuesday 24th May at the sportsfield, dromakee, Kilflynn, the school camogie team wrote their names into the history book of St. Teresa's National school.
Years from now, when this group of girls are scattered all over the world and someone asks them where they went to school, they can proudly say 'St. Teresa's NS Kilflynn and actually I was part of the school's FIRST EVER CAMOGIE TEAM to take part in the Cumann na mBunscol competition.
In their first match they came up against a spirited Glenderry Team. A fast-paced game that saw amazing goals from Caoimhe Nolan, Grace O'Donoghue, Emily O'Donoghue and Íde Hussey.
The Kilflynn back line of Sarah Breen, Keira O'Sullivan and new to the camogie scene Ashlyn Falvey kept our opponents scoreless with their work rate and commitment.
We saw a rotation of players and the introduction of Jennifer Casey, Orlaith Brennan, Sarah O'Driscoll, Ros and Bláthnaid Buckley showed us that the future of Kerry Camogie is looking bright.
Kilflynn came out victorious in this game and the girls were one step closer to qualifying!
In our 2nd match, Kilflynn met a fit and agile Killury National School. Again, the Kilflynn players dug deep and I think after this match the nets in Crotta may need to be replaced as we saw bullets from Caoimhe, Grace, Emily as well as points from Sarah Breen and Keira O'Sullivan.
The tough defensive work from Sarah O'D, Orlaith, Jennifer, Ros and Bláthnaid again ensured that our opponents had a battle on their hands when they attempted to score.
We celebrated another victory and this saw us qualifying for the next round of the competition!!
A huge thanks to Siobhan O'Donoghue for all her time, help and encouragement!
Cill Flainn Abú
CROTTA SENIOR HURLERS
The Crotta Senior hurlers booked their place in the Senior County League div1 final with a 0-18 to 0-11 victory over St Brendan's Ardfert on Sunday 29th May in the Semi-Final at sun drenched sportsfield, Dromakee, Kilflynn, Crotta will contest their first final since 2010 against Abbeydorney who defeated Causeway, in the other semi-final, also on Sunday in Causeway.
PARKER'S PUB
On June bank holiday:  Michael O'Brien and his band back again in Parker's beer garden on Saturday night 4th June at 9.30p.m followed by Disco.
Ronnie Ryan will be providing the Songs music and tunes on Sunday evening at 7.00p.m
SPLIT THE BUCKET
The winner of the Kilflynn Community Together "Split the Bucket" for the May draw on Saturday, 28th May in Herbert's Kilflynn was Fiona Healy, Lixnaw. Bucket total was €300 and the split was €150. Congratulations to Fiona. The winning ticket was sold in Zam Zam Kebab, Kilflynn. The lucky ticket was drawn out by Helen Kelly Fuller, Kilflynn.
The next draw takes place in Parker's Pub on Saturday 25th June.  We have buckets at various Businesses around Kilflynn
Parkers Pub,Herbert's Bar and Shop and Zam Zam Kebab.
The concept of the draw is simple, simply place your €2 into the envelope at the venue, write your name and phone on the envelope and you could possibly 'split the bucket!'
Thank you all for the great response and support. All funds will go to both current and future community projects. Your support is greatly appreciated.
The Legend of Luke Kelly
Celebrating the memory and music of a true Irish musical legend.
We are delighted to announce that the renowned Chris Kavanagh and the patriots will be celebrating the life, music and songs of Ireland's greatest balladeer and folk singer Luke Kelly in The Venue at Parker's Pub, Kilflynn on Saturday 16th July 2022.
All the greatest songs of Luke Kelly and The Dubliners are performed in the show with Chris Kavanagh and his superb band.
An overwhelming endorsement of authenticity are the huge number of followers and regular sell-out performances in Ireland's most prestigious venues such as Vicar Street, Cork Opera House & The National Opera House.
The show is regularly enjoyed and approved by Luke Kelly's family. Creator Chris Kavanagh recreates the best loved songs from Luke as well as his own compositions through a 90-minute show with Live band and multi-vision background throughout.
Dublin man & multi-instrumentalist Chris Kavanagh has been singing & playing music since he was three years old. His Grandmother instilled a love of folk music in him from this tender age, with bands such as The Dubliners & The Clancy Brothers played regularly in his childhood home.
Chris is well known for his passionate performances of folk singer Luke Kelly's songs with his successful show The Legend of Luke Kelly, but he is also an extremely skilled songwriter & composer. His 2011 album "Voice of the People" showcases his skills to perfection, & Chris's musical arrangements around the songs, coupled with his exceptional singing talents bring a long-awaited freshness to the folk music scene.
Ticket Options. Tickets going on sale on this Friday evening 3rd June at 6.00p.m at Parker's Pub at only 20 euro. Tickets are sold on a first come first served basis.
CROTTA UNDERAGE HURLING
The Sportsfield in Dromakee came alive on Sunday morning 22nd May to the sounds of children playing and enjoying their sport. Our Academy U5 & U7 were out training and putting in a great workout. Kerry GDA Gilles O'Grady was present to guide players and coaches alike with the U7's. Thanks a million Giles, a very informative session as always.
Focus then switched to our U9's who played host to Kildimo-Pallaskenry GAA Club. Both panels were broken up into 3 teams each. With each team playing each other, this meant all players were involved with loads of playing time for everybody. Thanks a million, to Kildimo-Pallaskenry GAA Club for traveling down, your players, mentors and supporters are a credit to your club. Thanks to Johnny Hannon, Con O'Donnell and Mike Lynch for all the amazing work in organising and coordinating the games. Thanks to our referees Fionn Hannon, Diarmuid O'Driscoll, Stephen Shanahan and Aidan Beirne. Finally, thanks to all parents for baking and making sambos. Thanks to all the parents in particular Marie Beirne, Brenda Hannon who ensured all players and supporters were well watered & fed on the day. Many hands working together. Sincere thanks once again to Kildimo-Pallaskenry GAA Club for traveling and safe journey home. Best of luck with the rest of your season. Looking forward to meeting ye again in the future.
Congratulations and well done to Crotta U13 Hurler Stephen Shanahan who captured the County skills title on Thursday 26th May. Stephen was representing Abbeydorney National School.
JOE McDONAGH CUP FINAL
For the third straight year the Kerry hurlers will contest the Joe McDonagh Cup Final, we wish the best of luck to the Kerry Senior Hurlers and their management, especially the Crotta players Sean Weir, Jordan Conway, James Sheehan and Cillian Trant in the Joe McDonagh Cup final against Antrim on Saturday 4th June at 4.30p.m in Croke Park. Safe journey to the Kerry Supporters to traveling to and from the game.
#wearekerry #ciarraíabú.
KILFLYNN FAIRY FESTIVAL
On the 25th and 26th of June, join us in Kilflynn for the most magical Kilflynn Enchanted Fairy Festival.…
Admission to this year's festival is strictly by pre booked tickets only which can be purchased online through Eventbrite.ie-
it's easy… just follow these simple steps:
1) In the search box of your phone or computer type in
www.eventbrite.ie (then hit search)
2) Click onto the eventbrite.ie site.
3) when site opens Click on the search box and type Kilflynn or Kilflynn fairy Festival
4) A picture of the Kilflynn Fairies will appear.
5) Tap on the picture and this will take you through to ticket sales for the weekend event .
6) Just follow the prompts on the page from here and make your purchase.
7) That's it ….. come along to this magical weekend….
Remember to buy your tickets early as demand is high and numbers are limited.
See our Facebook page for further information on the entertainment lined up for the weekend.
We look forward to seeing you on the 25th & 26th June
SENIOR HURLING CHAMPIONSHIP
The draw for the Garvey's SuperValu Senior Hurling Championship 2022 took place on Thursday evening 26th May in Garvey's Tralee, the Crotta Hurling Club was represented at the draw by Richard Nolan and Mike Parker. Crotta join Lixnaw and Ballyheigue in group 3.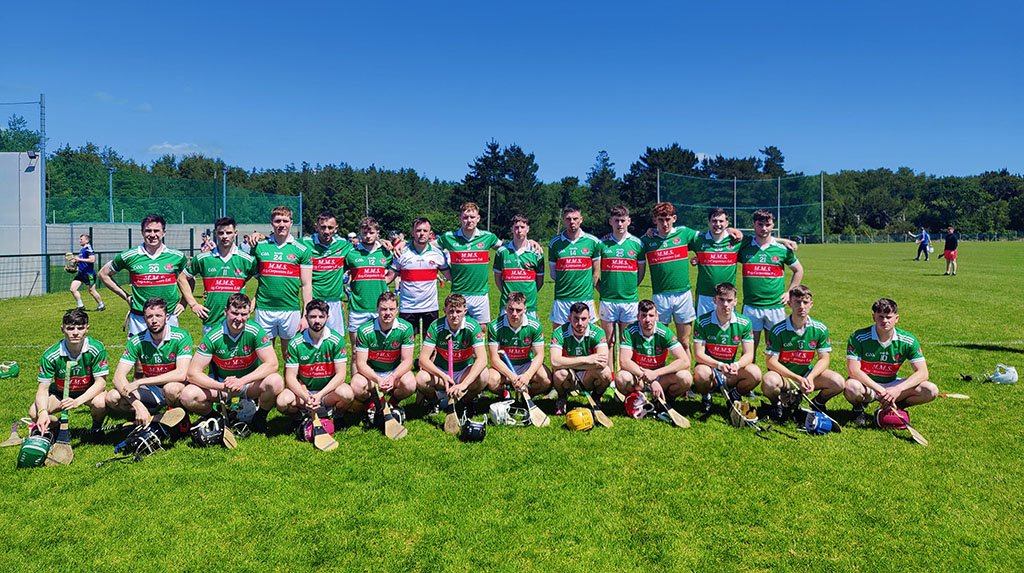 ABBEYDORNEY/KILFLYNN ST. VINCENT DE PAUL
Confidential number 087 7086253. St. Vincent de Paul Society clothes can be donated locally at the Disposal Facility at Abbeydorney GAA Complex or the Railway Bar Car Park, Lixnaw. Your support is greatly appreciated.
KERRY CAMOGIE
Dimplex All Ireland Intermediate Camogie Championship Rd 1
Kerry gets off to a winning start at the sportsfield, Lixnaw on Saturday 28th May on the score line of Kerry 2-15 Laois 1-13. Well done to the Kerry players and their mentors, especially the Crotta players Aoife Behan (mid field) 0-01, Amy O'Sullivan wing forward 0-03 and Jackie Horgan (Full forward) (1-8, 6f, 1'45),
Kerry games (with dates, times and venues later)
June 4th -Kerry v Carlow (A)
June 11th -Kerry Dublin (H)
June 18th -Kerry v Westmeath (H)
Two-week break
July 2nd -Kerry v Galway (A)
CROTTA LOTTO JACKPOT HITS 9,000
The Crotta hurling club weekly lotto draw was held on Monday 30th May at Parker's Pub, Kilflynn.
The Four numbers drawn out of the drum by the independent observer: Graham Harris, Clounsillagh, Lixnaw were 9,10, 24 and 30.
There was no winner of the 8,900 Jackpot. Congratulations to the following who won €35 in the lucky dip draw:
Raymond Nolan, Catletown, Kilflynn, Cora and Amber Long Abbeydorney and Kenneth Hayes, Ballysedy, Tralee.
The Next draw will take place in Herbert's Bar, Kilflynn on Monday 6th June at 10.00p.m for a €9,000 Jackpot.  Tickets available 3 for €5 online visit www.crottagaa.club or this link https://play.clubforce.com/play_newa.asp?ll_id=427#Anchor or Herbert's Bar/Village Store, Parker's Pub, Zam Zam Kabab, Foley Shop Lixnaw, Abbeydorney Post Office, or from any club officer. Many thanks to all who contribute to our weekly Club Lotto. Your continued support is greatly appreciated.
ALONE
Alone are currently looking for befriending volunteers in your area. Visit www.alone.ie for more details and to sign up. If you have concerns about your own wellbeing or you are an older person who would like to receive ALONE's Support & Befriending services, contact ALONE on 0818 222 024 from 8am – 8pm, seven days a week.