Best of luck to all junior and leaving certificate students who commenced their exams on Wednesday!
ACTIVE RETIRED GROUP
Abbeydorney/Kilflynn Active Retired Group are having a break this week Wednesday 8th June, and will be back again on Wednesday, 15th June. Please contact the hall and leave a message if you have any enquiries on 066 7135831
SIAMSA TIRE
Siamsa Tíre are delighted to announce that auditions will take place from 16th to 18th June to attract the best of traditional young talent from the age 7-12 to the Folk Theatre. Contact Box Office on 066 7123055 for details and to arrange your appointment
THE LEGEND OF LUKE KELLY
We are delighted to announce that the renowned Chris Kavanagh and the patriots will be celebrating the life, music and songs of Ireland's greatest balladeer and folk singer Luke Kelly in The Venue at Parker's Pub, Kilflynn on Saturday 16th July 2022. Tickets are available at Parker's Pub at only 20 euro. Tickets are sold on a first come first served basis.
JOE McDONAGH CUP FINAL
For the third straight year the Kerry hurlers contested the Joe McDonagh Cup Final, on Saturday 4th June and it was another tough day in Croke Park for Kerry as they lose to Antrim on a final scoreline of Antrim 5-22 Kerry 4-24
A game that they were chasing right from the start with the concession of 2 goals inside the first 10 minutes and they trailed a very sharp Antrim side at half time by 10 points.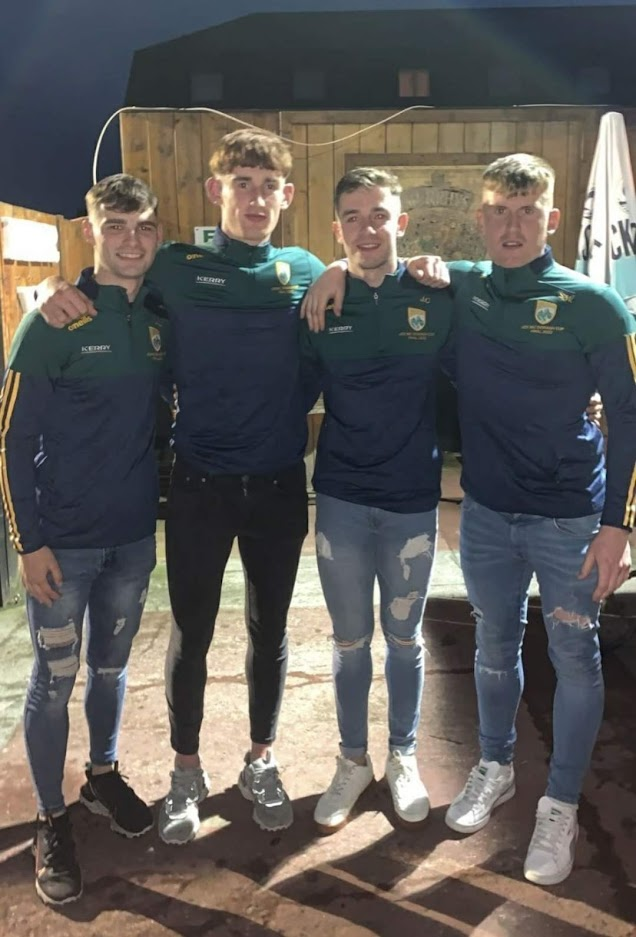 Kerry to their credit gave a much better second half performance and had the Antrim backs in trouble anytime the ball was played into the inside line, with substitute Jordan Conway lighting up the Kerry attack with two second half goals, Kerry as they have done many times over the season kept going and kept pushing to the end and had a late late goal from Padraig Boyle in what proved to be the last puck of the game.
Both teams now move on to play the Preliminary All Ireland Quarter Finals with Antrim playing Cork and Kerry taking on Wexford at Austin Stack's Park on Saturday 11th June at 2.00p.m. The Crotta club was represented on the panel by Sean Weir (Wing back), Jordan Conway came on as sub on and scored 2-02, Cillian Trant and James Sheehan. The Kilflynn/Crotta area was well represented in Croke Park to support Kerry players and their management. Wish the Kerry Senior Hurlers and their management, especially the Crotta players in the All-Ireland Quarter Final against Wexford on Saturday.
#wearekerry #ciarraíabú.
KILFLYNN FAIRY FESTIVAL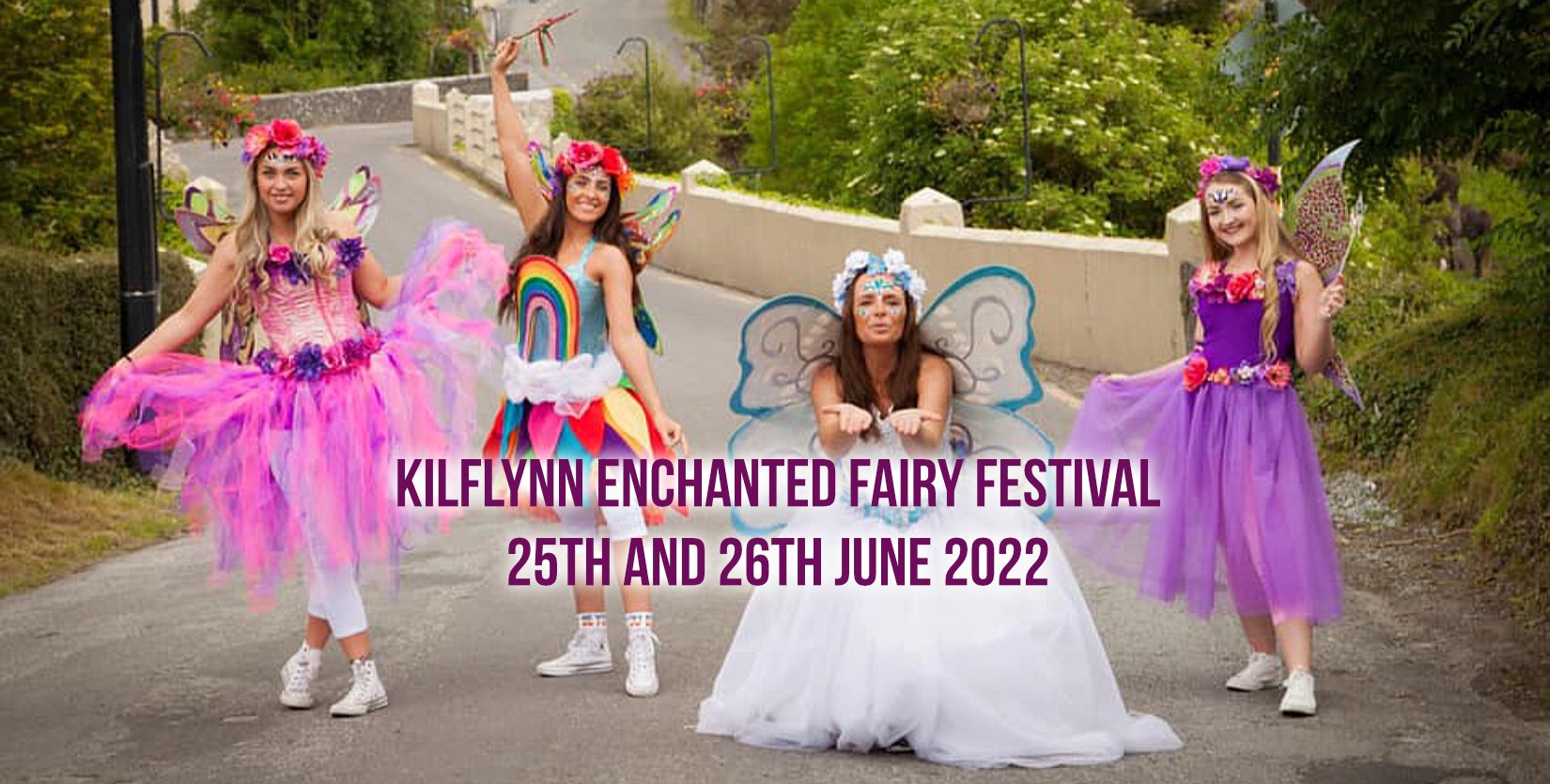 On the 25th and 26th of June, join us in Kilflynn for the most magical Kilflynn Enchanted Fairy Festival.…Admission to this year's festival is strictly by pre booked tickets only which can be purchased online through Eventbrite.ie – it's easy… just follow these simple steps:
1) In the search box of your phone or computer type in www.eventbrite.ie (then hit search)
2) Click onto the eventbrite.ie site.
3) when site opens Click on the search box and type Kilflynn or Kilflynn fairy Festival
4) A picture of the Kilflynn Fairies will appear.
5) Tap on the picture and this will take you through to ticket sales for the weekend event .
6) Just follow the prompts on the page from here and make your purchase.
7) That's it ….. come along to this magical weekend….
Remember to buy your tickets early as demand is high and numbers are limited.
See our Facebook page for further information on the entertainment lined up for the weekend.
We look forward to seeing you on the 25th & 26th June
ST. MARY'S CHURCH, KILFLYNN
Mass Intention for the week in St. Mary's Church
On Wednesday 8th June at 10.00 a.m., on Friday 10th June at 10.00 a.m., on Saturday 11st June at 6.00 p.m. Eddie McCrohan, Knocknacaska, Kilflynn.
Parish Office can be contacted by phone 066 4018996 Tuesday, Thursday & Friday 10.00 a.m. to 1.00 p.m. or by email: abbeydorney@dioceseofkerry.ie
Masses from St. Bernard's Church, Abbeydorney are streamed live on www.dioceseofkerry.ie, on Sunday at 10 a.m. Go to Abbeydorney Parish and click on watch live Mass. Webcam has been installed in Kilflynn Church – To watch Masses go to www.dioceseofkerry.ie – Abbeydorney Parish and click on 'watch Mass'. Diocesan
Kilflynn Eucharistic Adoration Monday (7.00 p.m.-8.00 p.m.) Kilflynn Blessed Candles €6 of pack of 6 available from Parish Office.
A Date for the Diary: Celebration of the Golden Jubilee of Fr. Denis O'Mahony's Ordination on Friday 24th June. Concelebrated Mass with Bishop Ray Browne at 8.00 p.m. Refreshments afterwards in the Community Hall. All are welcome.
ABBEYDORNEY/KILFLYNN ST. VINCENT DE PAUL
Confidential number 087 7086253. St. Vincent de Paul Society clothes can be donated locally at the Disposal Facility at Abbeydorney GAA Complex or the Railway Bar Car Park, Lixnaw. Your support is greatly appreciated.
KERRY CAMOGIE
Another great win for the Kerry Camogie team on Saturday 4th June in in Netwatch Cullen Park defeating Carlow in Round 2 of the Glen Dimplex Intermediate All Ireland Championship.
Final Score Carlow 2-6 Kerry 0-14. Well done to the Kerry players and their mentors, especially the Crotta players Aoife Behan (mid field) , Amy O'Sullivan wing forward 0-03 and Jackie Horgan (Full forward) (0-7, 3f)
Kerry games (with dates, times and venues later)
June 11th -Kerry Dublin (H)
June 18th -Kerry v Westmeath (H)
Two-week break
July 2nd -Kerry v Galway (A)
CEMETERY MASSES
Kilfeighney cemetery mass will take place on Tuesday 28th June at 8.00p.m and mass will be celebrated in Kyrie Eleison, on Tuesday 5th July 8.00 p.m. and in St. Mary's, Kilflynn, on Wednesday 6th July at 8.00 p.m. and in Killahan Cemetery, Wednesday 13th July at 8.00 p.m.
CROTTA LOTTO RESULTS
The Crotta hurling club weekly lotto draw was held on Monday 6th June at Herbert's Bar, Kilflynn.
The Four numbers drawn out of the drum by the independent observer: Graham Harris, Clounsillagh, Lixnaw were 5,15, 17 and 24.
There was no winner of the 9,000 Jackpot. Congratulations to the following who won €35 in the lucky dip draw:
Martin Sweeney,C/o Gleasure's, Tullig, Kilflynn, Kate and Danny Caffrey, Crotta, Kilflynn, Frank Quilter, Lixnaw.
The Next draw will take place in Parker's Pub, Kilflynn on Monday 13th June at 10.00p.m for a €9,100 Jackpot. Tickets available 3 for €5 online visit www.crottagaa.club or this link https://play.clubforce.com/play_newa.asp?ll_id=427#Anchor or Herbert's Bar/Village Store, Parker's Pub, Zam Zam Kabab, Foley Shop Lixnaw, Abbeydorney Post Office, or from any club officer. Many thanks to all who contribute to our weekly Club Lotto. Your continued support is greatly appreciated.
ALONE
Alonr are currently looking for befriending volunteers in your area. Visit www.alone.ie for more details and to sign up. If you have concerns about your own wellbeing or you are an older person who would like to receive ALONE's Support & Befriending services, contact ALONE on 0818 222 024 from 8am – 8pm, seven days a week.