KILFLYNN VINTAGE WEEKEND 2022
The annual Kilflynn Vintage Weekend takes place from June 18th -19th. After a two-year lapse, we are hoping the party atmosphere will continue in 2022. There is a fantastic weekend in store for young and old.
The weekend's events kick off at 7pm on Saturday evening where the Vintage Tractor Run will depart the village. On return there will be a barbeque in the village to kick off the weekend.
The Vintage Car and Honda 50 Run will depart the village at 11am. At 12 noon the official opening of the field will take place and the day's events will get underway. There will be a wide variety of vintage displays including; cars, tractors, motorbikes, stationary engines, steam engines, threshers, forge and blacksmith demonstrations as well as much more. Sunday is very much a family day out with entertainment for all ages provided.
For the younger generations there will be face painting, novelty games, as well as the unforgettable 'Magic Puppet Show @ 1pm! For the adults there will be live music and entertainment throughout the day, as well as some great displays of machinery from by-gone-days. Not forgetting, the Dog show which takes place at 3pm.
The Kilflynn Vintage Club greatly appreciates the support that the local community and surrounding areas give us each year. It is because of this support that the club has thrived over the last 26 years. With the help of your support the club has raised funds for numerous different charities and local groups. We hope to see you all in Kilflynn from June 18th -19th for what should be a fantastic weekend of celebrations!
ACTIVE RETIRED GROUP
Abbeydorney/Kilflynn Active Retired Group are meeting next Wednesday, 15th June, from 10.30am to 1.30pm, in Abbeydorney Hall. Please contact the hall and leave a message if you have any enquiries on 066 7135831
WELLINGTON THROWING COMPETITIONS
The unique Ladies, Gents and Children's Wellington Throwing competitions makes a return after a two-year lapse, and will take place in Kilflynn village, on Friday 17th June at 8.00 p.m. with trophies for the first, second and third in both Ladies, Gents Children's categories. Competitors are required to hurl a Wellington Boot as far as possible within boundary lines, from a standing or running start. So come to Kilflynn and compete for the craic.
KILFLYNN FAIRY FESTIVAL
Calling all unwanted teddies in need of a new home!
The teddy's bear doctors station at the Kilflynn Enchanted Fairy festival will rehome them.
Please drop them to Kilflynn national school, Parkers Pub, Carmel Quinn or David Powers butchers Abbeydorney.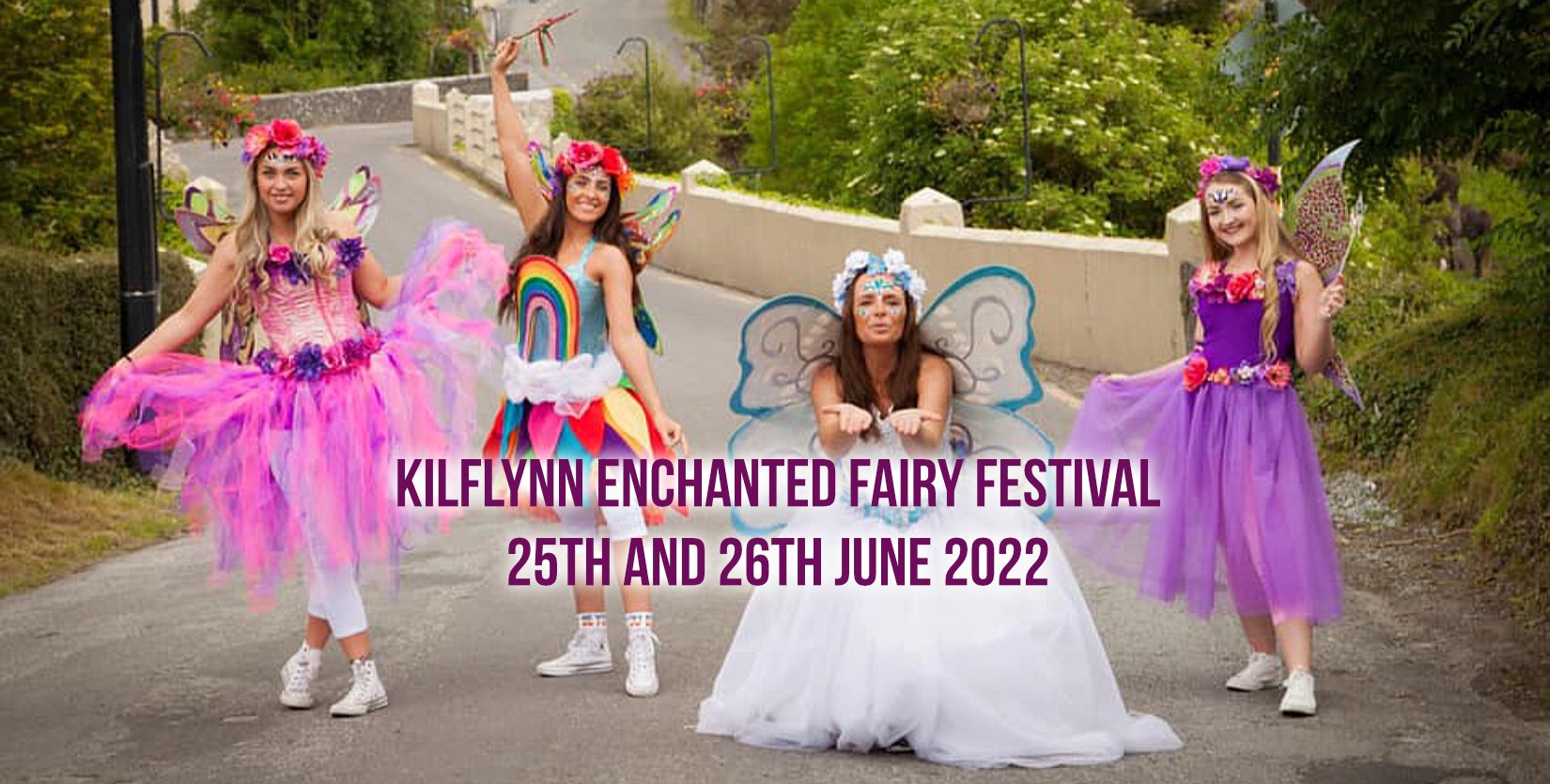 THE LEGEND OF LUKE KELLY
We are delighted to announce that the renowned Chris Kavanagh and the patriots will be celebrating the life, music and songs of Ireland's greatest balladeer and folk singer Luke Kelly in The Venue at Parker's Pub, Kilflynn on Saturday 16th July 2022. Tickets are available at Parker's Pub at only 20 euro. Tickets are sold on a first come first served basis.
KERRY SENIOR HURLERS
After their heroics in last week's Joe McDonagh Cup final, the Kerry hurlers found the step up in class against Wexford in this All-Ireland Senior Hurling Championship Preliminary Quarter-Final a bridge too far as they succumbed to the Slaneysiders before a 2,700 attendance at Austin Stack Park, Tralee on a score line of Wexford 3-30 to Kerry 0-18 on Saturday 11th June. The Crotta club was represented on the panel by Sean Weir (Wing back) (0-01), Jordan Conway (Full Forward) 0-5 (3f, 1 '65') James Sheehan and Cillian Trant. This defeat spells the end of their journey for 2022, but they have given great entertainment to their supporters during the last few months and deserve great credit. It's now on to the County Senior Hurling Championship for these players and we look forward to the campaign. Crotta's first game in Group 3 is on Friday, 24 June @ 7.30pm against Ballyheigue in Austin Stack's Park.
PARKER'S PUB
Kilflynn Vintage Rally Entertainment 2022
Friday 17th June at 8.00p.m Ladies, Children and Gents Wellie Throwing' competitions
Saturday Night 18th June: Dreams of Freedom after the Vintage Tractor Run.
Sunday Evening 19th June: Music, Songs and Craic with Byran Murphy and his Band.
Monday Evening 20th June: Pig n Porter.
ST. MARY'S CHURCH, KILFLYNN
Mass Intention for the week in St. Mary's Church on Friday 17th June at 10.00 a.m., on Saturday 18th June at 6.00 p.m. John Weir, Castletown, Kilflynn.
Parish Office can be contacted by phone 066 4018996 Tuesday, Thursday & Friday 10.00 a.m. to 1.00 p.m. or by email: abbeydorney@dioceseofkerry.ie
Masses from St. Bernard's Church, Abbeydorney are streamed live on www.dioceseofkerry.ie, on Sunday at 10 a.m. Go to Abbeydorney Parish and click on watch live Mass. Webcam has been installed in Kilflynn Church – To watch Masses go to www.dioceseofkerry.ie – Abbeydorney Parish and click on 'watch Mass'. Diocesan
Kilflynn Eucharistic Adoration Monday (7.00 p.m.-8.00 p.m.)
A Date for the Diary: Celebration of the Golden Jubilee of Fr. Denis O'Mahony's Ordination on Friday 24th June. Concelebrated Mass with Bishop Ray Browne at 8.00 p.m. Refreshments afterwards in the Community Hall. All are welcome.
HERBERT'S BAR
Vintage weekend.
Sat night music with Caroline Spillane.
Sunday evening back by popular demand BIG JIM 6-9.
ABBEYDORNEY/KILFLYNN ST. VINCENT DE PAUL
Confidential number 087 7086253. St. Vincent de Paul Society clothes can be donated locally at the Disposal Facility at Abbeydorney GAA Complex or the Railway Bar Car Park, Lixnaw. Your support is greatly appreciated.
KERRY CAMOGIE
Dimplex All Ireland Intermediate Camogie Championship Rd 3:
Diggin penalty save crucial as Kerry make it three from three.
Kerry 0 – 11 Dublin 1 – 7
Kerry was made to fight all the way by a gritty Dublin side at Hermitage Park, Lixnaw on Saturday afternoon 11th June, but they made it three wins from three in this year's Dimplex All-Ireland Intermediate Camogie Championship. It was a tremendous all round team performance by the Kerry girls.
Well done to the Kerry players and their mentors, especially the Crotta players Aoife Behan (mid field) , Amy O'Sullivan wing forward and Jackie Horgan (Full forward) (0-6, 3f's)
Kerry games (with dates, times and venues later)
June 18th -Kerry v Westmeath (H)
Two-week break
July 2nd -Kerry v Galway (A)
CEMETERY MASSES
Kilfeighney cemetery mass will take place on Tuesday 28th June at 7.30p.m and mass will be celebrated in Kyrie Eleison, on Tuesday 5th July 8.00 p.m. and in St. Mary's, Kilflynn, on Wednesday 6th July at 8.00 p.m. and in Killahan Cemetery, Wednesday 13th July at 8.00 p.m.
COUNTY SENIOR HURLING CHAMPIONSHIP
Garvey's SuperValu Senior Hurling Championship 2022 [Corn Neilus Ó Floinn]
Group 3 Round 1
Friday, 24 June @ 7.30pm
Ballyheigue v Crotta O'Neill's
Group 1 Round 1
Saturday, 25 June @ 2.00pm
St. Brendan's v Causeway
Group 2 Round 1
Saturday, 25 June @ 4.00pm
Kilmoyley v Abbeydorney
All games at Austin Stack Park
CROTTA LOTTO RESULTS
The Crotta hurling club weekly lotto draw was held on Monday 13th June at Parker's Pub, Kilflynn.
The Four numbers drawn out of the drum by the independent observer: Graham Harris, Clounsillagh, Lixnaw were 2,18, 25 and 28.
There was no winner of the 9,100 Jackpot. Congratulations to the following who won €35 in the lucky dip draw:
Helen Maunsell, Cahernade, Abbeydorney, Pat McGrath, Upper Tullig, Kilflynn Cathal McLaughlin, Cloughmills, Co. Antrim
The Next draw will take place in Herber's Bar, Kilflynn on Monday 20th June at 10.00p.m for a €9,200 Jackpot.  Tickets available 3 for €5 online visit www.crottagaa.club or this link https://play.clubforce.com/play_newa.asp?ll_id=427#Anchor or Herbert's Bar/Village Store, Parker's Pub, Zam Zam Kabab, Foley Shop Lixnaw, Abbeydorney Post Office, or from any club officer. Many thanks to all who contribute to our weekly Club Lotto. Your continued support is greatly appreciated.
ALONE
Alone are currently looking for befriending volunteers in your area. Visit www.alone.ie for more details and to sign up. If you have concerns about your own wellbeing or you are an older person who would like to receive ALONE's Support & Befriending services, contact ALONE on 0818 222 024 from 8am – 8pm, seven days a week