KILFLYNN ENCHANTED FESTIVAL
The Kilflynn Enchanted Fairy festival returns after a two-year beak on the 25th and 26th of June.
Saturday night at 7.00p.m a magical parade will take place where the treasure chest holding the Kilflynn Enchanted map will come through the village guarded by the knights and the fairies will create a spell on stage to create hundreds of maps so you can all enjoy the trail on Sunday.
Sunday morning the trail will open at 11am and all visiting magical humans will be sprinkled with fairy dust so that they can see the fairy houses and enjoy a beautiful enchanted magical fairy trail.
As well as fairies there will be puppet shows, ice cream and delicious food stalls, crafts stalls, face painting and so much more so bring a picnic and dress up for a truly magical experience.
Tickets on sale now online through Eventbrite for €8 plus booking fee or at the gate on the day for €10-under 2s go free.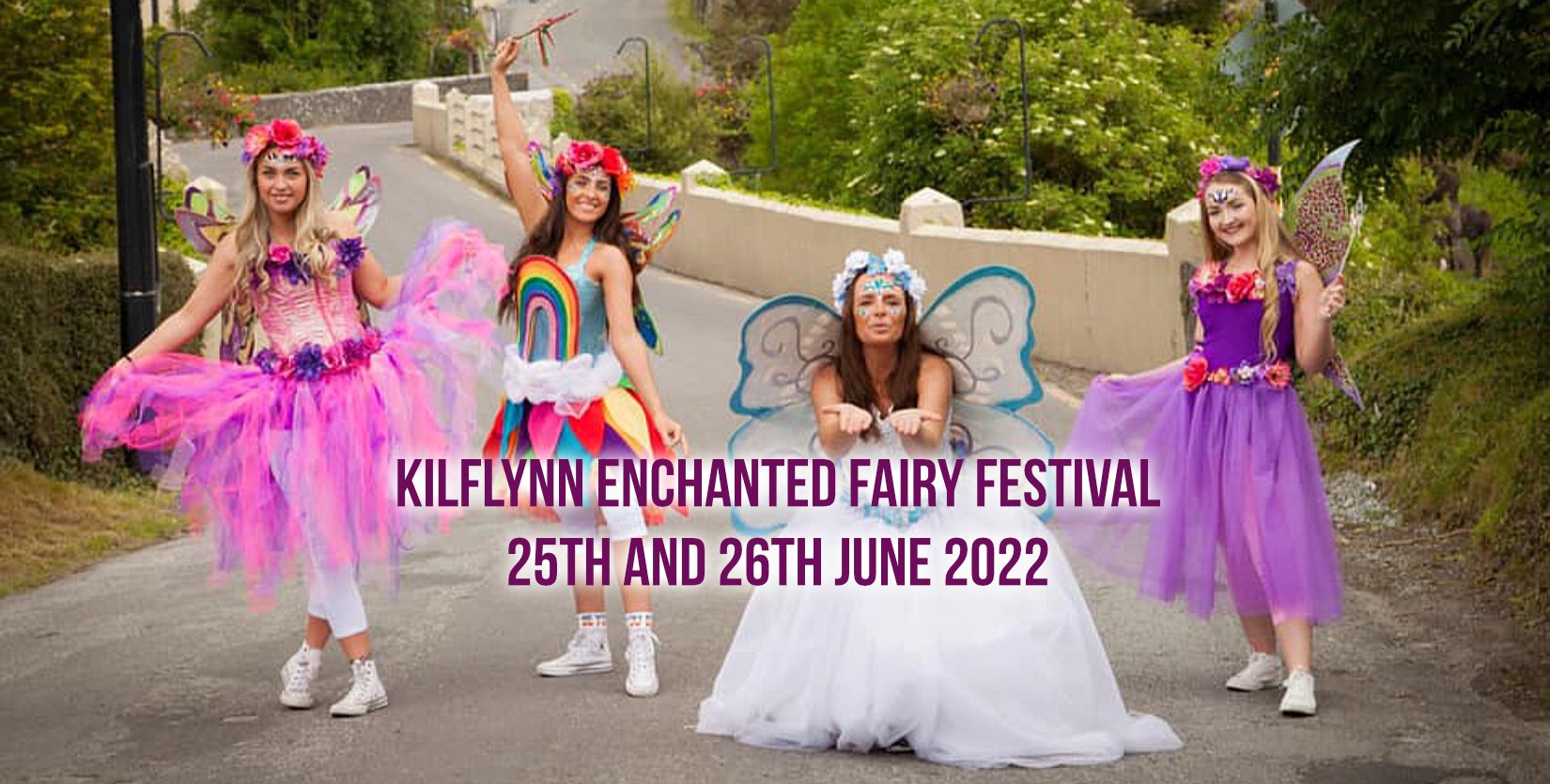 ANN WOULFE WINS THE CROTTA LOTTO JACKPOT
There was great demand for Crotta hurling club weekly lottery tickets at the weekend with everyone striving their best to win the Big Jackpot of 9,200.
Herbert's Bar, Kilflynn was the venue for the weekly lotto draw on Monday 20th June. The Four numbers drawn out of the drum by the independent observer: Graham Harris, Clounsillagh, Lixnaw were 1,9, 17 and 28
There was One winner of the 9,200 Jackpot.  Congratulations to Ann Woulfe, Rea, Kilmorna, Listowel. who scooped the Club's Big Lotto Jackpot.
Ann is a great supporter of the club and of the weekly lotto and bought her lucky ticket online www.clubforce.com, and was the toast of Kilflynn and beyond on Tuesday afternoon as the news of her big win circulated and Ann is looking forward to being presented with her cheque of €9,200.  Barry Leen, Kilcaragh Lawn, Lixnaw, was the last person to scoop the Club's lotto Jackpot on Tuesday 26th January 2021.
Congratulations also to the following who won €35 in the lucky dip draw:
Kathleen Foley, The Cross, Lixnaw, William Howard, west Thorndale Chicago,USA and Aisling Weir Ballyvolane Cork.
The Next draw will take place at Parker's Pub, Kilflynn, on Monday night 27th June for a €2,000 Jackpot. Tickets available 3 for €5 online visit www.crottagaa.club or this link https://play.clubforce.com/play_newa.asp?ll_id=427#Anchor or Herbert's Bar/Village Store, Parker's Pub, Zam Zam Kabab, Foley Shop Lixnaw, Abbeydorney Post Office or from Club ticket sellers.
Many thanks to all who contribute to our weekly Club Lotto.
The Club cannot emphasise enough the importance of our members promoting the Club Lotto among family, friends and work colleagues. Your continued support is greatly appreciated.
CARE GROUP SUMMER OUTING
Abbeydorney/Kilflynn Care Group Summer Outing to Kenmare on Sunday 10th July. Buses leaving both villages at 11.30 a.m.
UNWANTED TEDDIES
Calling all unwanted teddies in need of a new home!
The teddy's bear doctors station at the Kilflynn Enchanted Fairy festival will rehome them.
Please drop them to Kilflynn national school, Parkers Pub, Carmel Quinn or David Powers butchers Abbeydorney.
PARKER'S PUB
Kilflynn Enchanted Fairy festival Entertainment 2022
Saturday Night 25th June: Music with Ronnie Ryan.
Sunday Evening 26th June: Music, Songs and Craic with Bog The Donkey.
ST. MARY'S CHURCH, KILFLYNN
Mass Intention for the week in St. Mary's Church on Wednesday 21st June at 10.00 a.m, on Saturday 25th June at 6.00 p.m. Deceased members of the Murphy Family, Rae
Parish Office can be contacted by phone 066 4018996 Tuesday, Thursday & Friday 10.00 a.m. to 1.00 p.m. or by email: abbeydorney@dioceseofkerry.ie
Masses from St. Bernard's Church, Abbeydorney are streamed live on www.dioceseofkerry.ie, on Sunday at 10 a.m. Go to Abbeydorney Parish and click on watch live Mass. Webcam has been installed in Kilflynn Church – To watch Masses go to www.dioceseofkerry.ie – Abbeydorney Parish and click on 'watch Mass'. Diocesan
Kilflynn Eucharistic Adoration Monday (7.00 p.m.-8.00 p.m.)
Celebration of the Golden Jubilee of Fr. Denis O'Mahony's Ordination on Friday 24th June. Concelebrated Mass with Bishop Ray Browne at 8.00 p.m. Refreshments afterwards in the Community Hall. All are welcome.
SPLIT THE BUCKET
The draw for the June Kilflynn Community Together "Split the Bucket" will take place Saturday, 2nd of July in Parker's Pub, Kilflynn @ 10:00pm.
There is still time to get your entries in (as many as you like) before Saturday night's draw! It could be your lucky Night! We have buckets at various businesses around Kilflynn: – Parkers Pub, Herbert's Bar and Zam Zam Kebab.
The concept of the draw is simple, simply place your €2 into the envelope at the venue, write your name and phone on the envelope and you could possibly 'split the bucket!'
Funds raised will be used for projects that will benefit and improve Kilflynn. Your support is greatly appreciated.
ABBEYDORNEY/KILFLYNN ST. VINCENT DE PAUL:
Confidential number 087 7086253. St. Vincent de Paul Society clothes can be donated locally at the Disposal Facility at Abbeydorney GAA Complex or the Railway Bar Car Park, Lixnaw. Your support is greatly appreciated.
CEMETERY MASSES
Kilfeighney cemetery mass will take place on Tuesday 28th June at 7.30p.m and mass will be celebrated in Kyrie Eleison, on Tuesday 5th July 8.00 p.m. and in St. Mary's, Kilflynn, on Wednesday 6th July at 8.00 p.m. and in Killahan Cemetery, Wednesday 13th July at 8.00 p.m.
COUNTY SENIOR HURLING CHAMPIONSHIP:
Garvey's SuperValu Senior Hurling Championship 2022 [Corn Neilus Ó Floinn]
Group 3 Round 1
On Friday, 24 June @ 7.30pm. Crotta O'Neill's play Ballyheigue at Austin Stack Park, Tralee
If possible please come along to Austin Stacks Park and support our Senior Hurlers & Management on Friday evening.
Kids, please bring the hurl for a puck at half time.
Tickets Link: https://www.universe.com/users/kerry-gaa-VLF1SR
Please note tickets must be pre-purchased. No tickets available at the gate
We wish the Crotta Senior Hurlers and their management the best of luck on Friday evening.
ALONE
Alone are currently looking for befriending volunteers in your area. Visit www.alone.ie for more details and to sign up. If you have concerns about your own wellbeing or you are an older person who would like to receive ALONE's Support & Befriending services, contact ALONE on 0818 222 024 from 8am – 8pm, seven days a week