RETIREMENT MASS AND SOCIAL GATHERING
Fr. Denis O'Mahony will celebrate his retirement Mass in Abbeydorney Church on Friday 7th July at 7.30 p.m. There will be refreshments in the Abbeydorney Community Hall afterwards. All are welcome.
COUNTY U-21 FOOTBALL CHAMPIONSHIP
Acorn Life U21 County Championship Final
Wednesday 5th July @ 7.30pm Venue Austin Stack Park
North Kerry v East Kerry
We wish the best of luck to the North Kerry side and their management, especially the local players Rory Mahony, Sean McGrath, Aodhan Behan, and Brendan Mahony management.
ANNUAL CHANGES
𝐀𝐧𝐧𝐮𝐚𝐥 𝐂𝐡𝐚𝐧𝐠𝐞𝐬: Bishop Ray Browne has announced the annual changes to the appointment of clergy in the Catholic Diocese of Kerry.
With the retirement of Abbeydorney parish PP Fr Denis O'Mahony, Abbeydorney parish will be served by Fr Jerry Keane, who is moving from Eyeries parish. These changes will become effective on Wednesday, July 19th 2023
BEREAVEMENTS
The death  occurred of Joseph (Joe) Dowling of Knocknacaska, Kilflynn and formerly Banna South, Ardfert, died unexpectedly on Sunday 25th June, On behalf of the community, we offer our sincere sympathy to his wife Mary, his son, Adam  his daughter, Lauryn, his parents Frank & Anne, brothers Pa, Francis & John, sisters Aine, Nuala & Grace, nieces, nephews, aunts, uncles, sisters-in-law, brothers-in-law, relatives, neighbours and many friends. Interment in St. Mary's Cemetery, Kilflynn after the Requiem Mass in St. Mary's Church, Kilflynn on Wednesday morning 26th June.
The death occurred of James Barton, Knocknakilla, Kilflynn and formerly Ballyhorgan, Lixnaw, peacefully at home (surrounded by his loving family and care team) on Tuesday 27th June 2023. On behalf of the community, we offer our sincere sympathy to his daughter Martina, his sisters Jenny, Kathleen, Margaret, his grandchildren Sophie & Ewan, son-in-law John, sister-in-law Philomena and her husband Harry, nephews, nieces, relatives and many friends. Interment in Kilfeighney Cemetery, after Requiem Mass in St. Michael's Church, Lixnaw on Friday morning 30th June.
May they rest in peace.
CEMETERY MASSES
St. Mary's, Kilflynn, Wednesday 5th July at 7.30 p.m. Killahan Cemetery, Monday 10th July at 7.30 p.m.
KERRY SENIOR HURLING CHAMPIONSHIP
Crotta O'Neills 1-15 Abbeydorney 2-12
There was nothing to separate Crotta O'Neills and Abbeydorney in their Group B contest at a wet and windy Austin Stack Park on Friday evening 30th June, and while both were already assured of qualification to the knock-out stage of the championship, the final standings in the group sees Crotta finish ahead of Abbeydorney on scoring difference. This was definitely a game of two halves with Crotta playing with a strong wind in the first half totally dominant following the break it was Abbeydorney with the wind to their backs to take charge.
In what was an enjoyable game both teams should be happy enough with the result.
Well done to the Crotta players and their management.
CROTTA O'NEILLS: Adam O'Sullivan, Sean McGrath, Bill Keane, Eamonn Shanahan, Rory Mahony, Thomas O'Connor 0-1, Darragh Behan, Jeaic McKenna 0-1, Tadhg McKenna, Seanie McElligott 0-2, Sean Weir 0-1, Gavin Parker 1-1, Darragh O'Donoghue 0-3, Shane Nolan 0-6 (4f), Declan O'Donoghue. Subs: Cormac White for G Parker (45), Sean O'Donoghue for T McKenna (56).
Crotta play Causeway in the County Championship quarter final on Saturday 15th July at 3.00pm in Austin Stack's Park We wish the Crotta Hurlers and their management the best of luck
ACTIVE RETIRED GROUP
The Abbeydorney / Kilflynn Active Retired Group took to the road again on Wednesday 21st June with a visit to Adare, Co Limerick and Bunratty, Co Clare. Our first stop was at the Tourist Centre in Adare for a scone, tea/coffee then onto Durty Nellie's for dinner which was delicious. A bit of shopping in the Crescent and onto the Devon Inn for finger food. Big thanks to Noreen and Marie for organising a brilliant day out and to Tony our driver for getting us there and back and home safe.
The Abbeydorney/Kilflynn Active Retired Group are meeting again on Wednesday 5th July at 10.30 a.m. in the Abbeydorney Parish Hall and then travelling on to Ballyroe Hotel for lunch. Why not come along on Wednesday you would be most welcome, our group is open to everybody to join not just those from Abbeydorney and Kilflynn. Please contact 066 7135831 for further details.
ST. MARY'S CHURCH, KILFLYNN
Mass Intention for the week in St. Mary's Church: on Wednesday 5th July at 7.30p.m St. Mary's Cemetery Mass on Friday 7th July at 10.00 a.m. Joe & Mary O'Neill, Gortclohy, Kilflynn, on Saturday 8th July at 6.00 p.m. Kitty Hickey, Keel. (Month's Mind).
Parish Office can be contacted by phone 066 4018996 Tuesday, Thursday & Friday 10.00 a.m. to 1.00 p.m. or by email: abbeydorney@dioceseofkerry.ie
Webcam has been installed in Kilflynn Church – To watch Masses go to www.dioceseofkerry.ie – Abbeydorney Parish and click on 'watch Mass'. Diocesan
CROTTA LOTTO RESULTS
The Crotta hurling club weekly lotto draw was held on Monday 3rd July at Herbert's Bar, Kilflynn.
The Four numbers drawn out of the drum by the independent observer: Graham Harris, Clounsillagh, Lixnaw were 9,22,25 and 30. There was no winner of the 4,800 Jackpot. Congratulations to the following who won €35 in the lucky dip draw: Shane and Oisin Herbert, Castletown, Kilflynn, Danny Caffrey, Crotta, Kilflynn and Bridget Sugrue, Castleisland.
The next draw will take place in Parker's Pub, Kilflynn on Monday 10th July at 10.30p.m with a €4,900 Jackpot.
Tickets available 3 for €5 online visit www.crottagaa.club or this link https://play.clubforce.com/play_newa.asp?ll_id=427#Anchor or Herbert's Bar/Village Store, Parker's Pub, Zam Zam Kabab, Foley Shop Lixnaw, Abbeydorney Post Office or from Club ticket sellers. Many thanks to all who contribute to our weekly Club Lotto. The Club cannot emphasise enough the importance of our members promoting the Club Lotto among family, friends, and work colleagues. Your continued support is greatly appreciated.
COMEDY NIGHT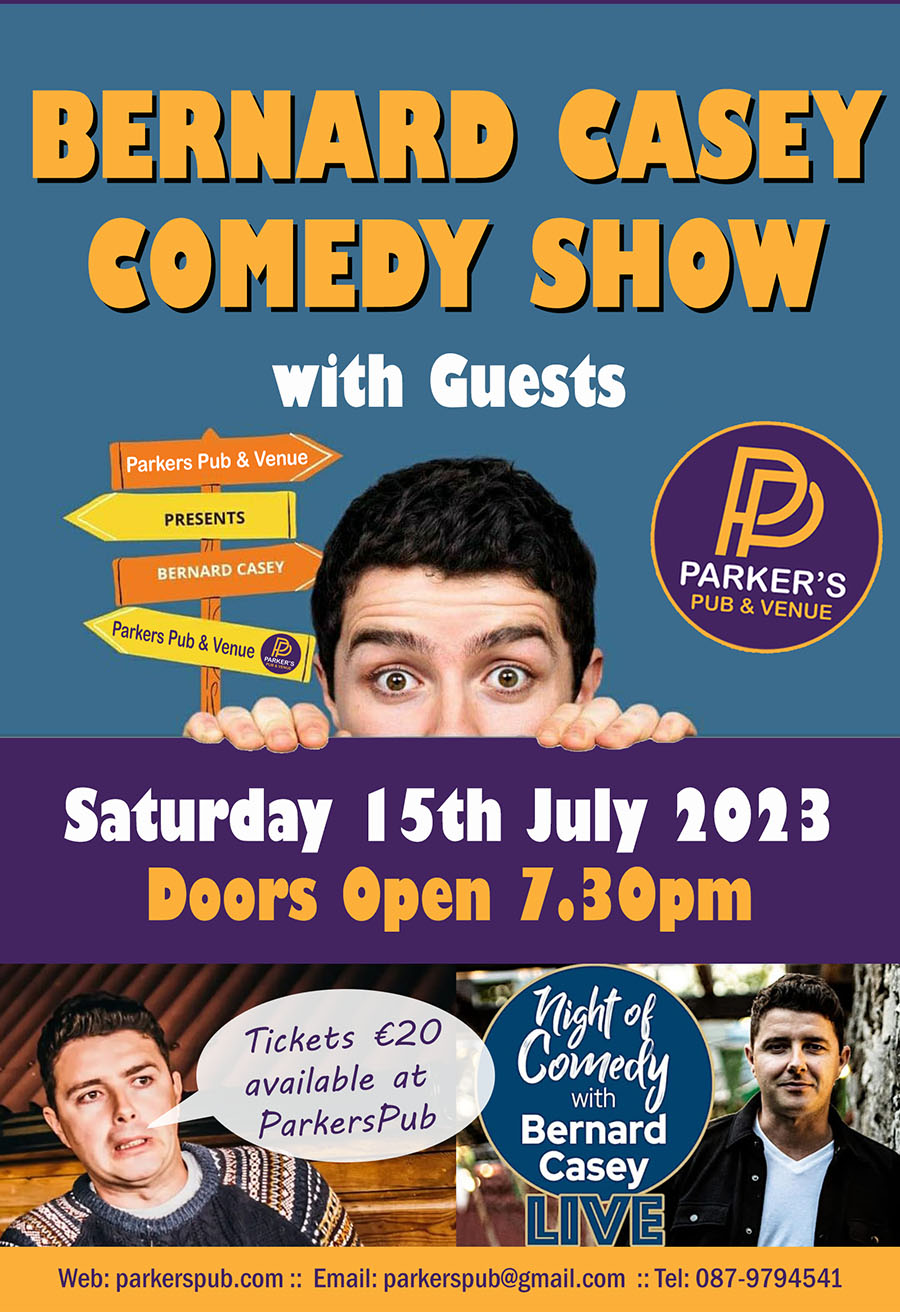 Bernard Casey and Guests return to The Venue at Parker's Pub for one night only! After a rip-roaring Rural Pub Tour of Ireland in 2022. Bernard is bringing his stand up, milky teeth & wild characters to Parker's Pub on Saturday 15th July. Be prepared for a high level of crowd interaction and stories.  Tickets €20 are available at Parker's Pub.
 ABBEYDORNEY/KILFLYNN ST. VINCENT DE PAUL
Confidential number 087 7086253. St. Vincent de Paul Society clothes can be donated locally at the Disposal Facility at Abbeydorney GAA Complex or the Railway Bar Car Park, Lixnaw. Your support is greatly appreciated.
ALONE
Alone are currently looking for befriending volunteers in your area. Visit www.alone.ie for more details and to sign up. If you have concerns about your own wellbeing or are an older person who would like to receive ALONE's Support & Befriending services, contact ALONE on 0818 222 024 from 8am – 8pm, seven days a week.