RETIREMENT MASS AND SOCIAL GATHERING
Fr. Denis O'Mahony will celebrate his retirement Mass in Abbeydorney Church on Friday 7th July at 7.30 p.m. There will be refreshments in the Abbeydorney Community Hall afterwards. All are welcome.
KILFEIGHNEY CEMETERY MASS
Will take place on Tuesday 27th June at 7.30p.m
KILFLYNN ENCHANTED FAIRY FESTIVAL
As the sun sets in Kilflynn we want to thank our amazing community and spectacular volunteers for all their hard work and generosity over the last number of weeks, days and of course the whole festival weekend!
The most magical festival of would not be possible without all of you
Take an enchanted bow!!
Thank you to everyone that came out to dance in the puddles with Queen Pearl and her fairy friends. See you all again next year!
COUNTY U-21 FOOTBALL CHAMPIONSHIP
ACORN LIFE COUNTY UNDER-21 FOOTBALL CHAMPIONSHIP SEMI-FINAL at Strand Road on Wednesday 21st June.
North Kerry 1-13 to Laune Rangers 2-8
The area was well represented on the North Kerry side by Aodhan Behan, Rory Mahony 0-1, Sean McGrath, and Brendan Mahony management. Well done lads
The North Kerry Football board have been officially notified on Monday evening 26th June that the Acorn life U21 County Championship Final is now not taking place due to East Kerry not being able to field a team on Wednesday 28th June. The fixture now goes back to the County CCC.
RING OF KERRY CYCLE
We would like to wish the very best of luck to all the cyclists taking part in The Ring of Kerry Cycle on Saturday 1st July, especially the Crotta Leisure & Social Cycling Club members..
CEMETERY MASSES
Kyrie Eleison, Monday 3rd July 7.30 p.m. St. Mary's, Kilflynn, Wednesday 5th July at 7.30 p.m. Killahan Cemetery, Monday 10th July at 7.30 p.m.
KERRY SENIOR HURLING CHAMPIONSHIP
Crotta Senior hurlers commenced their 2023 County Senior championship campaign   on Friday 23rd June in Austin Stack's Park, Tralee. GARVEY'S COUNTY SENIOR HURLING CHAMPIONSHIP GROUP B, ROUND 2 Crotta O'Neills 4-28 to Dr Crokes 1-15, Crotta led 3-14 to 1-6 at half time,
Well done to the Crotta players and their management.
CROTTA O'NEILLS: Adam O'Sullivan, Sean McGrath, Bill Keane, Eamonn Shanahan, Rory Mahony, Thomas O'Connor, Darragh Behan, Jeaic McKenna, Tadhg McKenna, Seanie McElligott 0-2, Sean Weir 1-1, Gavin Parker 0-1, Darragh O'Donoghue 0-5, Shane Nolan 3-11 (0-6f), Declan O'Donoghue 0-3. Subs: Cormac White 0-1 for Declan O'Donoghue (inj), 41), Sean O'Donoghue 0-2 for J McKenna (48), Darragh Kennelly for D Behan (53), Sean Murnane for G Parker (53), Dominic Nolan 0-2 for S McElligott (54). Crotta play Abbeydorney in Round 3 on Friday 30th June in Austin Stack's Park at 7.30p.m. We wish the Crotta Hurlers and their management the best of luck
ACTIVE RETIRED GROUP
Abbeydorney/Kilflynn Active Retired Group are meeting Wednesday 28th June at 10.30am for lunch in the Parish Hall. New members are always welcome.
ST. MARY'S CHURCH, KILFLYNN
Mass Intention for the week in St. Mary's Church: on Wednesday 28th June at 10.00a.m Joe & Mary O'Neill, Gortclohy, Kilflynn, on Wednesday 28th June Requiem Mass for the late  Joseph (Joe) Dowling of Knocknacaska, Kilflynn and formerly Banna South, Ardfert. will be celebrated at 11.00a.m on Friday 30th June at 10.00 a.m Mary Browne, Raheenagh, Co. Limerick, Saturday 1st July at 6.00 p.m. Cyril O'Connell, Rae, Kilflynn Eileen Rohan, Knockbrack, Kilflynn Jack Barrett & deceased members of Barrett Family, Kilflynn.
Sick & Retired Priests Diocesan Collection next weekend 1st/2nd July.
Parish Office can be contacted by phone 066 4018996 Tuesday, Thursday & Friday 10.00 a.m. to 1.00 p.m. or by email: abbeydorney@dioceseofkerry.ie
Webcam has been installed in Kilflynn Church – To watch Masses go to www.dioceseofkerry.ie – Abbeydorney Parish and click on 'watch Mass'. Diocesan
 NORTH KERRY U-13 TITLE FOR CROTTA
Congratulations to Crotta U13 hurlers and their Management who captured the North Kerry Under 13 'A' Hurling Championship (Jack & Mike Galvin Memorial Shield) on Monday evening 19th June in Kilmoyley. Final Score Crotta O'Neill's 3- 13 Ballyheigue 3 – 8. Well done everybody and commissions to Ballyheigue Gaa who played their part in what was a fine sporting game Half time Crotta 2-06 to Ballyheigue 0-03
CROTTA LOTTO RESULTS
The Crotta hurling club weekly lotto draw was held on Monday 26th June at Parker's Pub, Kilflynn.
The Four numbers drawn out of the drum by the independent observer: Graham Harris, Clounsillagh, Lixnaw were 2,15,16 and 25. There was no winner of the 4,700 Jackpot. Congratulations to the following who won €35 in the lucky dip draw: Mark O'Callaghan, Abbeydorney, Ray Galvin, Ballyehan, Lixnaw and Sean Beirne, Fahavane Kilflynn.
The next draw will take place in Herbert's Bar, Kilflynn on Monday 3rd July at 10.30p.m with a €4,800 Jackpot.
Tickets available 3 for €5 online visit www.crottagaa.club or this link https://play.clubforce.com/play_newa.asp?ll_id=427#Anchor or Herbert's Bar/Village Store, Parker's Pub, Zam Zam Kabab, Foley Shop Lixnaw, Abbeydorney Post Office or from Club ticket sellers. Many thanks to all who contribute to our weekly Club Lotto. The Club cannot emphasise enough the importance of our members promoting the Club Lotto among family, friends, and work colleagues. Your continued support is greatly appreciated.
COMEDY NIGHT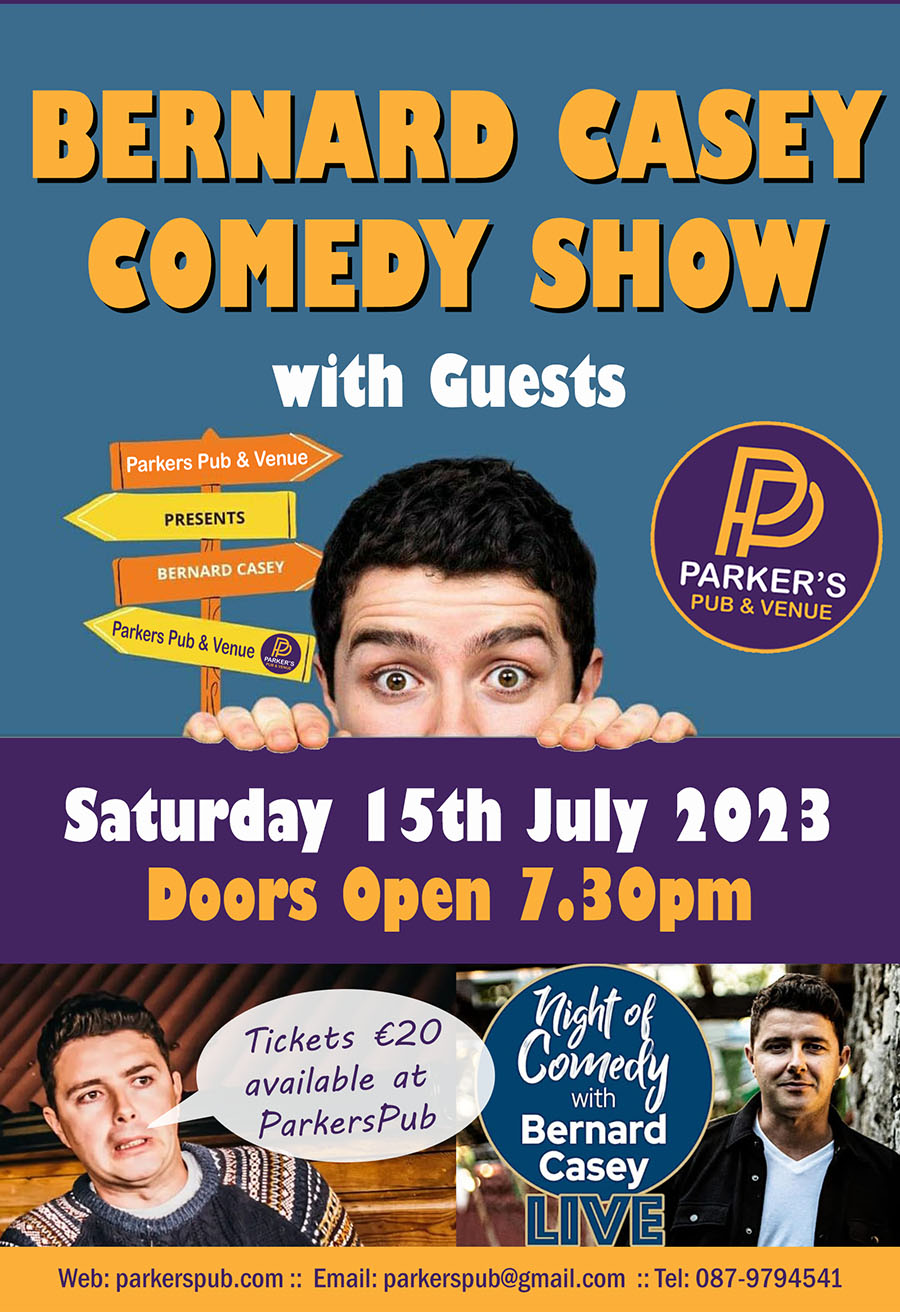 Bernard Casey and Guests return to The Venue at Parker's Pub for one night only! After a rip-roaring Rural Pub Tour of Ireland in 2022. Bernard is bringing his stand up, milky teeth & wild characters to Parker's Pub on Saturday 15th July. Be prepared for a high level of crowd interaction and stories.  Tickets €20 are available at Parker's Pub.
KERRY CAMOGIE
The Kerry senior team travelled to Laois on Saturday 24th June for their Glen Dimplex Intermediate Championship Round 3 game in Rathdowney Gaa Pitch, and recorded a victory over the home side.
All Ireland Intermediate Camogie Championship
Round 3 Kerry 2-15 Laois 0-9 well done to the Kerry players and their management, especially The Crotta ladies Aoife Behan, Jackie Horgan and Amy O'Sullivan.
ABBEYDORNEY/KILFLYNN ST. VINCENT DE PAUL
Confidential number 087 7086253. St. Vincent de Paul Society clothes can be donated locally at the Disposal Facility at Abbeydorney GAA Complex or the Railway Bar Car Park, Lixnaw. Your support is greatly appreciated.
ALONE
Alone are currently looking for befriending volunteers in your area. Visit www.alone.ie for more details and to sign up. If you have concerns about your own wellbeing or are an older person who would like to receive ALONE's Support & Befriending services, contact ALONE on 0818 222 024 from 8am – 8pm, seven days a week