St. Teresa's National School Scarecrow Challenge on TV
There was major excitement in Kilflynn last week with the news of Séan Mac an tSíthigh (Video Journalist RTÉ/TG4) coming to record the scarecrows in the village. 20 scarecrows line the path leading to the school and what a colourful sight they are! It began as one of the schools popular Facebook challenges and just got bigger and bigger culminating in a television appearance!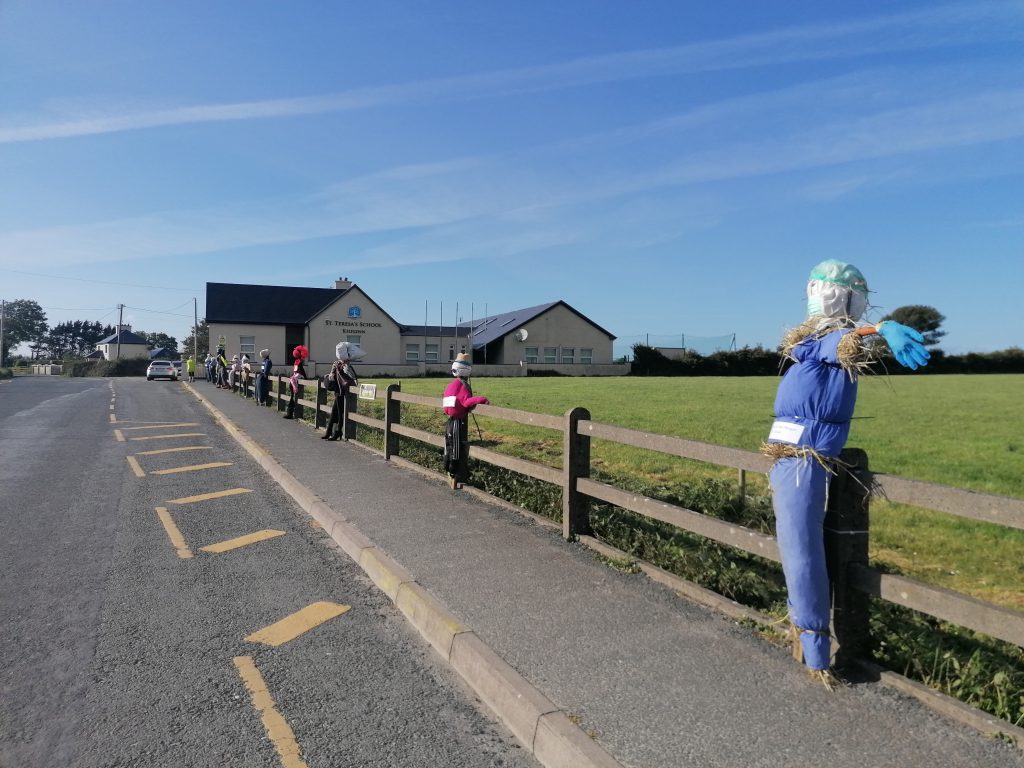 Local Farmer, Pádraig Fuller, contacted Vice Principal Maria Cunningham, wondering would it be something the school children would be interested in and could help with. He was planting 30 acres of Barley and the seeds would need protection from the crows and other birds. Of course we agreed to help, it would something different, something fun and Kilflynn is a community that always helps each other out.
Tina O' Connell (teacher) put the post on Facebook challenging the children to come up with 15 scarecrows, giving tips how to stuff a scarecrow if you didn't have access to straw – stuff old clothes with old clothes, recycling single use plastics but making sure any openings were completely sealed to keep our beautiful Kilflynn clean. As the photos came in Ms O' Connell posted them on the page with some information on their creations. We let this challenge run over two weeks because of the effort and time it would take. As the scarecrows started to come in it led to more and more.
The post reached outside the school community and scarecrows came in from the Tralee and Ardfert area it was fantastic. They were all so different and imaginative. The Facebook page is a great way to keep in touch with the children and the families in these strange times. Working on the same challenge and seeing pictures of our friends doing the same task we are united while being apart.

Maria Cunningham liaised with the families and Pádraig to arrange dropping off and collecting the scarecrows. We were able to use the outside school porch as a drop off point and Pádraig would collect from there at an arranged time. News spread of this little partnership and, as always, Kilflynn village came on board in their droves as sponsors and volunteers. We decided to make it a competition. When the barley seeds were established and shoots were appearing the scarecrows had served their purpose (until August when they will be put back out in the fields to protect crops
again!) they were set up by the school by a team of volunteers to be viewed and judged. They have brought so much joy and so many smiles to passers-by and visitors that came to see them because they look amazing.
Three places were awarded with trophies and every child that entered received a medal. Along with this every family got a fabulous goody bag of treats and a family size pizza delivered to their door by a team of volunteers under the watchful eye of Mrs Cunningham and Pádraig.
If that wasn't a fantastic story as it was….TG4 Nuacht and RTE Nuacht journalist Séan Mac an tSíthigh was alerted to the events by local business man, and great friend always to our school, Mike Parker.
Séan jumped on the chance to cover the story and record a piece for television. The item aired on Tuesday evening, June 2 nd , and a proud school and village community tuned in to see it. Séan was brilliant, he made the whole experience fun and relaxed. He gave everyone time and he enjoyed the scarecrows himself. He spoke to Pádraig, Tina and Maria…he also spoke to Nora Falvey our Principal who was a bit camera shy but she was there all the time assisting and enabling this to happen. The
children attended to their own scarecrows for the recording, scarecrows had been set up with a good distance between them, and Séan spoke to and praised them for their efforts. He showed great interest in them and they thoroughly enjoyed the time. A fantastic memory to have.
Click on the images for more views of the scarecrows:
[envira-gallery id="39"]
The winners were:
First place: Faye Quirke with Bob the Cowboy Builder
Second place: Riah, Daire and Megan McGuinness with Lady Dearg
Third Place: Emma and Cillian Horgan with Frank
Farmers Choice Award: Cian and Eoin Mangan with Dr. Covid
Sponsors
Parkers Pub Kilflynn
Dillanes Londis Maxol Abbeydorney
David Power Butchers Abbeydorney
Gardyowen Transport Limited Kilflynn
Zam Zam Kebab Kilflynn
Prims  on the run
The Poor farmer
Tommy Neenan
Shindig Tralee
Mike Neenan
Transportation
Tony Nolan
Pádraig Fuller
Volunteers, stylists:
Fiona Horgan
Karen Tuite
Chloe Neenan
Tommy Neenan
Maria Cunningham
Tina O Connell
Staging
Mike Conway
Paddy Murnane
Dermot Ryan
Paul Sheehan
Josh Greaney.
Paddy Weir
We would like to say a massive Thank You to EVERYONE! Everyone who took part and everyone who
helped in any way. Special thanks to Pádraig Fuller for approaching us and getting the ball rolling.
CROTTA LOTTO JACKPOT RESULTS
The Crotta Hurling Lotto Club draw with a Jackpot of €15,800 was held on Monday 8th June  in St Columbas Centre, Kilflynn. The four numbers drawn by Independent observer: Maurice McElligott, Castletown, Kilflynn were 20,26,27 and 32. There was No winner of  €15,800 Jackpot. Congratulations to the following who won €35 in the lucky dip draw: Bridget White, Castletown, Kilflynn, Marie Counihan, Curraheen, Tralee and Mary Feehan, Ballymacandrew, Ardfert. .  Both Maire  and Mary  purchased their lucky tickets on www.locallotto.ie . The next Draw with a jackpot of  €15,900  will take place next Monday night 15th  June  @ 9;45 pm via Crotta Facebook Live. Please note cut off time for entry is 9.30pm on  Monday 15th  June.
With current social restrictions Crotta GAA would encourage lotto players to avail of our online facility (see link below). Alternatively tickets are available at Herbert's Village Store,Kilflynn (Open Daily 4-8pm), Zamzam Kebab, Kilflynn, Abbeydorney Post Office, Foley's Shop, Lixnaw or by contacting  Paddy Weir (087) 415 5821, Paud Tuomey (087) 237 9559 or Mike Parker (087) 979 4541. All Draws will be broadcast live via Crotta Facebook on a weekly basis Monday's at 9:30pm until our traditional venues for draws are once again available. Play online now https://play.clubforce.com/play_newa.asp?ll_id=427#Anchor . Thank you for your amazing support as always.
GAA UPDATE
The GAA, LGFA and Camogie associations jointly released a "Safe Return to Gaelic Games" document last weekend, which reveals the phased approach to holding club and inter-county championships in 2020 provided it is safe to do so (please visit our club Facebook page for details). The key points of this document are:
* A gradual return to on-field, non-contact activity in phase 3 (29th June) of the Government plan in small groups of no more than 10 including players and coaches in one area of the pitch under social distancing guidelines. Adults can also begin training in small groups of 5. * The need for an online educational programme and new measures around temperature checking and completed documentation before training and games. * A return to contact sport on July 20 * Walkways on GAA pitches will open from Monday, June 8, in groups of 4. * Club pitches will open on 29th June – No access to GAA buildings and indoor facilities except to use sanitised toilets. * Juvenile and adult club championship games can commence from 31st July. * Inter-county training to commence on 14 September * Inter-county calendar to commence from 17th October * A full fixture calendar will be published in August.
Please note that all the above plans are dependent on Government approval and advice.
ABBEYDORNEY PARISH
ST.   BERNARD'S, ABBEYDORNEY ~ ST.  MARY'S, KILFLYNN
MASSES
Saturday 6th June at 6.00 p.m. Edward McCrohan, Knocknacaska, Kilflynn
Sunday 7th June at  10.00 a.m. Kieran Behan, Ballymacaquim, Abbeydorney
No Cemetery Masses this year
Mass will be streamed live on www.dioceseofkerry.ie, go to Abbeydorney Parish and click on watch live Mass
Priest on duty in North Kerry Area, Sunday 7th June
Fr. Brendan Walsh 087-7913271
Parish Office is closed due to the Covid-19 restriction. Please phone 066 4018996 for Mass booking and all other queries.
Abbeydorney and Kilflynn Churches will be open for private prayer 11 a.m. – 7 p.m.   Please use the sanitisers provided, observe social distancing, follow the signs and do not to enter the areas where access has been restricted. The churches will be closed during Mass times.
Parish Office will re-open on Tuesday 9th (9.30 a.m. – 1.30 p.m.)  All visitors to the office are asked to adhere to strict social distancing.
Parishioners can return Parish Fund Envelopes, Trócaire contributions and Spring and Easter Offerings during office hours.
Thanks to the parishioners who have already returned Parish Fund, as well as Spring and Easter Offerings, and Trócaire contributions.
Bishop Ray Browne will celebrate Mass in the Cathedral (live streamed) on Tuesday, 16th June at 7.30 p.m. for 6th Class pupils in the diocese.
PHASE TWO PLUS
The government announced an acceleration of the roadmap into easing restrictions brought in to curb the spread of Covid-19. Everything highlighted in the former phase 2 has been given the go ahead and some of phase 3 has been brought forward in what is now "phase 2 plus". This will take effect from Monday, 8th June.
* Stay local – You may travel within your county and up to 20km from your home if crossing neighbouring county boundaries. * Meeting other people – Up to 6 people from outside your household can be met indoors or outdoors for social gatherings (with 2m social distancing). * Sports – Organized outdoor activities (sporting cultural or social) of up to 15 people may take place. * Shops – Most retailers are re-opening. Shop locally and safely and support businesses in your community. * Transport – Walk or cycle if you can. Public transport capacity is limited due to social distancing requirements. * Masks – Face coverings are recommended to be worn in public places such as shops and on public transport. * Funerals – Up to 25 immediate family and close friends may attend funeral services. * Children – Outdoor summer camps may operate for post-primary children in groups of no more than 15. Playgrounds and commercially-serviced outdoor amenities may also reopen. * Work – Work from home where possible. Marts may reopen where social distancing and hygiene can be maintained. * International travel – All non-essential overseas travel to and from Ireland should be avoided. Passengers from overseas are expected to self-isolate for 14 days. * Cocooners – The over 70's and medically vulnerable are advised to stay at home, however, they can welcome small numbers of people into their homes but maintain social distancing.
KILFLYNN VINTAGE RALLY 2020
Even though we are unable to host our annual Kilflynn Vintage Weekend, we would still like to mark the occasion in 2020.
We are asking all vintage enthusiasts and followers to either take a picture or video with something that captures your love of vintage! Be it a tractor, car, bike, stationary engine etc., or if you have attended our rally, we would love to see some memories of our event down through the years!
Send it here to our page via messenger or email it to kilflynnvintageclub@gmail.com and we will be displaying all entries on the weekend of June 13th/ 14th to mark the occasion! Please  also spread the word to those that may not be on social media.
It's all for fun! We will also do a draw for everyone who sends in a video/photo for 5 free passes to our next rally, whenever it may be! Stay safe everyone, looking forward to seeing your entries!
SPECIAL OFFER
You can now purchase your annual Crotta hurling club yearly lottery ticket, which entitles you to one ticket in the weekly lotto draw for 52 weeks for 100 euro. Two draws free. The yearly lotto ticket can be obtained by contacting Club Chairman Paddy Weir on (087) 415 5821 for only 100 euro.
Abbeydorney/Kilflynn St. Vincent de Paul confidential number is 087 7086253
COVID-19 HELPLINE
A special helpline which is free and confidential is available in Kerry to help people accessing non-emergency and non-medical services. The COVID-19 Kerry Community Response Forum includes over a dozen agencies and organisations including Kerry County Council, Gardaí, and GAA. This freephone number 1800 807 009 will be available 8am to 8pm seven days a week. A text line is also available, people can text SUPPORT followed by their NAME to 50555. Requests can also be e-mailed to covidsupport@kerrycoco.ie.
ACCORD
Accord are now offering over the phone counselling for couples, Individuals & family members during this time of unprecedented stress & pressure during these weeks of COVID-19.  Call: 01 5313331