CLOTHING DRIVE
St. Teresa's National School, Kilflynn are holding a clothing recycling drive fundraising.
Please donate all your clean unwanted clothes, shoes, bed linen, curtains, towels, bags, belts and soft toys. Please Donate only clean dry and rewardable clothing as we cannot accept wet, dirty or damaged clothes or goods. No Duvets. Drop your bags to the Crotta Hurling Club house, Dromakee, Kilflynn from Tuesday 25th January to Sunday 27th February between the following hours 8.00a.m to 9.00p.m. 7 days a week. Thank you for your support and taking the time and effort to support our fundraising drive.
THE WEEKLY DART'S TOURNAMENT
The weekly Darts Double Tournament in Parker's Snug Bar, on Saturday night 19th February John Leahy and Greg Leahy defeated Peter Nammock and Brendan O'Grady in the final. The winners received a leg of lamb each. Thanks to the darts players who showed up on time last Saturday night. The Next Darts Doubles tournament on Saturday night 26th February in Parker's Pub at 9.30p.m. All names in for 9.15p.m Sharp. The winners of the weekly darts will receive a leg of lamb each.
There will be a darts exhibition in Parkers Pub on Sunday 27th February at 3.00p.m, with "Rapid" Ricky Evans"! who will play 20 players. To book a spot to play Ricky please WhatsApp Mike on 0879794541
KERRY SENIOR HURLERS
The Kerry hurlers return to Allianz National League Division 2A action this Sunday 27th February with an away game against Carlow in Netwatch Cullen Park at 12.30pm. Best wishes to the Kerry players and their management.
Other fixtures in Division 2A next Sunday are,
Down V Kildare Meath V Westmeath
St. MARY'S CHURCH, KILFLYNN
Mass Intention for the week in St. Mary's Church
Wednesday 23rd February   at 10.00 a.m.
Friday 25th February at 10.00a.m,
Saturday 26th February at 6.00 p.m.
Parish Office can be contacted by phone 066 4018996 Tuesday, Thursday & Friday 10.00 a.m. to 1.00 p.m. or by email: abbeydorney@dioceseofkerry.ie
Masses from St. Bernard's Church, Abbeydorney are streamed live on www.dioceseofkerry.ie, on Sunday at 10 a.m. Go to Abbeydorney Parish and click on watch live Mass.
Kilflynn Eucharistic Adoration  Monday (7.00 p.m.-8.00 p.m.)
Blessed Candles €6 of pack of 6 available from Parish Office.
KILFLYNN ST. PATRICK'S DAY PARADE
After two tough years for everyone, it's time to celebrate St Patrick's Day as a community.
The call goes out to clubs and community groups to get involved in this year's St Patrick's Day parade in Kilflynn.
Hundreds of people from dozens of organisations have taken part every year, showing the amazing community spirit in the village and bringing much colour and entertainment to proceedings. Let this year be amazing.
Kilflynn Community Together are organising this year's St Patrick's Day Parade and are hoping to see all community groups taking part. Interested groups can contact Niamh on 0863144157 to book their place.
This year's parade will get underway at 4:00pm sharp on March 17th. It will be a wonderful gathering of the Kilflynn and surrounding communities awash with colour and imagination!
The name of the Grand Marshall, the person who will lead the 2022 Kilflynn parade, will be announced nearer the day.
COMEDY PLAY
Weight Watching written by Ray O'Sullivan and directed by Aidan O'Connor on Saturday 26th February at 8.00 p.m. in Abbeydorney Community Centre. Booking with Ray at 087 2279657. Tickets €15.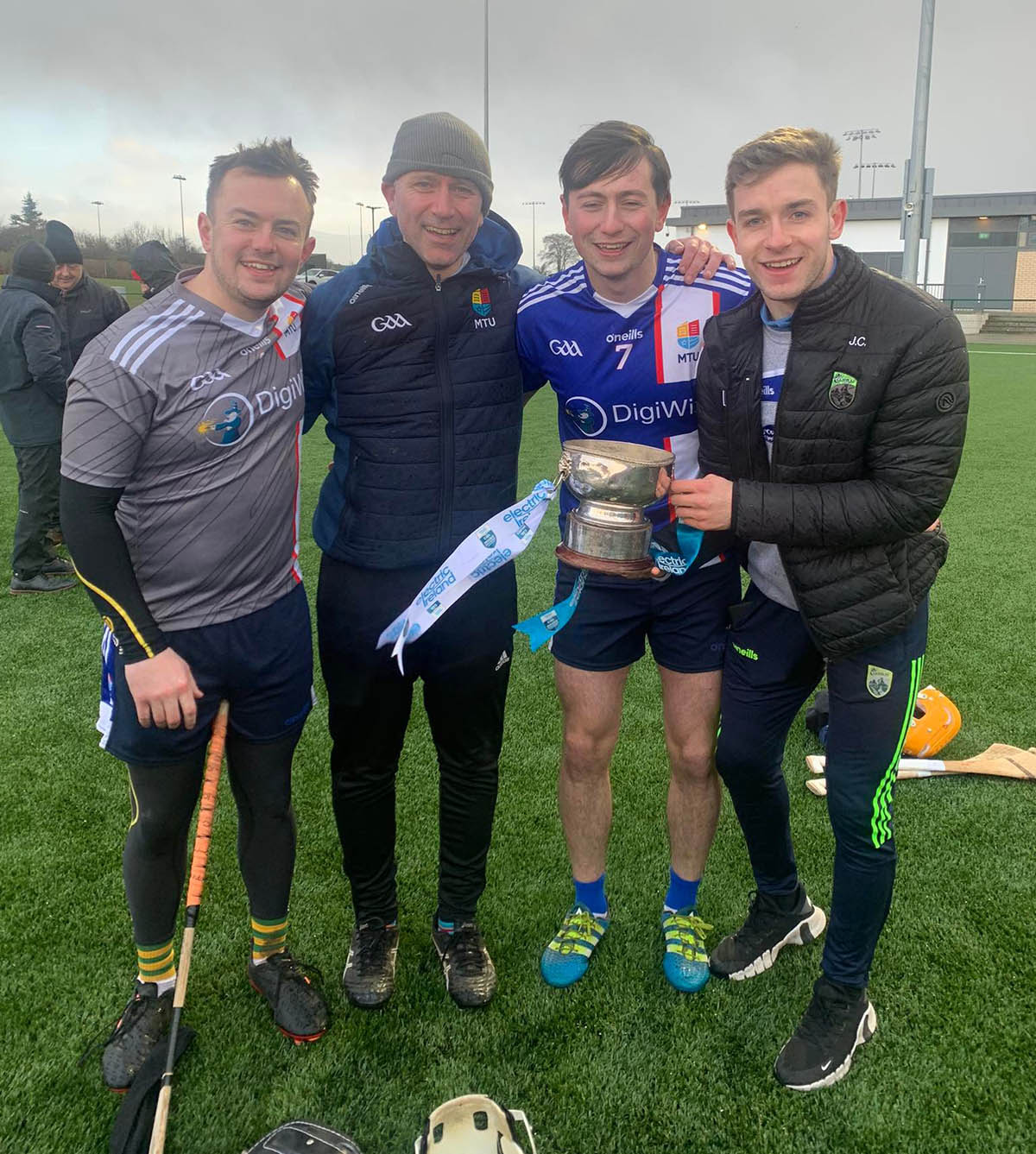 RYAN CUP FINAL
MTU Kerry Campus 1-20 Ulster University 2-13
A Fantastic victory for MTU Kerry Campus GAA Club senior hurlers on Sunday 20th February in the Higher Education Senior Hurling Ryan Cup final, defeating Ulster University on a score line of 1-20 to 2-13 at the South Sports Capus Gaa  pitch, IT Carlow. In the semi final on Saturday 19th February MTU Kerry Campus GAA Club defeated  Queen's University on a score line of 1-18 to 0-10 at the South Sports Campus GAA pitch, IT Carlow.
Congratulations and well done to The Kerry side and management, especially the Crotta players on the team Adam O'Sullivan (Goalkeeper), Tomas O'Connor (Wing Back) (0-02) and Jordan Conway (Sub) and Micheal Lynch on the management.
ABBEYDORNEY/KILFLYNN ST. VINCENT DE PAUL
confidential number 087 7086253. St. Vincent de Paul Society clothes can be donated locally at the Disposal Facility at Abbeydorney GAA Complex or the Railway Bar Car Park, Lixnaw. Your support is greatly appreciated.
ALL IRELAND CAMOGIE SEMI FINAL
Clanmaurice Camogie Club booked their place in the All Ireland Junior Club final on Sunday 20th in St Rynagh's GAA grounds Banagher Co. Offaly with a 0-10 to 1-05 victory over Raharney of Westmeath after extra time in the All-Ireland Junior Club Semi Final. Congratulations to everyone involved, especially the Crotta players Aoife Behan (Centre Forward) (0-01) and Jackie Horgan (Full forward) (0-08, 7fs).
CROTTA LOTTO RESULTS
The Crotta hurling club weekly lotto draw was held on Monday 21st February at Parker's Pub, Kilflynn
The Four numbers drawn out of the drum by the independent observer: Graham Harris, Clounsillagh, Lixnaw were 6, 14,25 and 28.
There was no winner of the 7,500 Jackpot. Congratulations to the following who won €35 in the lucky dip draw:
Shane Hanlon, Bayview Cottage, Dreenagh, Ballyheigue. Fionn Maunsell, C/o Ian  Maunsell, Cahernade, Abbeydorney and Ciss Honan Lixnaw.  The Next draw will take place in Herbert's Bar, Kilflynn on Monday 28th February at 10.00p.m in compliance with Covid-19 restrictions for a €7,600 Jackpot.  Tickets available 3 for €5 online visit www.crottagaa.club or this link https://play.clubforce.com/play_newa.asp?ll_id=427#Anchor or Herbert's Bar/Village Store, Parker's Pub, Zam Zam Kabab, Foley Shop Lixnaw, Abbeydorney Post Office, or from any club officer. Many thanks to all who contribute to our weekly Club Lotto. Your continued support is greatly appreciated.
CARE AND REPAIR
Age Action's Care and Repair does small DIY jobs, free of charge, for older people to help them maintain their homes and their independence. For details contact Age Action national helpline 0818 911 109 or email careandrepair@ageaction.ie
COVID-19 SUPPORT LINE FOR OLDER PEOPLE
ALONE manages a national support line and additional support for older people who have concerns or are facing difficulties relating to COVID-19. The support line is open seven days a week, 8am – 8pm, by calling 0818 222 024