UPDATE 29th NOVEMBER: 'THE PARISH' POSTPONED
Cork's Hub Cap Productions in Parker's Pub, Kilflynn on Friday 10th December in aid of St.Teresa's National School, Kilflynn. Has now been POSTPONED until Feb 2022.
All current tickets are valid, Sorry for any inconvenience.  #StaySafe
KILFLYNN TODDLER GROUP
We're delighted to announce that we are back up and going from Thursday 18th November from 10am to 11.30am in St. Columbas center, Kilflynn!
Please wear your mask and we will aptly space our seating in accordance with covid requirements.
There will be teas, coffees and biscuits with plenty of banter for the parents and loads of fun for our toddlers!
Look forward to meeting you all, Trish and Regina
CROTTA LOTTO RESULTS
Herbert's Bar, Kilflynn was the venue for the Crotta hurling club weekly lotto draw on Monday 22nd November. The Four numbers drawn out of the drum by the independent observer: Graham Harris, Clounsillagh, Lixnaw were 4,7, 22 and 32.
There was no winner of the 6,200 Jackpot. Congratulations to the following who won €35 in the lucky dip draw:
Jackie Hurley, Garrynagore, Lixnaw, Michelle Carroll, The Cloisters, Abbeydorney and Aidan Behan, Abbeydorney. The Next draw will take place in Parker's Pub, on Monday 29th November at 10.00p.m in compliance with Covid-19 restrictions. Note the cut off for entry to the €6,300 Jackpot draw (online or locally purchased) is 9:30pm on Monday 29th November. Tickets available 3 for €5 online visit www.crottagaa.club or this link https://play.clubforce.com/play_newa.asp?ll_id=427#Anchor or Herbert's Bar/Village Store, Parker's Pub, Zam Zam Kabab, Foley Shop Lixnaw, Abbeydorney Post Office, or from any club officer. Many thanks to all who contribute to our weekly Club Lotto. Your continued support is greatly appreciated.
ENTERTAINMENT
Music with Dreams Of Freedom in Parker's Pub, Kilflynn on Sunday 28th November at 6.00p.m to 8.00p.m
CARE GROUP CHRISTMAS PARTY
Abbeydorney/Kilflynn Care Group Christmas Party for senior citizens in Ballyroe Heights Hotel won't go ahead this Christmas due to NPHET guidelines.
CAMOGIE MUNSTER FINAL
Munster Junior Club Championship Final 2020
Clanmaurice v Feakle Killanena On Saturday 27th November 2021 @ 12noon In Mallow
Ref Diarmuid Kierwin
Best of luck to the girls and management team
HURLING RESULTS
Rhyno Quality Feeds North Kerry Intermediate Hurling Championship Semi Final RESULT
Abbeydorney 3 – 13 Crotta O'Neill's 1 – 13
Abbeydorney will meet Causeway in the Final
The Crotta GAA club are looking for YOU….
Yes, we are seeking boys and girls aged between 13–17 years from our community to represent Crotta Hurling Club as part of Scór na nÓg. So, if your play an instrument, sing or have the gift of storytelling please get in touch with Crotta Scor officer Tom Breen on 087-2748555. Once we have a list of those interested in taking part this will provide a fuller picture on how best we proceed with the clubs entries for 2022. Categories include Instrument Group, Solo Singer, Ballad Group, Restitution. Please see link https://www.gaa.ie/the-gaa/cultur-agus-gaeilge/scor for other categories which may interest you. Please confirm your interest in getting involved by Saturday 27th November 27th.
THE PARISH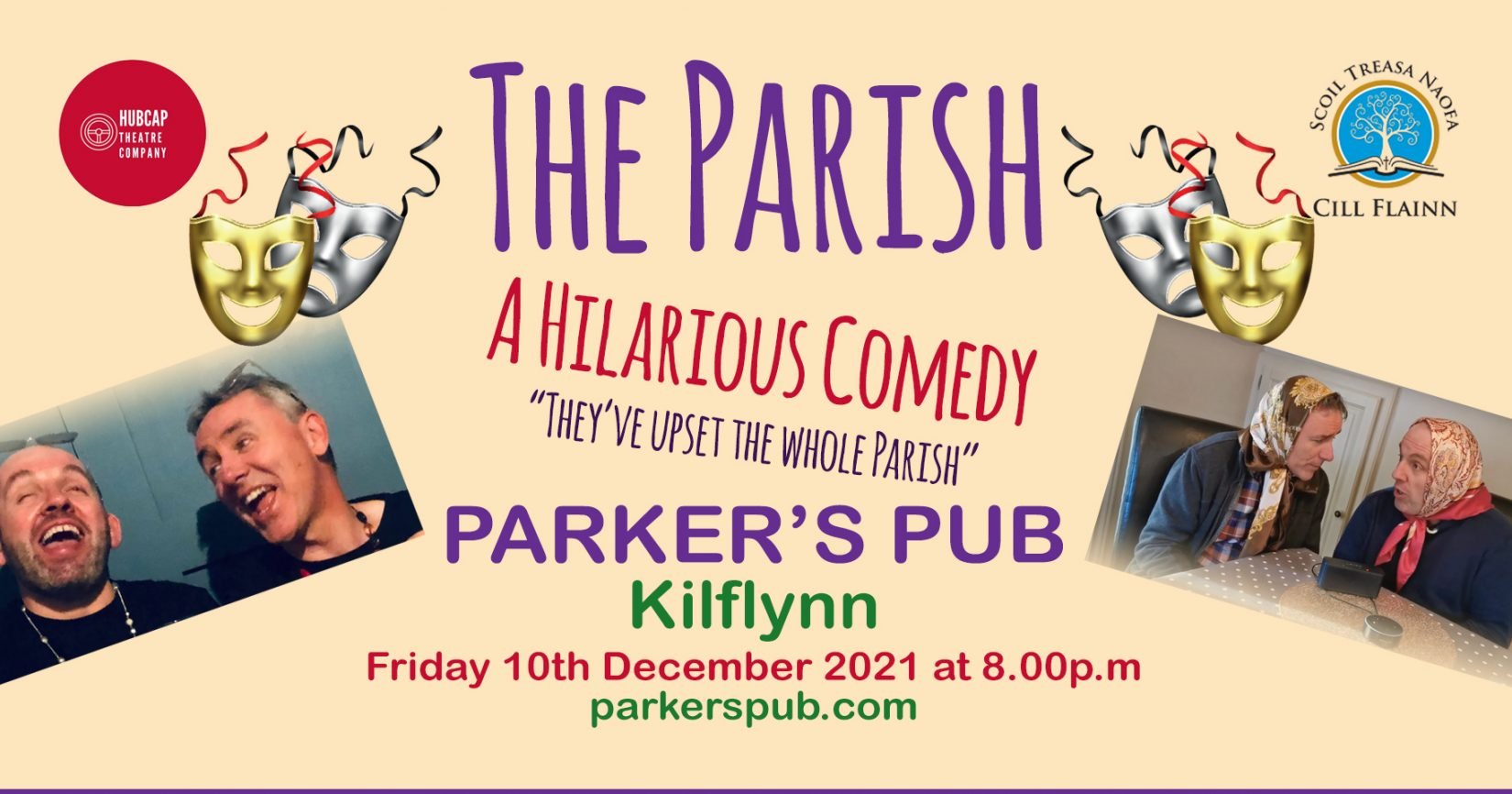 Cork's Hub Cap Productions is coming to Parker's Pub, Kilflynn on Friday 10th December at 8.00p.m in aid of St.Teresa's National School, Kilflynn.
This brilliantly funny play written and performed from 2 hilarious Cork lads are bringing their award-winning laugh out loud play to Kilflynn. The Parish is a light comedy that runs for 1 hour and 20 minutes. Two actors bring to life characters that can be found in every rural community in the country. It is performed with minimal set and is supported by a rich soundscape. The Parish brings to life a story of conflict and treachery in the community
Tickets are available from Parker's Pub and St.Treasa's National School at 15 euro. Limited seating event!
CARE AND REPAIR
Age Action's Care and Repair does small DIY jobs, free of charge, for older people to help them maintain their homes and their independence. For details contact Age Action national helpline 0818 911 109 or email careandrepair@ageaction.ie
COMMUNITY WALKWAY
Community Walkway – We hope everybody is availing of the fantastic community walkway at the sportsfield,Dromakee, Kilflynn which is open to the public since October.
The walkway is open to the public at any time during daylight hours and is full floodlit from 7pm to 9pm daily for your safety use 7 days a week.
To keep the walkway clean we would like to remind everybody that pets are not allowed in the walkway. Thank you for your understanding This truly is a fantastic facility for all in our community to avail.
ST. MARY'S CHURCH, KILFLYNN
Mass Intention for the week in St. Mary's Church
Wednesday 24th November at  7.30 p.m. November List
Saturday 27th November at 6.00 p.m Jimmy Lawlor, Tullacrimmin (Month's Mind)
Parish Office can be contacted by phone 066 4018996 Tuesday, Thursday & Friday 10.00 a.m. to 1.00 p.m. or by email: abbeydorney@dioceseofkerry.ie
Masses from St. Bernard's Church, Abbeydorney are streamed live on www.dioceseofkerry.ie, on Sunday at 10 a.m. Go to Abbeydorney Parish and click on watch live Mass.
Kilflynn Eucharistic Adoration  Monday (7.00 p.m.-8.00 p.m.)
Covid-19 Update Religious services and weddings can proceed without capacity limits but with all other protective measures remaining in place as and from October 22nd, 2021. People attending religious services in our church must wear face masks, sanitise their hands on entry and exit from the church and maintain adequate social distance whenever appropriate. Please continue to follow all of the public health guidance in relation to Covid-19 so as to reduce the spread of the virus.
KILFLYNN RUNNING GROUP
Training for the Couch to 5km and 10 km commenced in the Community walkway at the Sportsfield, Dromakee,Kilflynn on Sunday morning 3rd October at 10.00a.m
The next training session will be on Wednesday at 7.00p.m and every Sunday morning and Wednesday evenings at 7p.m from October on till St. Stephen's Day where we will run our 5 km and 10 km. Only 23 more sessions till St. Stephen's day. There will be a donation of €2 per night per person. This money will go to the Kerry cancer support group for their bus services everyone welcome
TAEKWON DO
The Kilflynn School of TaeKwon-Do returns on Wednesday, October 6th, in the St. Columbus Centre, Kilflynn.
Class Times
-4.45pm – 5.30pm (3 to 5 year olds).
-5.30pm – 6.30pm (6 to 14 year olds).
For further details contact Wayne on  086 0883595
ST. VINCENT DE PAUL
The local confidential number is 087 7086253.
COVID-19 SUPPORT LINE FOR OLDER PEOPLE
ALONE manages a national support line and additional support for older people who have concerns or are facing difficulties relating to COVID-19. The support line is open seven days a week, 8am – 8pm, by calling 0818 222 024