CROTTA AWARDS NIGHT
The Crotta Coiste na nÓg Awards Evening took place on Saturday 19th March in St Columbus Centre, Kilflynn. The evening was in recognition & honour of the fantastic achievements of our young hurler's. We as a club are very proud of all our players who despite all the uncertainty & worry of Covid worked very hard, supported each other's and provided terrific sporting & entertaining hurling all year.
Special guests on the night were Crotta / Kerry / MTU hurlers Jordan Conway and Adam O'Sullivan who kindly brought along the Ryan Cup. The lad's presented awards to the following teams '20 U14 – County League, '20 U12 – County League, '21 U13 – County League, '21 U13 – N. K League and '21 U13 – Eddie Hayes. Special awards on behalf of Coiste na nog went to Noel McGrath in recognition of his fantastic contribution to the club during his 6-year term as secretary. Our Scor group provided fantastic music which added greatly to the evening. Great credit goes to M.C on the night Paul Shanahan who made sure everything went to plan and who had the centre beautifully decorated in the green and colours and photos of the victorious Crotta hurling teams on display. Thanks Paul.
It was a very enjoyable evening for the players and the club are delighted to have the opportunity to recognise their amazing achievements. Roll on 2022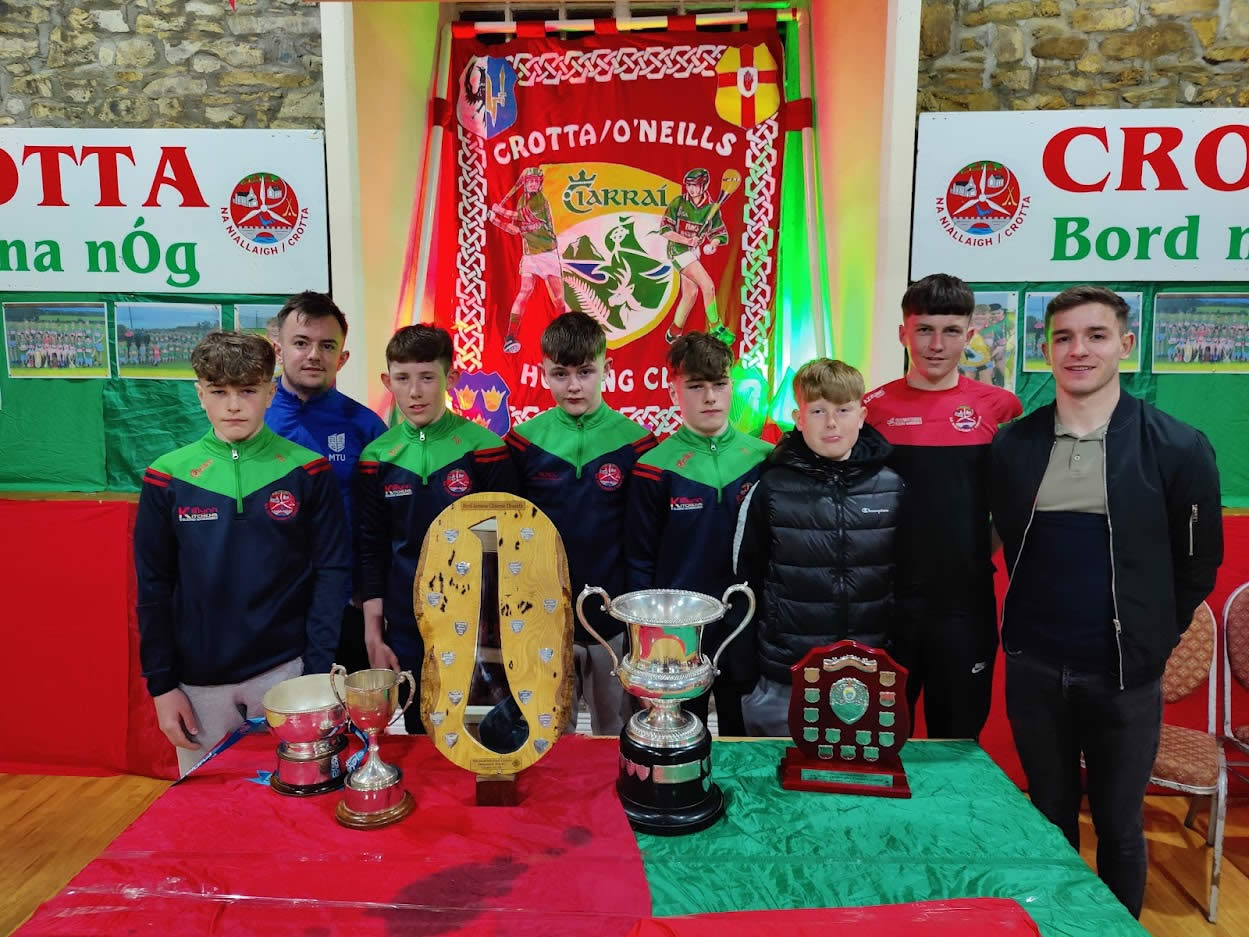 SPLIT THE BUCKET RETURNS
Don't forget the March Kilflynn Community Together "Split the Bucket" draw will take place on Saturday,26th of March in Parker's, Kilflynn @ 10:00pm.
To mark the return of the draw we are guaranteeing a minimum of €500 to the lucky envelope drawn out of the bucket.
Get your entries in (as many as you like) before Saturday! It could be your lucky day! We have buckets at various businesses around Kilflynn  -Parkers Pub, Herbert's Bar and Zam Zam Kebab.
The concept of the draw is simple, simply place your €2 into the envelope at the venue, write your name and phone on the envelope and you could possibly 'split the bucket!'
Funds raised will be used for projects that will benefit and improve Kilflynn. Your support is greatly appreciated.
KILFLYNN NATURE GARDEN
Thank you to everyone who came along to our living willow workshop on Saturday 19th March,  at Ballyconnell Heights, Kilflynn.. Many thanks to Cathy Eastman for teaching us all about the magic of making willow fences and archway. Also, thanks to Frank Stafford for the (very) large willow rods and to all the participants for all your hard work in creating a work of art!!
CENSUS 2022
Census Enumerators will be calling to every household over the coming weeks delivering and collecting Census forms. Each Enumerator will carry Identification documents, will wear a high visibility jacket with Census Enumerator written on the back of it. There is no reason for any Enumerator to enter any person's house
KERRY CAMOGIE
Littlewoods Camogie League Div 2
Kerry retains their Intermediate status
Laois 2-3 Kerry 1-8
This two-point victory by Kerry on the road against Laois on Saturday 19th March in the Littlewoods Camogie League Division 2 game between the two sides without a win could well become one of the most important wins for the continued growth of the game in the county. They worked the ball through the lines and each and every one played their part Kerry had only 17 players on Thursday night but Caoimhe Spillane and Jackie Horgan made themselves available through carrying injuries while Aoife Behan who was resting answered the call and travelled down from Dublin. Jackie played in goals for the second half as we were playing against the wind and her puck outs and experience proved invaluable. Well done to the Kerry players and their mentors who secured their division 2 status for 2023.
The Crotta hurling club was represented by Amy O'Sullivan, Aoife Behan and Jackie Horgan on the Kerry side.
KILFLYNN CITY RUNNING GROUP
What a great day all around for the community of Kilflynn on St Patrick's day 2022. People from all age groups took to our roads and running track at the sportsfield, Dromakee, Kilflynn to achieve their goals. And everyone one of ye smashed your personal goals and more. Ye are all winners. Doing so in the last ten weeks training we raised €2533 for Kilflynn national school. Great celebrations all around the finish line where everyone enjoyed a nice cup of tea and treats and chatted about their day. Thanks to Crotta Gaa for providing the facilities in order for all this to take place . Well done to Kilflynn community Together for putting on a great parade in the village. It was a great day all round for the community to enjoy. Kilflynn City Running Group committee members  John Mahony,  Declan Keegan and Noel Mc Grath would like to Thank everyone for their support. We will have a break on Sunday. A break means you can do your own runs. Keep your foot on the gas. And never give up.
CROTTA ACADEMY
The Crotta Academy will return this Sunday March 27th from 11am – 12pm and will continue each Sunday throughout the Summer. The Academy is for age groups U5's – U9's and will be held at our sport grounds Dromakee (V92 NW92). All beginners are welcome and we would encourage all girls & boys to come along and give hurling a go. If you need any information or clarification please message or phone Paul Shanahan 087-9715781. Looking forward to seeing all new and familiar faces on Sunday.
CROTTA GAA MEMBERSHIP
It's that time of year again when the registration process needs to be completed and the membership fees fall due.
Non players
must be paid up by 31st March.
Players
Must have paid 3 days before a game or training season for registration and insurance purposes.
A new club policy introduced last year is No Pay, No Play.
This policy is to ensure that our players are covered in the event of injury
Foireann is a new system that has been launched by the GAA for member registration. You can get access to the system by using the following link: www.foireann.ie
Contact: Shane Herbert (Crotta GAA Club registrar) 087 289 0087 if you have any queries on registering.
 CROTTA LEISURE CYCLISTS
The Crotta Leisure Cyclists will resume their cycles every Tuesday and Thursday evenings from 29th March at 6.30p.m from Barry's Crotta. New Cyclists welcome, no experience necessary for further details contact Mike Barry 086 2571230
 KERRY SENIOR HURLERS
The Kerry Senior hurlers made the long journey to Ballycran, Co Down to play the home side in Round 5 of the 2022 Allianz Hurling League Division 2A on Saturday 19th March and were defeated by 1-19 to 0-20. The Crotta Hurling Club was represented by Shane Nolan (Wing forward) (0-01) and Sean Weir (Sub) on the Kerry side.  Kerry will play Westmeath in the National Hurling League Div 2 A Semi Final on Saturday 26th March at 1.00p.m in Mullingar.  We wish the Kerry players and their mentors the best of luck.
THE WEEKLY DART'S TOURNAMENT
The weekly Darts Double Tournament in Parker's Snug, on Saturday night 19th March, Derek Fealy and Brendan O'Grady defeated Diarmuid Brennan and Darragh Mulvihill in the final. The winners received Top quality roasting Irish Beef each from Brendan Mahony's Butcher shop Listowel. Thanks to the darts players who showed up on time last Saturday night.
The Next Darts tournament will take place on Saturday night 26th March in Parker's lounge bar at 9.30p.m. All names in for 9.15p.m Sharp. The winners of the weekly darts will receive roasting Irish Beef each.
SAVE THE DATE
The next darts exhibition event in Parker's Pub and will be Tony "Silverback" O'Shea and Andy "The "Hammer" Hamilton on Sunday 24th July at 3.00p.m.
MUNSTER U-19 SOCCER FINAL
Hard luck to The Green Tralee CBS u19 soccer team who unfortunately lost the Munster final on Wednesday 16th March at Carrigaline, on a score line of 1-0. especially the Kilflynn boys Sean Mcgrath ,Ryan Guerin and Matt Healy, they gave it absolutely everything on the day, as they have done all year and can hold their heads high this evening. The entire community is tremendously proud of their achievements all year.
Congratulations to De La Salle on their victory.
ST. MARY'S CHURCH, KILFLYNN
Mass Intention for the week in St. Mary's Church.
Wednesday 23rd April at 10.00 a.m. Friday 25th March at 10.00 a.m. and Saturday 26th March at 6.00 p.m.
Parish Office can be contacted by phone 066 4018996 Tuesday, Thursday & Friday 10.00 a.m. to 1.00 p.m. or by email: abbeydorney@dioceseofkerry.ie
Masses from St. Bernard's Church, Abbeydorney are streamed live on www.dioceseofkerry.ie, on Sunday at 10 a.m. Go to Abbeydorney Parish and click on watch live Mass.
Kilflynn Eucharistic Adoration  Monday (7.00 p.m.-8.00 p.m.)
Kilflynn Altar Society for March: Claire & Carmel Walshe Blessed Candles €6 of pack of 6 available from Parish Office.
Special Collection for the Ukraine will be taken up at all Masses on the weekend of Saturday 26th /Sunday 27 th March. Envelopes are available in both churches and contributions be given at the Parish Office
ABBEYDORNEY/KILFLYNN ST. VINCENT DE PAUL
Confidential number 087 7086253. St. Vincent de Paul Society clothes can be donated locally at the Disposal Facility at Abbeydorney GAA Complex or the Railway Bar Car Park, Lixnaw. Your support is greatly appreciated.
ART FOR UKRAINE
Art pieces for sale by Gerald Byrnes, Garrynagore, Crotta. All proceeds will go to the Ukraine Refugee Fund. The art pieces are on display in St Columbas Centre, Kilflynn and at Gerald's house in Garrynagore. Jam will welcome you. Watercolour, acrylic and oil pieces. Every little help. Thanks for your support. You know they are worth it. For further details contact Gerald on 089 2681868
CROTTA LOTTO JACKPOT HIS €8,000
The Crotta hurling club weekly lotto draw was held on Monday 21st March at Parker's Pub, Kilflynn
The Four numbers drawn out of the drum by the independent observer: Graham Harris, Clounsillagh, Lixnaw were 9,18, 23 and 28.
There was no winner of the 7,900 Jackpot. Congratulations to the following who won €35 in the lucky dip draw:
Orna Laide, Cork, Jessica Cronin, Hillview, Knocknacaska Kilflynn and Mike Herlihy, Springfield, Limerick Road, Castleisland. The Next draw will take place in Herbert's Bar, Kilflynn on Monday 28th March at 10.00p.m for a €8,000 Jackpot.  Tickets available 3 for €5 online visit www.crottagaa.club or this link https://play.clubforce.com/play_newa.asp?ll_id=427#Anchor or Herbert's Bar/Village Store, Parker's Pub, Zam Zam Kabab, Foley Shop Lixnaw, Abbeydorney Post Office, or from any club officer. Many thanks to all who contribute to our weekly Club Lotto. Your continued support is greatly appreciated.
 COUNTY SENIOR HURLING LEAGUE
The Crotta Senior hurlers play Causeway in the County Senior hurling league Div 1, round 2 at the sportsfield, dromkee on Saturday 26th March at 4.00p.m
CARE AND REPAIR
Age Action's Care and Repair does small DIY jobs, free of charge, for older people to help them maintain their homes and their independence. For details contact Age Action national helpline 0818 911 109 or email careandrepair@ageaction.ie
COVID-19 SUPPORT LINE FOR OLDER PEOPLE
ALONE manages a national support line and additional support for older people who have concerns or are facing difficulties relating to COVID-19. The support line is open seven days a week, 8am – 8pm, by calling 0818 222 024