KILFLYNN ST. PATRICK'S DAY PARADE
After two tough years for everyone, it's time to celebrate St Patrick's Day as a community.
The call goes out to clubs and community groups to get involved in this year's St Patrick's Day parade in Kilflynn.
Hundreds of people from dozens of organisations have taken part every year, showing the amazing community spirit in the village and bringing much colour and entertainment to proceedings. Let this year be amazing.
Kilflynn Community Together are organising this year's St Patrick's Day Parade and are hoping to see all community groups taking part. Interested groups can contact Niamh on 0863144157 to book their place
This year's parade will get underway at 4:00pm sharp on March 17th. It will be a wonderful gathering of the Kilflynn and surrounding communities awash with colour and imagination!
The name of the Grand Marshall, the person who will lead the 2022 Kilflynn parade, will be announced nearer the day.
KILFLYNN NATURE GARDEN
Kilflynn Nature Garden are holding a Living Willow Workshop on Saturday 19th March, from 11.00 am until 2pm at Ballyconnell Heights, Kilflynn. It will be a hands-on workshop where you can learn how to make living structures using willow canes which can then grow into garden features. The workshop costs €20. Bring a packed lunch and suitable clothing, footwear and gardening gloves. To book call 0861939217 or email kilflynnnaturegarden@gmail.com
PARKER'S PUB
St. Patrick's Weekend Entertainment
Thursday 17th March
Kilflynn St. Patrick's Day Parade at 4.00p.m
Music with Foggy Dew 6-8p.m
Friday Night 18th March at 9.00p.m
The Best of Tunes with D.J BRIAN
Saturday night 19th March
Music with "Fastest Fingers" Michael O'Brien and his Band at 9.30p.m.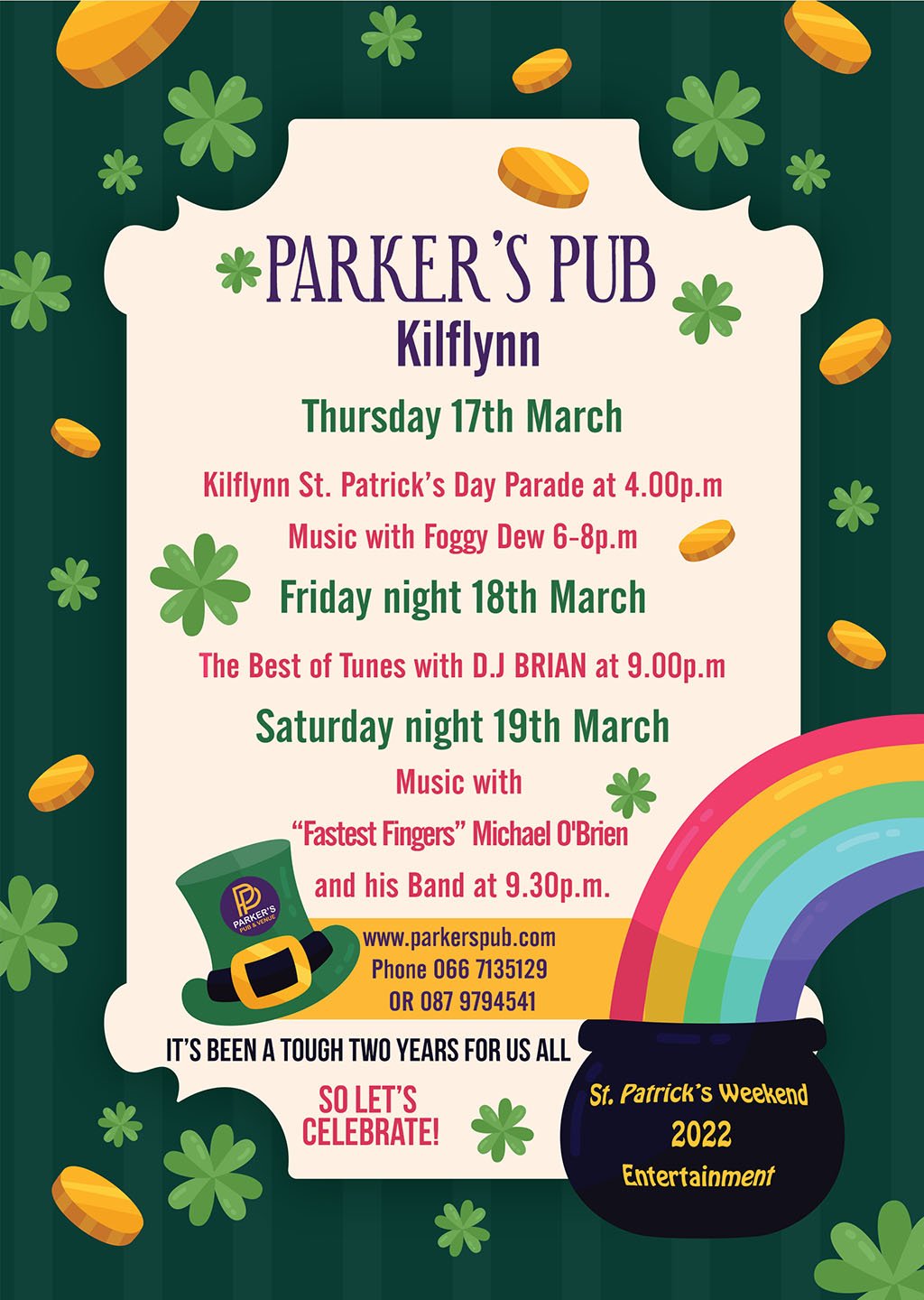 KILFLYNN CITY RUNNING GROUP
The day is nearly upon us. All participants have been training hard since January the 9th for their run on St. Patrick's Day. They will run between 5km and 15 km. All monies raised are being given to Kilflynn national school for vital equipment. We are currently at €2,177. But we are hoping that on that day people from the community will come to Crotta and support our school by making a donation. And also, if people want to run that haven't been part of the training everyone is more than welcome to join in. Thanks everyone. It's been a pleasure working with everyone.Special thanks to our backers and sponsors without whose backing this event would not be taking place.
SCOR NA NOG CIARRAI
Getting this year's 2022 competitions at County level underway will be the Scor Na nOg County Finals with the Glenbeigh/Glencar Sports Hall the venue on this Sunday March 20th; with a starting time of 4 30pm. It promises to be a very enjoyable evening and a huge crowd is expected; medals for both first and second with the winner in each of the seven categories going forward representing their County to the Munster Finals in Halla na Feile, Cashel, County Tipperary Sunday April 3rd. We wish the best of luck to the Crotta Scor Na nOg contestants Solo Singing: Amy Cronin, Instrumental Music: Conor Brennan, David Trant, Thomas Breen, Sarah Murphy, Grace Hannon Linnane and their mentor Aoife Murphy (Music) and Tom Breen (Crotta Scor officer)
SPLIT THE BUCKET RETURNS
A draw for the March Kilflynn Community Together "Split the Bucket" will take place Saturday,26th of March in Parker's, Kilflynn @ 10:00pm.
To mark the return of the draw we are guaranteeing a minimum of €500 to the lucky envelope drawn out of the bucket.
Get your entries in (as many as you like) before Saturday! It could be your lucky day! We have buckets at various businesses around Kilflynn – Parkers Pub, Herbert's Bar and Zam Zam Kebab.
The concept of the draw is simple, simply place your €2 into the envelope at the venue, write your name and phone on the envelope and you could possibly 'split the bucket!'
Funds raised will be used for projects that will benefit and improve Kilflynn. Your support is greatly appreciated.
CROTTA GAA MEMBERSHIP
It's that time of year again when the registration process needs to be completed and the membership fees fall due.
Non players
must be paid up by 31st March.
Players
Must have paid 3 days before a game or training season for registration and insurance purposes.
A new club policy introduced last year is No Pay, No Play.
This policy is to ensure that our players are covered in the event of injury
Foireann is a new system that has been launched by the GAA for member registration. You can get access to the system by using the following link: www.foireann.ie
Contact: Shane Herbert (Crotta GAA Club registrar) 087 289 0087 if you have any queries on registering.
THE WEEKLY DART'S TOURNAMENT
The weekly Darts Double Tournament in Parker's Snug, on Saturday night 12th March, Butch Fealy and Darragh Mulvihill defeated Darragh O'Donoghue and Mike Mullins in the final. The winners received Certified Irish Angus Beef each. Thanks to the darts players who showed up on time last Saturday night, and to Betty Falvey for supervising the tournament.
The Next Darts tournament will take place on Saturday night 19th March in Parker's Snug at 9.30p.m. All names in for 9.15p.m Sharp. The winners of the weekly darts will receive Irish Angus Beef each.
SAVE THE DATE
The next darts exhibition event in Parker's Pub and will be Tony "Silverback" O'Shea and Andy "The "Hammer" Hamilton on Sunday 24th July at 3.00p.m.
 MUNSTER U-19 SOCCER FINAL
Good luck to The Green Tralee CBS U19 Soccer team against De La Salle Waterford at Carrigaline in the Munster Schools U19 Soccer Final on Wednesday 16th March, especially the Kilflynn boys Sean Mcgrath ,Ryan Guerin and Matt Healy #BringItHome
ST. MARY'S CHURCH, KILFLYNN
Mass Intention for the week in St. Mary's Church
Wednesday 16th March at 7.30 p.m. Vigil St. Patrick's Day Friday 18th March 10.00 a.m. Saturday 19th March at 6.00 p.m. Kitty McCarthy, Knockbrack, Kilflynn.
Parish Office can be contacted by phone 066 4018996 Tuesday, Thursday & Friday 10.00 a.m. to 1.00 p.m. or by email: abbeydorney@dioceseofkerry.ie
Masses from St. Bernard's Church, Abbeydorney are streamed live on www.dioceseofkerry.ie, on Sunday at 10 a.m. Go to Abbeydorney Parish and click on watch live Mass.
Kilflynn Eucharistic Adoration  Monday (7.00 p.m.-8.00 p.m.) Kilflynn Altar Society for March: Claire & Carmel Walshe Blessed Candles €6 of pack of 6 available from Parish Office.
 ABBEYDORNEY/KILFLYNN ST. VINCENT DE PAUL:
Confidential number 087 7086253. St. Vincent de Paul Society clothes can be donated locally at the Disposal Facility at Abbeydorney GAA Complex or the Railway Bar Car Park, Lixnaw. Your support is greatly appreciated.
KERRY SENIOR HURLERS
Kerry travel to Down in Round 5 of the 2022 Allianz Hurling League Division 2A to play the home side at 2.00p.m on Saturday 19th March. Best of luck to the Kerry players and their management. The game will be streamed live by BBC Northern Ireland.
It will feature on the BBC iPlayer and the BBC Sport NI website.
CROTTA LOTTO RESULTS
The Crotta hurling club weekly lotto draw was held on Monday 14th March at Herbert's Bar, Kilflynn
The Four numbers drawn out of the drum by the independent observer: Graham Harris, Clounsillagh, Lixnaw were  3, 23,24 and 32.
There was no winner of the 7,800 Jackpot. Congratulations to the following who won €35 in the lucky dip draw:
Margret Keane, Connolly Park, Tralee, Aisling Leahy, Rathkenny, Abbeydorney, and Paddy and Grace Kennelly, Kennelly Croughcroneen, Dysert, Lixnaw.  The Next draw will take place in Parker's Pub, Kilflynn on Monday 21st March at 10.00p.m for a €7,800 Jackpot.  Tickets available 3 for €5 online visit www.crottagaa.club or this link https://play.clubforce.com/play_newa.asp?ll_id=427#Anchor or Herbert's Bar/Village Store, Parker's Pub, Zam Zam Kabab, Foley Shop Lixnaw, Abbeydorney Post Office, or from any club officer. Many thanks to all who contribute to our weekly Club Lotto. Your continued support is greatly appreciated.
 COUNTY SENIOR HURLING LEAGUE
Division One, Round 2 Sunday, 13 March
Results
Abbeydorney 1 – 15 Ballyduff 0 – 8
Kilmoyley 1 – 19 Ballyheigue 1 – 12
Crotta O'Neill's 2 – 20 Tralee Parnell's 0 – 7
CARE AND REPAIR
Age Action's Care and Repair does small DIY jobs, free of charge, for older people to help them maintain their homes and their independence. For details contact Age Action national helpline 0818 911 109 or email careandrepair@ageaction.ie
COVID-19 SUPPORT LINE FOR OLDER PEOPLE
ALONE manages a national support line and additional support for older people who have concerns or are facing difficulties relating to COVID-19. The support line is open seven days a week, 8am – 8pm, by calling 0818 222 024