ST. MARY'S CHURCH, KILFLYNN
Mass Intention for the week in St. Mary's Church
On Wednesday 21st December at 10.00am.
On Friday 23rd December at 10.00 a.m.  and
Saturday 24th December at 6.30 p.m.
Vigil of the Nativity Confessions after weekday Masses in both Churches and at 11.00 a.m. in Kilflynn and 12 noon in Abbeydorney on Saturday 24th December
Parish Office can be contacted by phone 066 4018996 Tuesday, Thursday & Friday 10.00 a.m. to 1.00 p.m. or by email: abbeydorney@dioceseofkerry.ie
Samaritan Collection Church Gate Collection on Saturday 24th and Sunday 25th December.
Masses from St. Bernard's Church, Abbeydorney are streamed live on www.dioceseofkerry.ie, on Sunday at 10 a.m. Go to Abbeydorney Parish and click on watch live Mass. Webcam has been installed in Kilflynn Church – To watch Masses go to www.dioceseofkerry.ie – Abbeydorney Parish and click on 'watch Mass'. Diocesan
Christmas Mass Bouquet and a selection of other Mass cards available from the Parish Office.
PAT DOODY MEMORIAL SOCCER TOURNAMENT
The Family and Friends of the late Pat Doody are hosting the very first Pat Doody Soccer Tournament in aid of Kerry Hospice Foundation on Thursday 29th December at 10am in St. Senans GAA Clubhouse, Mountcoal.
€70 per team entry, 7 max people per team, with trophy presentation afterwards. There are limited places available for teams, with a deadline of the 23rd December for entry (unless spaces fill before then).
To enter WhatsApp Lisa on 087 3246011.
All are welcome to come to the tournament to cheer the teams on.
Light food and refreshments with a raffle which has some great prizes promised in Parker's Pub & Beer Garden Kilflynn that evening.
If anyone has any other raffle prizes to donate, WhatsApp Lisa.
CROTTA LOTTO RESULTS
The Crotta hurling club weekly lotto draw was held on Monday 19th December at Herbert's Bar, Kilflynn.
The Four numbers drawn out of the drum by the independent observer: Graham Harris, Clounsillagh, Lixnaw were 9,13,14 and 15.
There was no winner of the 2,000 Jackpot.
Congratulations to the following who won €35 in the lucky dip draw: Brian McKenna, Ballylahive, Abbeydorney, Margaret Shanahan, Abbeydorney and Sharon Quilter, Mountcoal, Listowel.
The next draw will take place in Parker's Pub on Tuesday 27th  December at 10.30p.m with a €2,100 Jackpot.
Tickets available 3 for €5 online visit www.crottagaa.club or this link https://play.clubforce.com/play_newa.asp?ll_id=427#Anchor or Herbert's Bar/Village Store, Parker's Pub, Zam Zam Kabab, Foley Shop Lixnaw, Abbeydorney Post Office or from Club ticket sellers. Many thanks to all who contribute to our weekly Club Lotto. The Club cannot emphasise enough the importance of our members promoting the Club Lotto among family, friends, and work colleagues. Your continued support is greatly appreciated. We would like to wish all our patrons a very Happy Christmas and a healthy New Year.
TABLE QUIZ
After a break of almost three years, the Kilflynn Cancer Support Group table quiz returns on Wednesday 28th December. The intervening period has been difficult for our designated charities, Recovery Haven, Kerry Hospice and Kerry Cancer Support, with much of their fundraising activity curtailed because of the pandemic. Therefore, the community's support is needed more than ever so that these beneficiaries can continue their wonderful work. The quiz has always received unbelievable support from the people of Kilflynn and the surrounding parishes, with almost €80000 raised to date, the vast majority of which was distributed to Kerry-based cancer charities. With such support, the quiz has become an integral part of Christmas celebrations in the village. Moreover, the event is not all about answering questions but also a fun filled night of music, raffles, and auctions. Therefore, the organizers would be grateful to receive any donations. Maybe you could ask a business, you regularly deal with, for some item, such as a voucher, that we might raffle or sell on the night. Also, if you have any unwanted presents do not put them in the attic; give them to us to raise much-needed funds for our charities. Even if you cannot attend on the night we would be grateful for your support in these ways. If interested please contact John Flaherty on (087)2352753. Any donations can be handed in to John, Parker's Pub or Herbert's Bar and shop.
Anyone who might like to lend a hand on the night itself please let us know. As always, the organisers thank you for your continued support and look forward to seeing you on the 28th December, throw-in at 8 30!
SPLIT THE BUCKET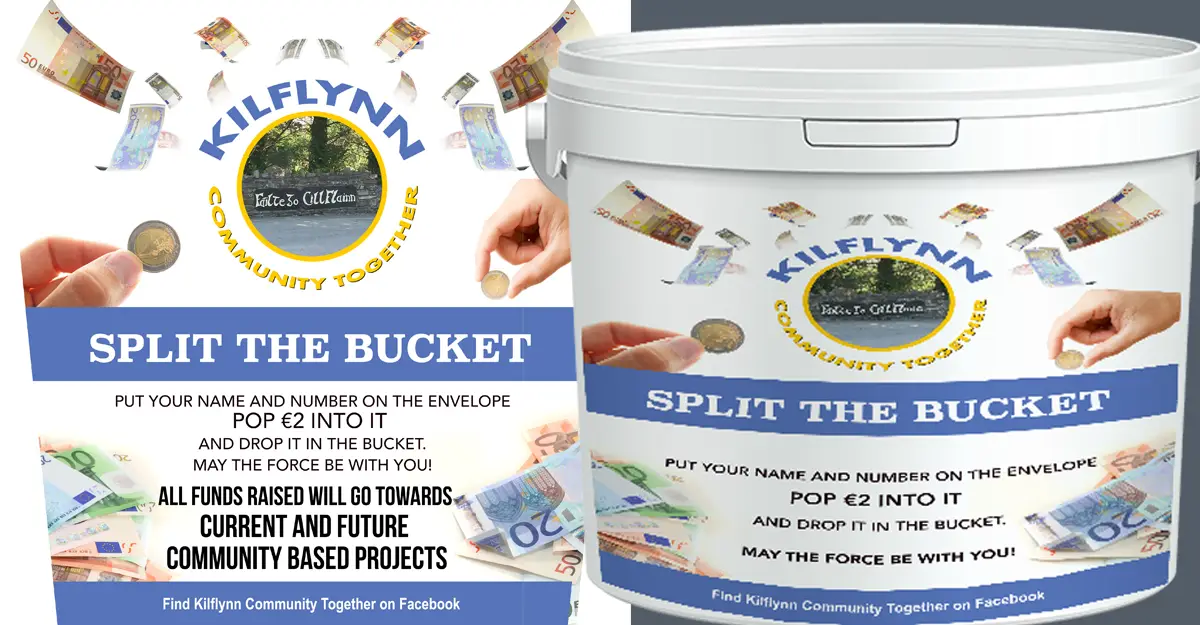 The next draw of Kilflynn Community Together SPLIT THE BUCKET takes place in Parker's Pub, Kilflynn on Saturday 31st December at 9. 30p.m
Get your entries in (as many as you like) before this Saturday 31st December! It could be your lucky Night! We have buckets at various businesses around Kilflynn, Parkers Pub, Herbert's Bar and Zam Zam Kebab.
The concept of the draw is simple, simply place your €2 into the envelope at the venue, write your name and phone on the envelope and you could possibly 'split the bucket!'
Funds raised will be used for projects that will benefit and improve Kilflynn. Your support is greatly appreciated.
KILFLYNN CHRISTMAS TREE
'Light Up A Life' Fundraiser
If you wish to remember a loved one who is deceased, 'Light Up A Life' this Christmas by donating €5 per light.  Donations and names can be dropped into The Village Store or Tommy Neenan by 22nd December 2022.  Many thanks for your continued support.
HERBERT'S BAR AND VILLAGE STORE
We would like to wish our customers a very happy Christmas and prosperous new year and thank you for your custom throughout 2022.
Herberts bar. Fri 23rd of Dec, kick the Christmas off in style with Martin Williams. One of Kerry's best entertainers.
DARTS
It was a clean sweep for JP Twomey on the turkey front winning on both nights. Winning partners on the nights were: sat 10th Dec JP Twomey and Michelle Quirke defeated Maurice McElligott and John Byrne.
Sat 17th Dec JP Twomey and Shane Herbert defeated James Sheehan and Michelle Quirke in the final.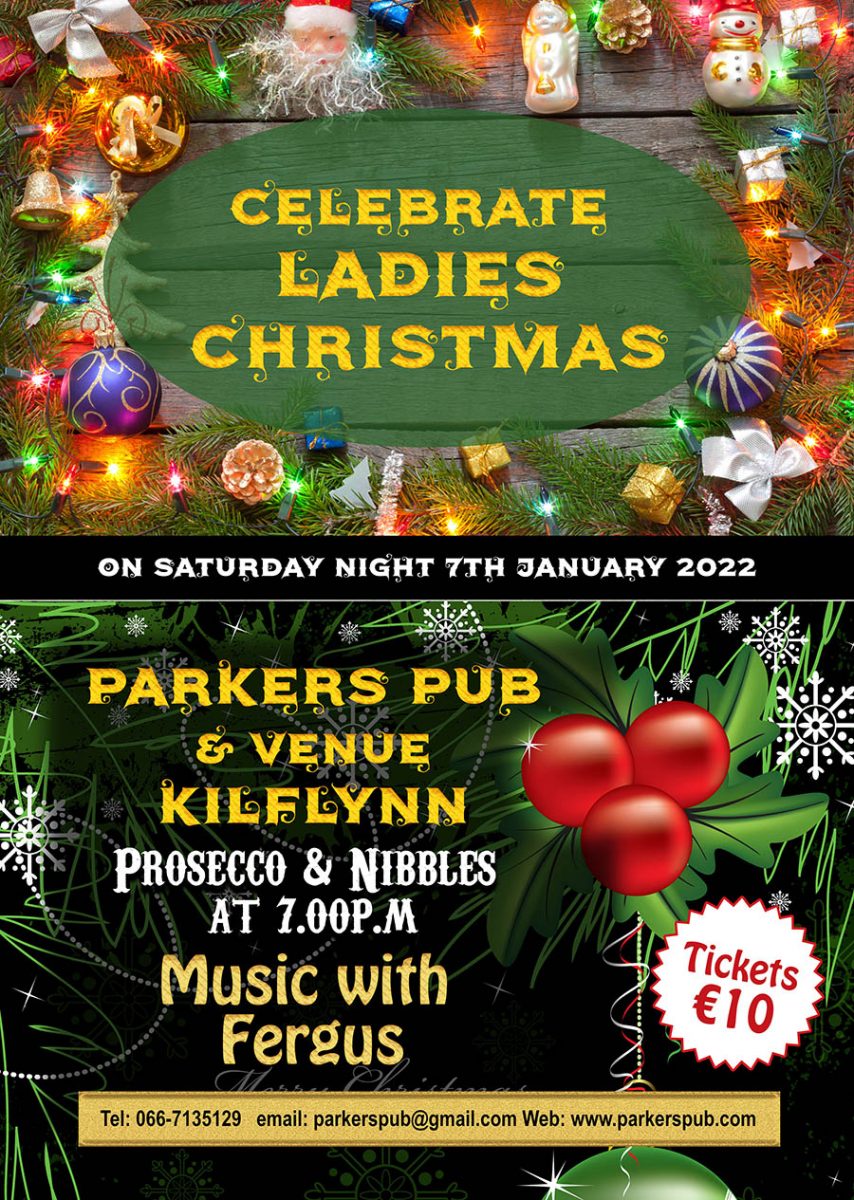 ABBEYDORNEY/KILFLYNN ACTIVE RETIRED
Christmas Break. – Thanks to all who helped to make the Christmas Party on Wednesday 14th December such a huge success. A great day was had by all topped off with a beautiful Christmas Meal. We want to wish everyone A Merry Christmas and A Happy New Year and we will be returning again on Wednesday 18th January Any enquiries, please contact 066 7135831. New members are most welcome.

PARKER'S PUB
Music, Songs and Craic with Dreams of Freedom in Parker's Pub, Kilflynn on Monday 26th December at 3 to 5p.m  Wednesday 28th December Kilflynn Cancer Support Group table quiz at 8.30p.m Thursday evening 29th December Pat Doody Soccer Tournament trophy presentation in aid of Kerry Hospice Foundation. Music, Light food and refreshments with a raffle which has some great prizes promised.
We would like to wish all our customers, family and friends a very Happy Christmas and a healthy New Year.
KILFLYNN TODDLER GROUP
The Kilflynn toddler group meets up every Thursday mornings in St. Columbus Centre, Kilflynn at 10.00-11.30 am
CROTTA GAA AGM
The Crotta Hurling Club Annual General meeting will be on Friday 16th December at 9.00pm in St.Columbas Centre, Kilflynn . All motions and nomination to be submitted to club Secretary Darren Houlihan by email at secretary.crottaoneill.kerry@gaa.ie or by post to Darren Houlihan Cappagh Kilflynn no later than Tuesday 13th December.
COMMUNITY WALKWAY
lights at the sports field, Dromakee on from Monday to Friday 7pm to 9pm during winter.
ABBEYDORNEY/KILFLYNN ST. VINCENT DE PAUL
confidential number 087 7086253. St. Vincent de Paul Society clothes can be donated locally at the Disposal Facility at Abbeydorney GAA Complex or the Railway Bar Car Park, Lixnaw. Your support is greatly appreciated.
ALONE
Alone are currently looking for befriending volunteers in your area. Visit www.alone.ie for more details and to sign up. If you have concerns about your own wellbeing or are an older person who would like to receive ALONE's Support & Befriending services, contact ALONE on 0818 222 024 from 8am – 8pm, seven days a week
SEASON GREETINGS
As these are the last notes before Christmas, I would like to take this opportunity to wish everyone a Happy and Holy Christmas and a peaceful and hopefully prosperous 2023.
A Céad Míle Fáilte to all those who have returned home to Kilflynn to spend Christmas period with their families and friends. I would like to take this opportunity of thanking Clubs and organisation and all those who contributed to the Kilflynn notes in 2022. I am looking forward to bringing you the notes and issues in community again for 2023. Any items for inclusion in these notes should be with the writer before 12 Noon each Monday morning. Email to parkerspub@gmail.com or phone (066) 7135129/ (087) 9794541.