KILFLYNN N.S ARE MINI 7S CHAMPIONS
On Monday 24th April, The County INTO GAA Mini 7s Hurling competition was  played in beatiful sunshine at the Tom Healy Memorial Park, Abbeydorney.
The largest number of teams in the history of the competition participated this year and
St. Teresa's National School, Kilflynn rose to the top!! This group of players produced some fantastic hurling on Monday against three tough challenges. First up we met Buff's homeland Kilgarvan, a spirited bunch but we proved that goals win matches.
Next, we were met with the physicality of a strong Sliabh a mhadra side from Ballyduff but again the boys dug deep and powered through to the final.
In the final we met a skillful Glenderry, Ballyheigue side. We were down by two points at half time and with seven minutes left the boys put everything on the line. We had shots on goals that would rattle any net and points sailing over the bar with precision. We clawed our way back to win by five points. Congratulations and well done to the Kilflynn players Paddy Cronin, Matt Cronin, Daniel Diggins, Daithi Nolan, Jack Kelliher, Bobby Ryan, Eoin Beirne, Tiernan Mullins, Dean McElligott and Simon Russell and to their mentors Jerome O'Sullivan (Trainer) and Sinead Hogan (Manager). Monday would not have been possible without the help of Jerome O'Sullivan. Jerome lives and breathes hurling and his positive attitude keeps the boys going at moments when heads might drop.
SCÓR Na BPÁISTÍ
The Scór na bPaistí county final will take place on Saturday 29th April at 2pm in Glenbeigh/Glencar Sports Hall.
The quiz will be held in the Intermediate school Killorglin at 11am. Best wishes to all the Crotta Contestants.  The National Scor na nog Final will take place in the INEC in Killarney on Saturday 6th May, with the Crotta O Neills Instrumental group of Conor Brennan, Thomas Breen, Sarah Murphy, Ellen Trant and Grace Hannon Linnane representing their Club, County and the North Kerry Hurling Board, we wish them the best of luck to this talented group, their mighty music mentor Aoife Murphy and fantastic Club Scor office Tom Breen.
ST. MARY'S CHURCH, KILFLYNN
Mass Intention for the week in St. Mary's Church: on Wednesday 26th April at 10.00a.m., Friday 28th April at 10a.m and Saturday 29th April at 6.00 p.m. John O'Connor, Fahavane, Kilflynn Matt & Bridie Hannon, Glenballyma, Kilflynn.
Parish Office can be contacted by phone 066 4018996 Tuesday, Thursday & Friday 10.00 a.m. to 1.00 p.m. or by email: abbeydorney@dioceseofkerry.ie
Masses from St. Bernard's Church, Abbeydorney are streamed live on www.dioceseofkerry.ie, on Sunday at 10 a.m. Go to Abbeydorney Parish and click on watch live Mass.
Webcam has been installed in Kilflynn Church – To watch Masses go to www.dioceseofkerry.ie – Abbeydorney Parish and click on 'watch Mass'. Diocesan
FÉILE HURLING FINALS
Lee Strand Féile na nGael
Division 1 Final RESULT
Ballyduff 4-20 Crotta O'Neill's 5-15
DARTS EXHIBITION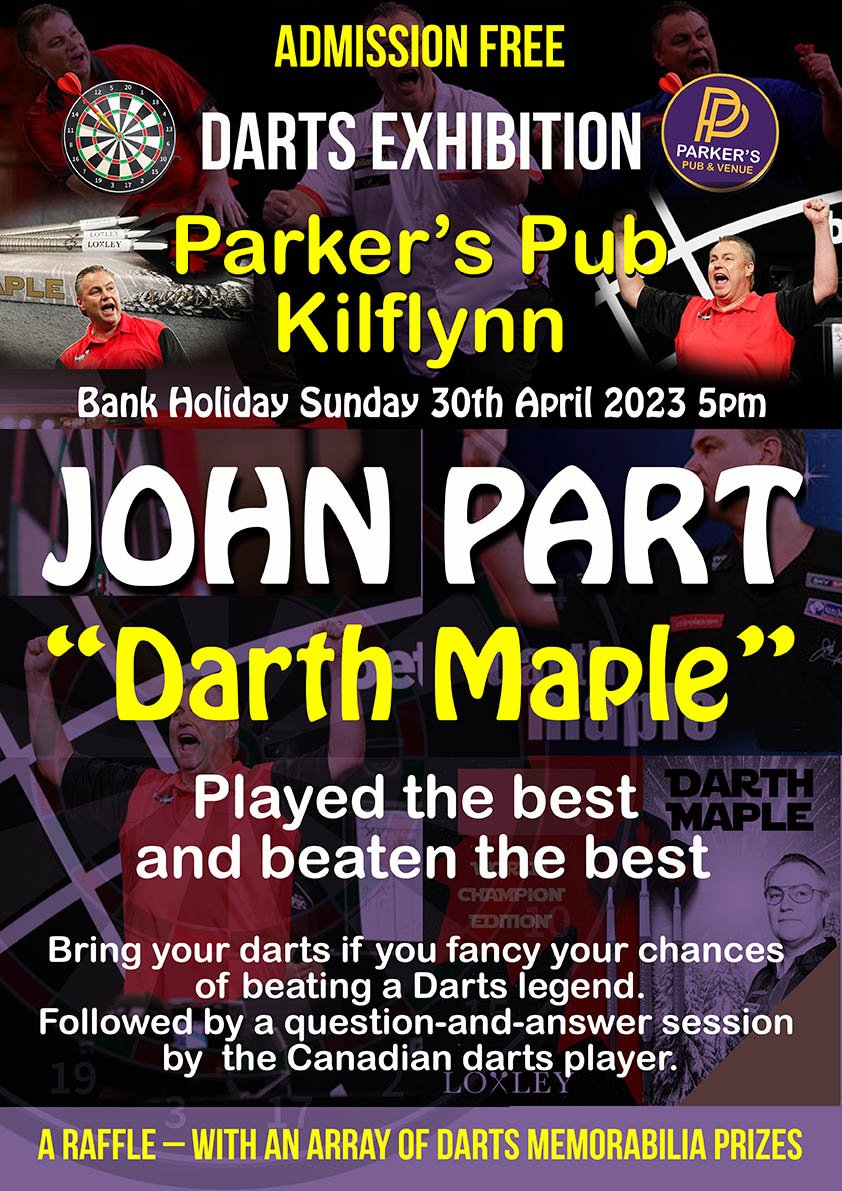 Featuring JOHN PART "Darth Maple" in Parker's Pub, Kilflynn on Bank Holiday Sunday 30th April 2023 at 5.00p.m
He has played the best and he has beaten the best……..your chance to see in person the 3 times champion of the world and Sky Sports pundit JOHN PART play on Bank Holiday Sunday 30th April 2023 in Parker's Pub, Kilflynn at 5.00p.m John will be taking on members of the audience so bring your darts if you fancy your chances of beating a Darts legend, this will follow by a question-and-answer session by the Canadian darts player.  . In addition to the darts action on the night there will be a raffle – with an array of darts memorabilia prizes up for grabs. Contact Mike on 087 9794541 if you want to book your place against John Part.
Admission is Free.
CLOTHING DRIVE
St. Treasa's National School, Kilflynn are holding a clothing recycling drive fundraising.
Please donate all your clean unwanted clothes, shoes, bed linen, curtains towels, bags, belts and soft toys. Please Donate only clean dry and rewardable clothing as we cannot accept wet, dirty or damaged clothes or goods. No Duvets. Drop your bags to the Crotta Hurling Club house, Dromakee, Kilflynn from Monday 10th April to Monday 1st May between the following hours 10.00a.m to 8.00p.m. 7 days a week. Thank you for your support and taking the time and effort to support our fundraising drive.
MUNSTER MINOR LADIES MEDAL FOR NIAMH
Congratulations and well done to Niamh Quinn, Crotta, Kilflynn and her Kerry Minor football team mates who captured the Munster Ladies B football Title at the Mallow Gaa Grounds on Saturday 22nd April with a 1-14 to 1-08 victory over Tipperary. Niamh who plays her football for Abbeydorney ladies club was wing forward on the winning Kerry side.
CROTTA LOTTO RESULTS
The Crotta hurling club weekly lotto draw was held on Monday 24th April at Herbert's Bar, Kilflynn.
The Four numbers drawn out of the drum by the independent observer: Graham Harris, Clounsillagh, Lixnaw were 1,7,14 and 28. There was no winner of the 3,800 Jackpot. Congratulations to the following who won €35 in the lucky dip draw:  Ian Maunsell,  Cahernead, Abbeydorney, Donnacha Dowd, Abbeydorney and Jennifer O'Riordan, Castle Court, Rock Street, Tralee
The next draw will take place in Parker's Pub, Kilflynn. on Monday 1st May at 10.30p.m with a €3,900 Jackpot.
Tickets available 3 for €5 online visit www.crottagaa.club or this link https://play.clubforce.com/play_newa.asp?ll_id=427#Anchor or Herbert's Bar/Village Store, Parker's Pub, Zam Zam Kabab, Foley Shop Lixnaw, Abbeydorney Post Office or from Club ticket sellers. Many thanks to all who contribute to our weekly Club Lotto. The Club cannot emphasise enough the importance of our members promoting the Club Lotto among family, friends, and work colleagues. Your continued support is greatly appreciated.
HERBERT'S BAR
Fri 29th of April. 31 card drive 8 pm. In aid of Recovery Haven
Sat night 30th of April: Live music with Caroline Jones.
CROTTA U-12 FUNDRAISING DRAW RESULTS:
The Crotta U-12s Fundraiser draw to raise funds for the recent U-12 club members trip to Croke Park took place at the Sportsfield, Dromakee, Kilflynn on Thursday 20th April under the watchful eyes of Marie Beirne, Mary Kelliher and Aileen Diggins who organised and supervised the draw. thanks ladies.  The draw was streamed live on the Crotta Facebook.
Congratulations to all our winners…
1.Blaithin Kelliher – Signed Kerry Jersey
2. Eilish Quinlan – Signed Limerick Jersey
3. Annette Nolan – Celsius Voucher
4. Ryan Russell – Corrib Oil Voucher
5. Jacinta Dowd – Ballygarry Voucher
6. Delia Cronin – Meadowlands Voucher
7. Ian & Grainne OCarroll – Kellihers Feed Voucher
8. Declan Lynch – Crotta Hamper
9. Noreen Tuomey -Crotta Zip Top
10. Alan OConnell – Hurley, Sliotar & Grip.
Huge thanks to all our wonderful sponsors Brendan Mahony Butchers, Johnny Hannon – Hometech.ie, Celsius Menswear, Corrib Oil, Ballygarry Estate, Meadowlands Hotel, Kellihers Feed & Agri and Hannebery's Sports.
Thanks also to Kilflynn Drama Group, Kilflynn Community Together, Mike Lynch, Shane & Deirdre Herbert and Mike Parker for their generosity & support.
Thank you to our mentors J.J Kelliher, Johnny Hannon & Padraig Cronin for organising such a wonderful day in Croke Park for our U12 Team.
Finally, a huge thank you to all the parents, ticket sellers and everyone who supported our fundraiser, we really appreciate it.
CROTTA U-5s
The Crotta U5's Returns this Sunday 30th April at 1:45 – 2:30p.m (Just this Sunday as minor game on at the pitch) normal time 1:15 – 2pm @ the sports field Dromakee, Kilflynn.  All welcome, helmets & hurleys will be provided so come along, get out and about in the fresh air. Your new friends and life time buddies will be there. Any queries please message Paul Shanahan 0879715781.
COUNTY SENIOR HURLING LEAGUE DIV 1
On Friday, 21st April at the sportsfield, Dromakee
RESULT Crotta O'Neill's 0 – 10 to Abbeydorney 1 – 9
KILFLYNN TODDLER GROUP
The Kilflynn toddler group meets up every Thursday mornings in St. Columbus Centre, Kilflynn at 10.00-11.30 am
ABBEYDORNEY/KILFLYNN ST. VINCENT DE PAUL
Confidential number 087 7086253. St. Vincent de Paul Society clothes can be donated locally at the Disposal Facility at Abbeydorney GAA Complex or the Railway Bar Car Park, Lixnaw. Your support is greatly appreciated.
ALONE
Alone are currently looking for befriending volunteers in your area. Visit www.alone.ie for more details and to sign up. If you have concerns about your own wellbeing or are an older person who would like to receive ALONE's Support & Befriending services, contact ALONE on 0818 222 024 from 8am – 8pm, seven days a week