CROTTA ARE MUNSTER SCOR NA NOG CHAMPIONS
A packed hall at Eire Og G A A Pavilion, Ovens County Cork. was treated to the absolute best of talent on Saturday 15th April.  Competitors from all 6 counties gave impressive displays and made things very difficult for the adjudicators on the day. But decisions were made and it is safe to say that we have an exemplary team of representatives for the province at the upcoming All Ireland final.
Michael Ryan was an outstanding Fear A Tí for the afternoon, keeping the show moving along nicely with some excellent insights along the way – you can't beat the experience.
The Kingdom musicians were to the fore in the Instrumental Music competition with Crotta O Neills representing their Club, County and the North Kerry Hurling Board taking the win over Palasgrean, Diarmuid Ó Mathunas and Upperchurch /Drombane. This was a fantastic competition with next to nothing between all the groups. Playing "The Banks Of The Newfoundland" & "Andy McCanns Reel" the Kerry champions will now represent their club, county and province in a few weeks' time.
Huge congratulations and well done to this talented group of Conor Brennan, Thomas Breen, Sarah Murphy, Ellen Trant and Grace Hannon Linnane, their mighty music mentor Aoife Murphy and fantastic Club Scor office Tom Breen who guided Crotta to its first Munster Scor title.
We would like to thank Aoife and Tom, the parents and everyone that has supported them on their journey to get here and we want to wish them the very best of luck in the National Final in the INEC in Killarney on May 6th.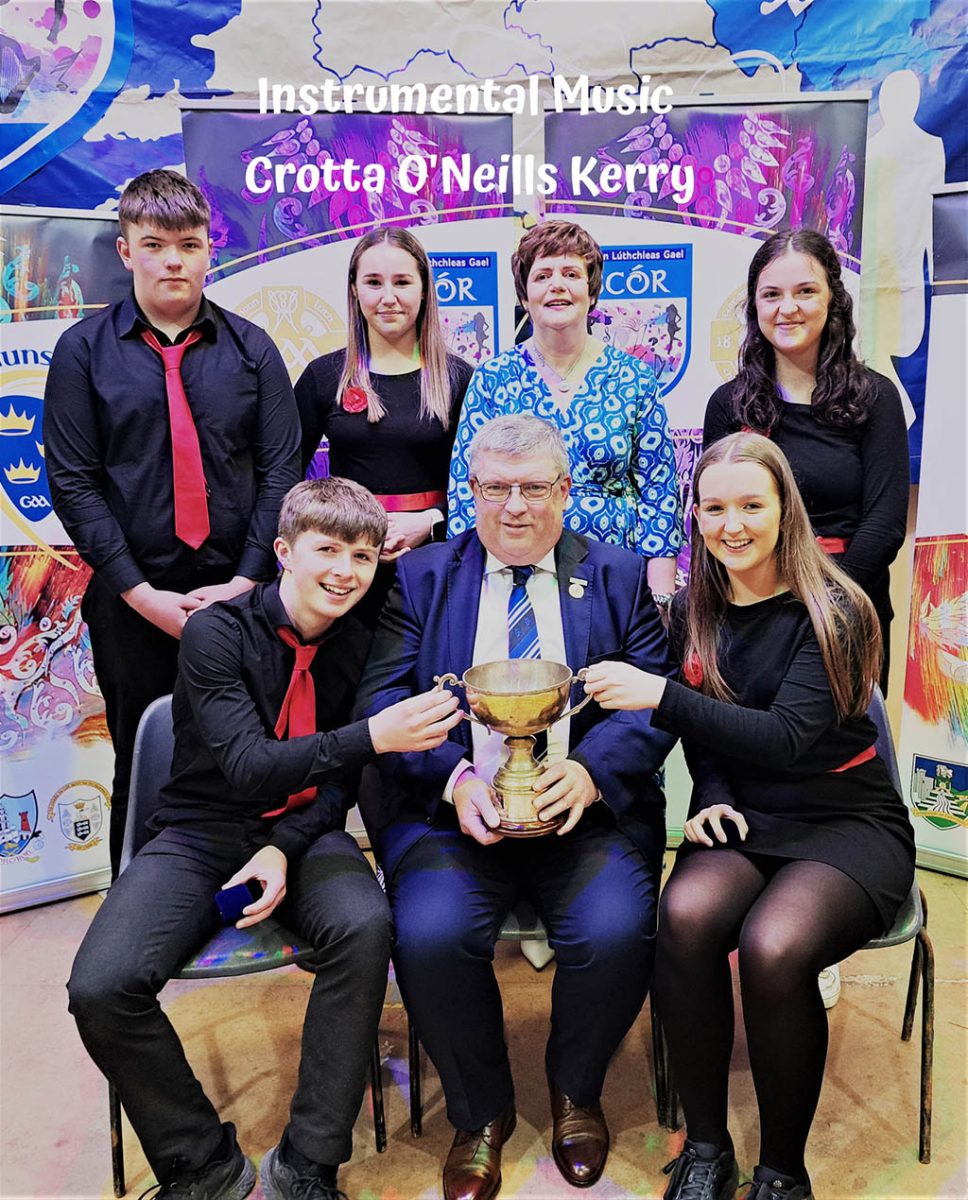 ST. MARY'S CHURCH, KILFLYNN
Mass Intention for the week in St. Mary's Church: on Wednesday 19th April at 10.00a.m. Saturday 22nd April at 6.00 p.m.
Parish Office can be contacted by phone 066 4018996 Tuesday, Thursday & Friday 10.00 a.m. to 1.00 p.m. or by email: abbeydorney@dioceseofkerry.ie
Masses from St. Bernard's Church, Abbeydorney are streamed live on www.dioceseofkerry.ie, on Sunday at 10 a.m. Go to Abbeydorney Parish and click on watch live Mass.
Webcam has been installed in Kilflynn Church – To watch Masses go to www.dioceseofkerry.ie – Abbeydorney Parish and click on 'watch Mass'. Diocesan
FEILE HURLING FINALS
The Kerry Coiste na nÓg Lee Strand Féile na nGael Under 15 Hurling FINALS
Will take place on Saturday, 22nd April in Abbeydorney. Division 2 FINAL
St. Brendan's v Kilmoyley @ 5.45pm
Division 1 FINAL
Ballyduff v Crotta O'Neill's @ 7.15pm. Best wishes to the Crotta players and their mentors.
DARTS EXHIBITION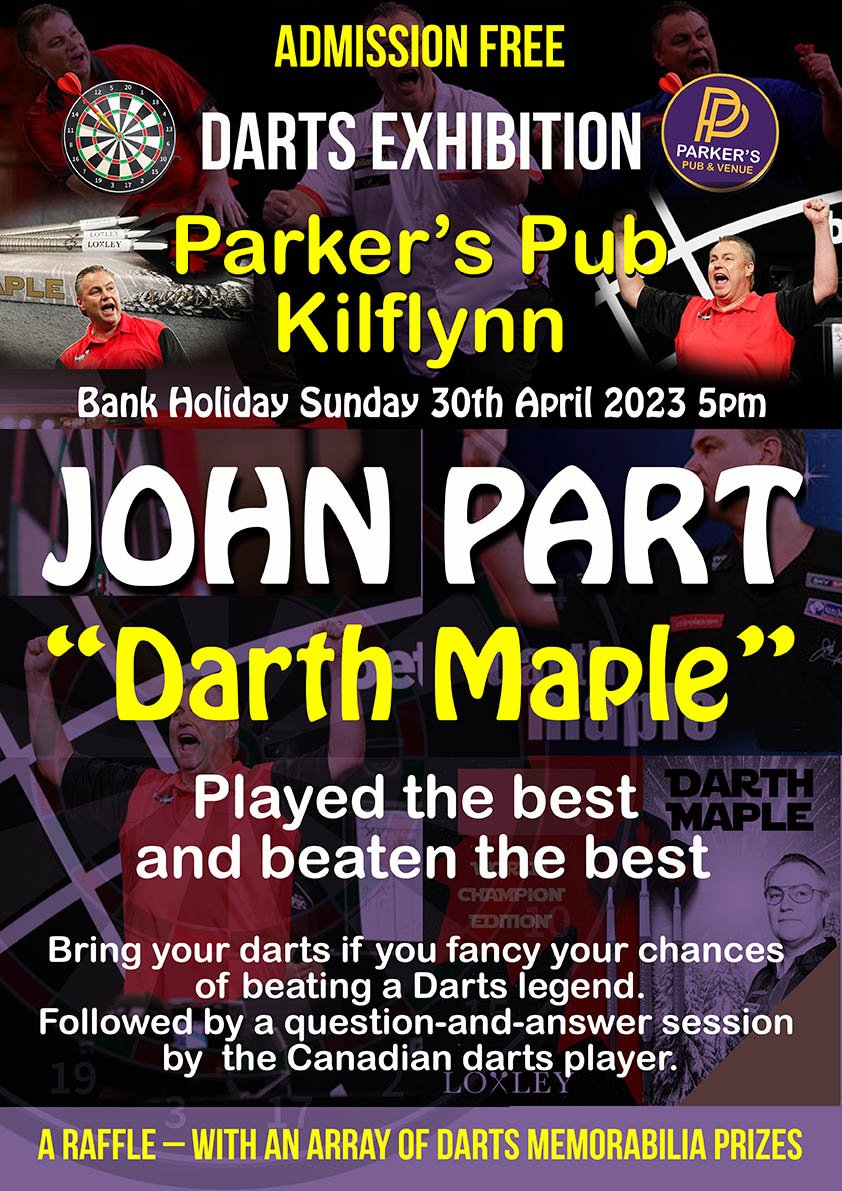 Three-time world darts champion John Part will be in Parker's Pub, Kilflynn on Bank Holiday Sunday 30th April for an exhibition and to take on 16 dart players.
Contact Mike on 087 9794541 if you want to book your place against John Part.
He has played the best and he has beaten the best……..your chance to see in person the 3 times champion of the world and Sky Sports pundit JOHN PART play on Bank Holiday Sunday 30th April 2023 in Parker's Pub, Kilflynn at 5.00p.m
John will be taking on members of the audience so bring your darts if you fancy your chances of beating a Darts legend, this will follow by a question-and-answer session by  the Canadian darts player.
In addition to the darts action on the night there will be a raffle – with an array of darts memorabilia prizes up for grabs. Admission is Free.
ABBEYDORNEY/KILFLYNN ACTIVE RETIRED
The Abbeydorney/Kilflynn Active Retired Group are taking a two week break for the Easter Holidays. We will be back in the Parish Hall on 19th April 2023. Please contact 066 7135831 for further details
CROTTA LOTTO RESULTS
The Crotta hurling club weekly lotto draw was held on Monday 10th April at Parker's Pub, Kilflynn.
The Four numbers drawn out of the drum by the independent observer: Graham Harris, Clounsillagh, Lixnaw were 5,7,16 and 17. There was no winner of the 3,700 Jackpot. Congratulations to the following who won €35 in the lucky dip draw: Alan O'Connell, Rea, Kilflynn, Ray Galvin, Ballyehan, Lixnaw and Eabha and Kyle Hussey, Dysert, Lixnaw.
The next draw will take place in Herbert's Bar, Kilflynn. on Monday 24th April at 10.30p.m with a €3,800 Jackpot.
Tickets available 3 for €5 online visit www.crottagaa.club or this link https://play.clubforce.com/play_newa.asp?ll_id=427#Anchor or Herbert's Bar/Village Store, Parker's Pub, Zam Zam Kabab, Foley Shop Lixnaw, Abbeydorney Post Office or from Club ticket sellers. Many thanks to all who contribute to our weekly Club Lotto. The Club cannot emphasise enough the importance of our members promoting the Club Lotto among family, friends, and work colleagues. Your continued support is greatly appreciated.
KILFLYNN TODDLER GROUP
The Kilflynn toddler group meets up every Thursday mornings in St. Columbus Centre, Kilflynn at 10.00-11.30 am
ABBEYDORNEY/KILFLYNN ST. VINCENT DE PAUL
Confidential number 087 7086253. St. Vincent de Paul Society clothes can be donated locally at the Disposal Facility at Abbeydorney GAA Complex or the Railway Bar Car Park, Lixnaw. Your support is greatly appreciated.
ALONE
Alone are currently looking for befriending volunteers in your area. Visit www.alone.ie for more details and to sign up. If you have concerns about your own wellbeing or are an older person who would like to receive ALONE's Support & Befriending services, contact ALONE on 0818 222 024 from 8am – 8pm, seven days a week