BAKE SALE
The Parents Association of St. Teresa's national school, Kilflynn are organising a Bake Sale on Friday11th March from 9.30a.m to 2.00p.m in St. Columba's Centre, Kilflynn. All Welcome. Drop off cakes and bakes from 8.30a.m. A Special thank you to Shane Herbert and Mike Parker for their generous donations.
KILFLYNN ST. PATRICK'S DAY PARADE
After two tough years for everyone, it's time to celebrate St Patrick's Day as a community.
The call goes out to clubs and community groups to get involved in this year's St Patrick's Day parade in Kilflynn.
Hundreds of people from dozens of organisations have taken part every year, showing the amazing community spirit in the village and bringing much colour and entertainment to proceedings. Let this year be amazing.
Kilflynn Community Together are organising this year's St Patrick's Day Parade and are hoping to see all community groups taking part. Interested groups can contact Niamh on 0863144157 to book their place.
This year's parade will get underway at 4:00pm sharp on March 17th. It will be a wonderful gathering of the Kilflynn and surrounding communities awash with colour and imagination!
The name of the Grand Marshall, the person who will lead the 2022 Kilflynn parade, will be announced nearer the day.
ENTERTAINMENT AT PARKER'S PUB ST. PATRICK'S WEEKEND
Thursday 17th March
Kilflynn St. Patrick's Day Parade at 4.00p.m
Music with Foggy Dew 6-8p.m
Friday night 18th March
The Best of Tunes with D.J BRIAN at 9.00p.m
Saturday night 19th March
Music with "Fastest Fingers" Michael O'Brien and his Band at 9.30p.m.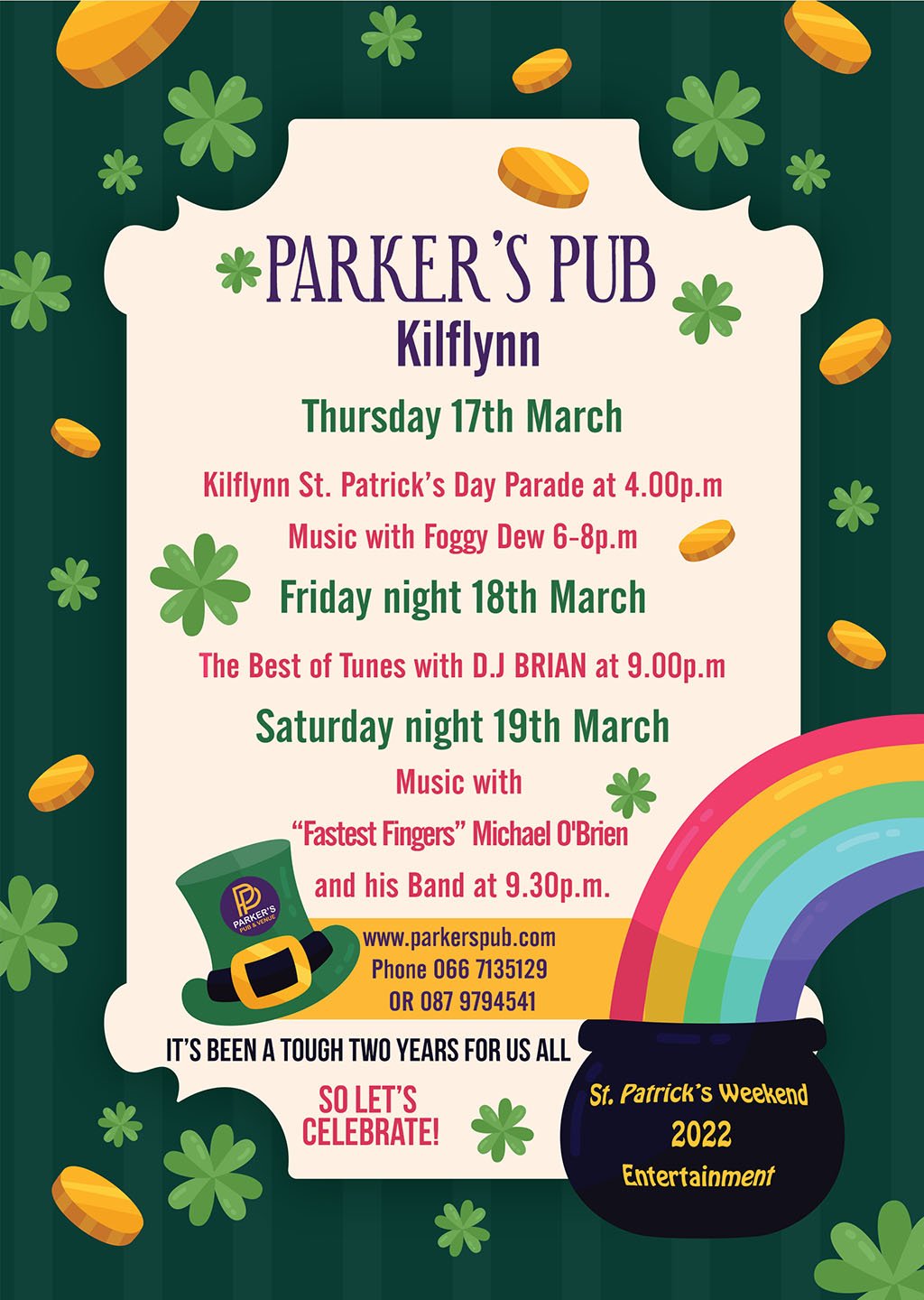 KILFLYNN NATURE GARDEN
KIlflynn Nature Garden are holding a Living Willow Workshop on Saturday 19th March, from 11.00 am until 2pm at Ballyconnell Heights, Kilflynn. It will be a hands-on workshop where you can learn how to make living structures using willow canes which can then grow into garden features. The workshop costs €20. Bring a packed lunch and suitable clothing, footwear and gardening gloves. To book call 0861939217 or email kilflynnnaturegarden@gmail.com
KILFLYNN CITY RUNNING GROUP
St Patrick's Day event in aid of  St. Teresa's national school, Kilflynn. We have many options available on the day ranging from 5k-15k.
All happening on Thursday March 17th. @Crotta Gaa community walkway. Start time for 10k to 15k is 10:45am and for 5k-7.5k is 11am. The 5k walkway event will also be starting at 11am.
The routes for the road events will be placed up on this page and clearly marshalled and marked on the day with a loop or two of the walkway to cap off the distance. Each group 5k to 15k will have specific pacers both at the front and the rear of each group. All will be fully explained and clarified on the day. There will be one water station on the long loop approx. midway. it will be recommended that all participants wear a hi vis vest on the day to ensure their safety as the majority of the event will be taking place on public roads.
On the day itself the most important thing is to enjoy yourself and have fun. Bring along your family and friends as all support is gladly welcome any donations on the day will be greatly appreciated and will go directly to Kilflynn national school.
Special thanks to our backers and sponsors without whose backing this event would not be taking place.
SPLIT THE BUCKET RETURNS
A draw for the March Kilflynn Community Together "Split the Bucket" will take place Saturday,26th of March in Parker's, Kilflynn @ 10:00pm.
To mark the return of the draw we are guaranteeing a minimum of €500 to the lucky envelope drawn out of the bucket.
Get your entries in (as many as you like) before Saturday! It could be your lucky day! We have buckets at various businesses around Kilflynn –
Parkers Pub, Herbert's Bar and Zam Zam Kebab.
The concept of the draw is simple, simply place your €2 into the envelope at the venue, write your name and phone on the envelope and you could possibly 'split the bucket!'
Funds raised will be used for projects that will benefit and improve Kilflynn. Your support is greatly appreciated.
CROTTA SENIOR HURLERS
On a lovely fresh spring morning in ideal conditions for hurling at this time of year Crotta Senior hurlers got their county league Div 1 campaign off to a winning start with a win over St Brendan's by 0-17 to 1-11 at the sports field, Dromakee, Kilflynn on Sunday morning 6th March. A lively contest with a lot of younger lads making their debuts on both sides.The visitors led by 1-07 to 0-8 at the interval break.
It was great to see such a good crowd in Dromakee on Sunday, a combination of the loosening of restrictions and the glorious sunshine that featured throughout the morning.
It was an excellent team performance but a huge well done to all the young debutants Aodhán Behan, and Rory Mahony who really shone on their first day out at senior level.
Crotta Team: Richard Nolan, Ryan McElligott, Tomas O'Connor, Sean McGrath, Mike Keane, Aodhán Behan, Tadgh McKenna,  Jeaic  McKenna, Cillian Trant (0-03), Paudie Quille, Declan O'Donoghue (0-01), Barry Mahony (0-12) ( 0-06f), Cormac White(0-01), Darragh O'Donoghue and Rory Mahony. Sub Denis Nolan for P.Quille. Crotta are away to Tralee Parnells in the next round on Sunday 13th March  in Caherslee at 2.00p.m
CROTTA GAA MEMBERSHIP
It's that time of year again when the registration process needs to be completed and the membership fees fall due.
Non players
must be paid up by 31st March.
Players
Must have paid 3 days before a game or training season for registration and insurance purposes.
A new club policy introduced last year is No Pay, No Play.
This policy is to ensure that our players are covered in the event of injury
Foireann is a new system that has been launched by the GAA for member registration. You can get access to the system by using the following link: www.foireann.ie
Contact: Shane Herbert (Crotta GAA Club registrar) 087 289 0087 if you have any queries on registering.
THE WEEKLY DART'S TOURNAMENT
The weekly Darts Double Tournament in Parker's Snug, on Saturday night 5th March, Darragh O Donoghue and Jason Nolan defeated Peter  Nammock  and Darren Egan in the final. The winners received  Certified Irish Angus Beef each. Thanks to the darts players who showed up on time last Saturday night .The Next Darts Doubles tournament on Saturday night 12th  March in Parker's lounge at 9.30p.m. All names in for 9.15p.m Sharp. The winners of the weekly darts will receive Irish Angus Beef each.
SAVE THE DATE
The next darts exhibition event in Parker's Pub and will be Tony "Silverback" O'Shea and Andy "The "Hammer" Hamilton on Sunday 24th July at 3.00p.m.
KERRY SENIOR HURLERS
Kerry Senior hurlers cruised to a 23-points victory against Meath to place themselves in pole position for the knockout stages of the Allianz Hurling League Division 2A on Sunday 6th March in Austin Stack's Park, Tralee  on a score line of Kerry 2-31 to Meath 0-14 and now turn their attention to a trip to Down in a fortnight. The Crotta hurling club was represented by Shane Nolan (Full forward) 1-03 and James Sheehan was also a member of the Kerry panel.
ST. MARY'S CHURCH, KILFLYNN
Mass Intention for the week in St. Mary's Church
Wednesday 9th March at 10.00 a.m. Friday 11th March at 10.00a.m,
Saturday 12th  March at 6.00 p.m. . Tom, Laurence & Tim Twomey, Kilflynn Kit Quinlan, Ballyconnell, Kilflynn
Parish Office can be contacted by phone 066 4018996 Tuesday, Thursday & Friday 10.00 a.m. to 1.00 p.m. or by email: abbeydorney@dioceseofkerry.ie
Masses from St. Bernard's Church, Abbeydorney are streamed live on www.dioceseofkerry.ie, on Sunday at 10 a.m.
Go to Abbeydorney Parish and click on watch live Mass.
Kilflynn Eucharistic Adoration  Monday (7.00 p.m.-8.00 p.m.) Kilflynn
Altar Society for March: Claire & Carmel Walshe
Blessed Candles €6 of pack of 6 available from Parish Office.
Confirmation: Congratulations to the boys and girls, who were confirmed by Bishop Ray Browne in Abbeydorney Church last Thursday.
ABBEYDORNEY/KILFLYNN ST. VINCENT DE PAUL
Confidential number 087 7086253.
St. Vincent de Paul Society clothes can be donated locally at the Disposal Facility at Abbeydorney GAA Complex or the Railway Bar Car Park, Lixnaw.
Your support is greatly appreciated.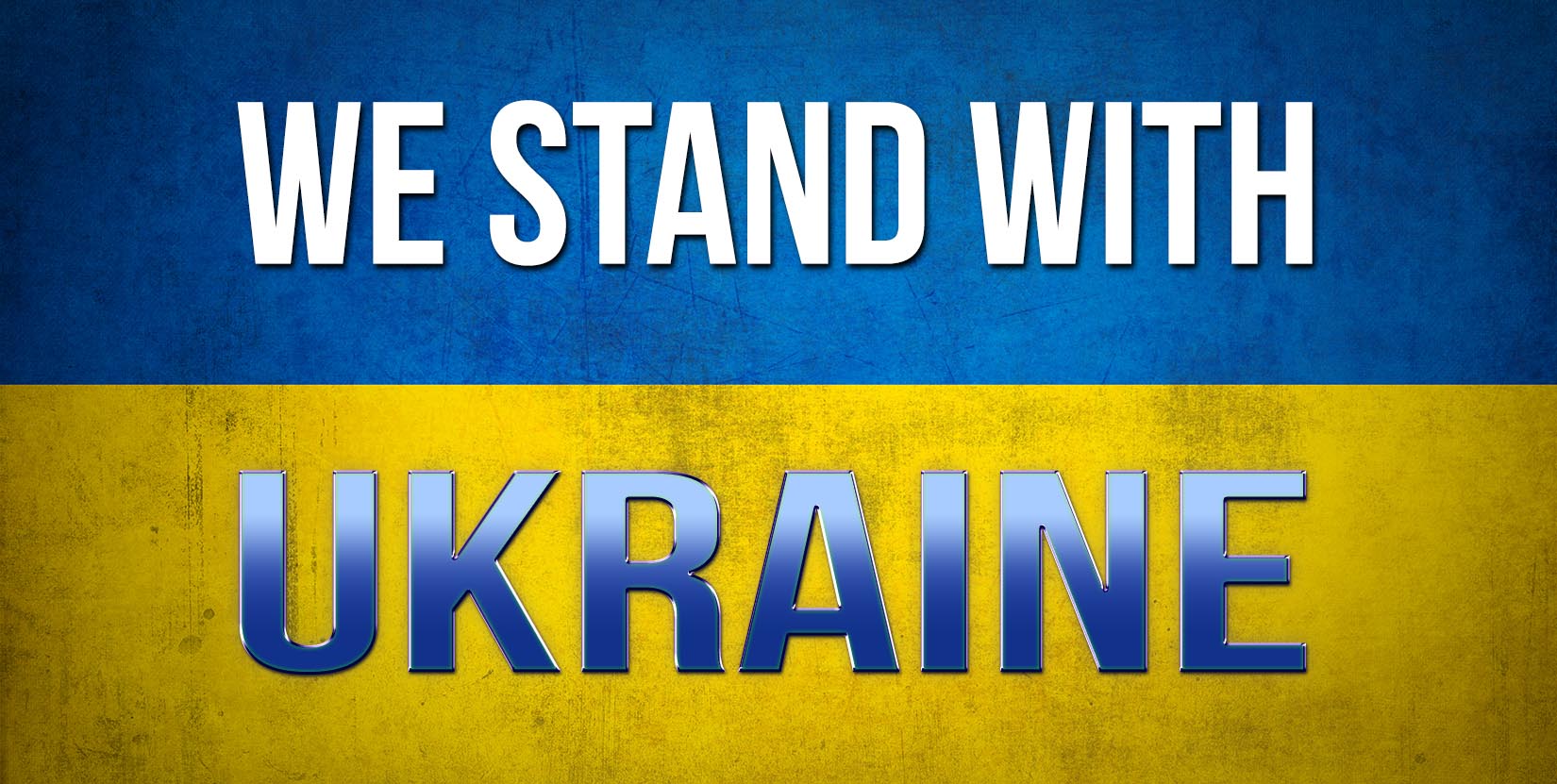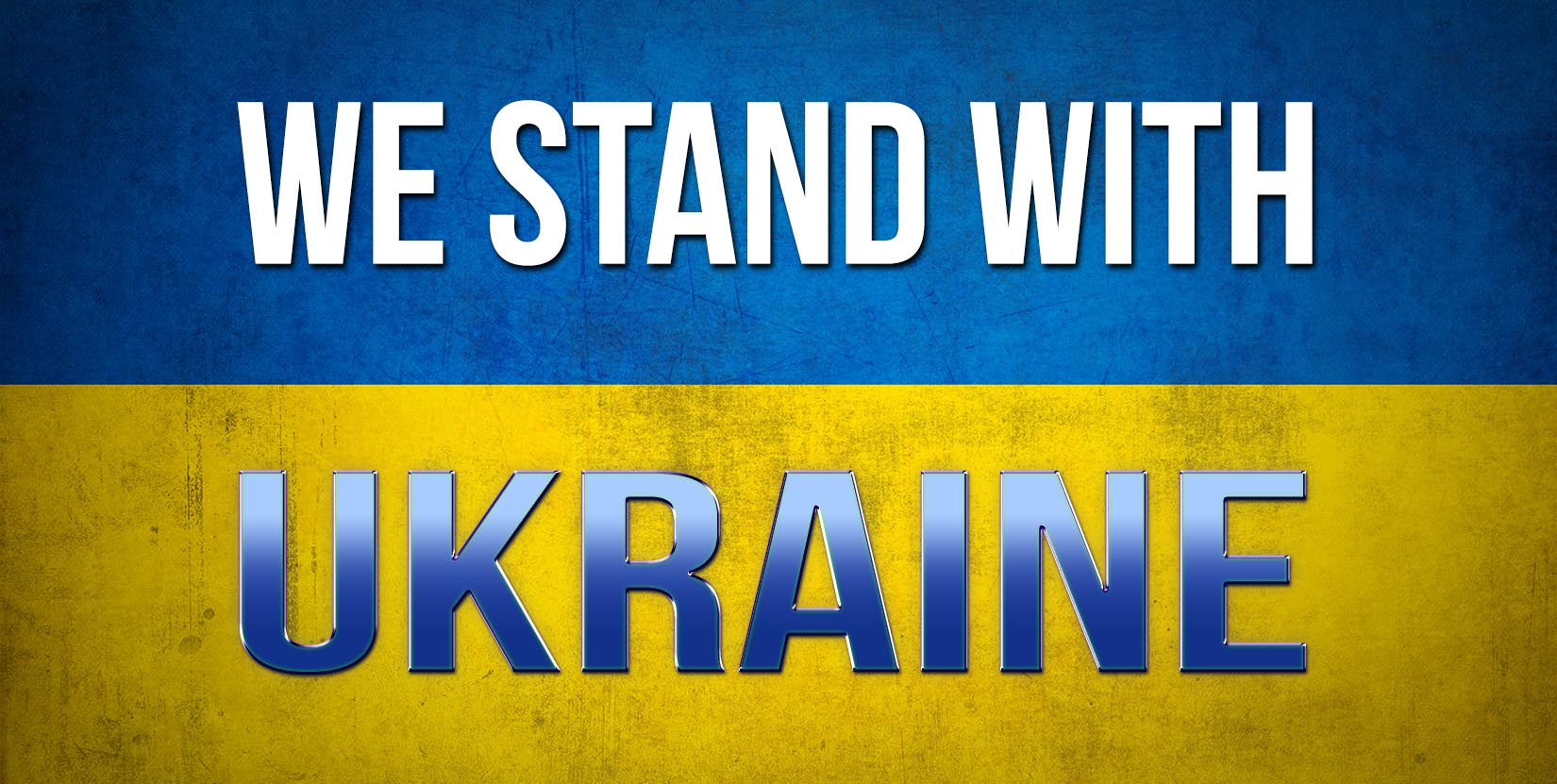 KERRY MINOR CAMOGIE
Kerry Minors are through to the Tesco Minor B Shield Semi-final, When they  drew with Roscommon on a final score of 1-08 each in Kilmoyley  on Sunday 6th March. Well done to the team and management and especially to the Crotta Girls Niamh Quinn (Fullback)and   Roisin Quinn (Centerfield).
ALL IRELAND CAMOGIE FINAL
Heartbreak for Clanmaurice as a late Jackie Horgan goal was not enough. Former All-Ireland Intermediate Champions Eoghan Rua won by a point O' Raghallaigh's GAA Grounds Drogheda on Saturday 5th March  in the All Ireland Junior Club Camogie final. Grainne Holmes and Ireland Hockey Captain Katie Mullan among some great performers for the Derry Women. Hard Luck to ClanmauriceCamogie Club and their management especially the Crotta players Jackie Hogan (Full Forward) (1-07 (3fs) and Aoife Behan (Wing Back) who are great ambassadors for their families, communities, club and county.
CROTTA LOTTO RESULTS
The Crotta hurling club weekly lotto draw was held on Monday 7th March at Parker's Pub, Kilflynn
The Four numbers drawn out of the drum by the independent observer: Graham Harris, Clounsillagh, Lixnaw were  3, 10,19 and 25.
There was no winner of the 7,700 Jackpot. Congratulations to the following who won €35 in the lucky dip draw:
Sophie Mai Herbert, Castletown, Kilflynn, Kathy Maunsell, Abbeydorney and Michael O'Brien, Gorthcloghy, Kilflynn.  The Next draw will take place in Herbert's Bar, Kilflynn on Monday 14th  March at 10.00p.m  for a €7,800 Jackpot.  Tickets available 3 for €5 online visit www.crottagaa.club or this link https://play.clubforce.com/play_newa.asp?ll_id=427#Anchor or Herbert's Bar/Village Store, Parker's Pub, Zam Zam Kabab, Foley Shop Lixnaw, Abbeydorney Post Office, or from any club officer. Many thanks to all who contribute to our weekly Club Lotto. Your continued support is greatly appreciated.
CARE AND REPAIR
Age Action's Care and Repair does small DIY jobs, free of charge, for older people to help them maintain their homes and their independence. For details contact Age Action national helpline 0818 911 109 or email careandrepair@ageaction.ie
COVID-19 SUPPORT LINE FOR OLDER PEOPLE
ALONE manages a national support line and additional support for older people who have concerns or are facing difficulties relating to COVID-19. The support line is open seven days a week, 8am – 8pm, by calling 0818 222 024