FIRST HOLY COMMUNION
At St. Mary Church, Kilflynn On Saturday1 9th September the 2019/2020 St. Teresa's N.S Communion Class finally got to receive their First Holy Communion. The Celebrant at the edifying ceremony was Fr. Denis O'Mahony, Abbeydorney P.P.
In a ceremony, different to the norm, the children shared this special moment with their parents and siblings.
We would like to send huge congratulations to Áine Abeyta, Amy Mc Grath, Aoibhinn Brady, Bobby Mc Elligott, Ciara Quilter, Dean Mc Elligott, Emma Slattery, Eoin Beirne, Jude Doyle, Kevin Moloney, Leah Cronin, Lily Mc Auliffe, Ned Breen, Orla O' Donighue and Simon Russell. Great credit goes to their teachers Mrs Tina O'Connell and Mrs. Maria Cunningham, the pupil's parents for all the work and effort they put into the ceremony.
ST.  MARY'S, KILFLYNN
MASSES
On Wednesday 30th   September  at 10.00 a.m.
On Friday 2nd October at 10.00 a.m.          First Friday
On Saturday 3rd October  at   6.00 p.m.  Catherine, James & Thomas O'Connor, Betty Quinn & deceased members of the O'Connor family Laccamore
Streaming Mass
We have changed the company streaming our masses. Please go to www.dioceseofkerry.ie,  go to Abbeydorney Parish and click on watch live Mass. For parishioners that are using Roku stick on their televisions click into Church media TV & scroll across to Abbeydorney  and click into Mass.
Face Coverings
Irish Church leaders urge worshippers to wear face coverings to reduce the spread of coronavirus at all services of worship, along with the ongoing maintenance of 2 metre physical distancing.
Return To Public Mass
To facilitate parishioners who wish to attend Mass, a reservation system will be in place for all masses in the parish.  Please contact the Parish Office (066 4018996 at these times) to indicate the mass you would wish to attend.
Monday 6.30 p.m. – 8.00 p.m.,Tuesday, Thursday & Friday 9.30 a.m. – 1.30 p.m
Supporting your Parish
I think  most parishioners will know that, all over Ireland, Church income(especially income for running the parish– the money coming from parish envelopes and the cash that, up to the coming of Covid 19, was collected in the Offertory Collection) has fallen.  Because people may come to a weekday Mass, who do not come at the weekend, the basket that is left in the church at weekends (envelope or cash offering put in, when entering for, or leaving after, Mass) will also be on a table at weekday Masses.  Naturally, those who contribute at weekend Mass,need not feel obliged to contribute at the weekday Mass.(Fr. Denis O'Mahony)
ABBEYKILLIX CAMOGIE CLUB
Abbeykillix Camogie Club is holding a Registration Night for returning and new members on Tuesday 25th February from 7pm to 8pm at Crotta GAA grounds. Membership rates for 2020 : €40 for 1 family member, €70 for 2 family members and €100 for 3+ family members. Hope to see you all there. Also if anyone has old Hurley's and Helmets that they no longer use can they bring them along and we will put them to good use.  On Wednesday 30th September will be the last night of training for this season for our u6, u8 and u10 teams. Hope to see all registered players at 6.30 in Dromakee.
CROTTA LOTTO HURLING LOTTO RESULTS
The Crotta Hurling Lotto Club draw with a Jackpot of €17,400 was held on Monday 28th September  in St Columbas Centre, Kilflynn. The four numbers drawn by Independent observer: Martin Ryan, Knocknacaska, Kilflynn   were 1,16,19 and 27. There was No winner of €17,400 Jackpot. Congratulations to the following who won €35 in the lucky dip draw: Linda Prendergast, Upper Tullig, Kilfllynn, Jimmy Finucane, Clieveragh Downs, Listowel and Cillian and Emma Horgan, Ballyconnell Heights, Kilflynn.
The next Draw with a Jackpot of €17,500 will take place next Monday night 5th October at 10.00 pm via Crotta Facebook Live. Please note cut off time for entry is 9.30pm on Monday 5th October.
With current social restrictions Crotta GAA would encourage lotto players to avail of our online facility (see link below). Alternatively tickets are available at Herbert's Bar or from the Village Store, Kilflynn, Parker's Pub,Kilflynn Zamzam Kebab, Kilflynn, Abbeydorney Post Office, Foley's Shop, Lixnaw or by contacting Paddy Weir (087) 415 5821, Paud Tuomey (087) 237 9559 or Mike Parker (087) 979 4541. All Draws will be broadcast live via Crotta Facebook on a weekly basis Monday's at 9:30pm until our traditional venues for draws are once again available. Play online now https://play.clubforce.com/play_newa.asp?ll_id=427#Anchor . Thank you for your amazing support as always.
HURLING HELMETS AND HURLEYS WANTED
If you have any unwanted hurleys or helmets that your children have outgrown or no longer require, we would really appreciate it if you would consider donating to them to Crotta Hurling Club. These will go towards aiding the continued development of our underage hurlers.
Please contact Paul on 0879715781 and collection that suits can be arranged. Many thanks for your support
ST.VINCENT DE PAUL
Clothes Bank (located near the small gate at Crotta GAA grounds) is opened. We appreciate all donations and thank you for your continued generous support.
Abbeydorney & Kilflynn St. Vincent De Paul
confidential number is 087 7086253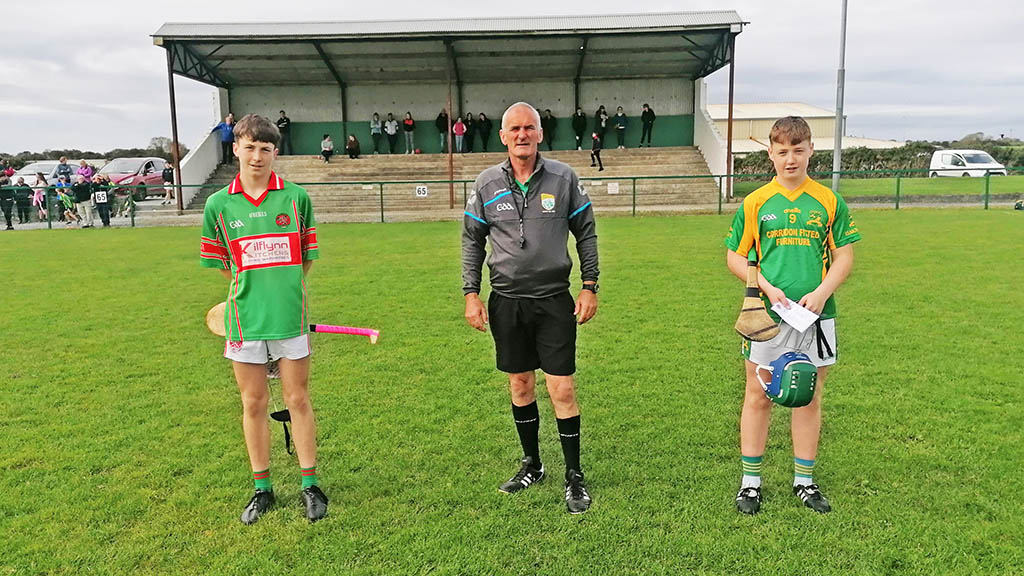 CROTTA U-14s
The Crotta U14 hurlers captured the County League Div 2 title on Sunday afternoon 27th October with a 3-12 to 1-11 win over a gallant Kilmoyley side played in beautiful sunshine at Ballyduff. A very sporting and entertaining game was served up by both teams. Congratulations to all players who were fantastic once again and represented the Green & Red with distension. Thanks to Ballyduff GAA for the use of the facilities and John Ross for officiating. On behalf of the club we would like to thanks most sincerely all the players, parents and coaches who have gone above and beyond this year particularly with the strange and confusing times we live in currently. Crotta U14 coaches would like to thank Marie Beirne (Crotta Covid Officer) for her diligence and hard work in ensuring that the players and coaches had a safe environment in which to train and play all year. Results like this make all the up's & down's of coaching underage teams well worthwhile. Enjoy the wins lads.