EXCITING NEWS ALERT!
Hold onto your seats, because, Some BIG Gigs are coming to The Venue at Parker's Pub, Kilflynn during the Festive Season.
Set your alarm and mark your calendar, because on Monday morning 9th October at 8.30a.m, we will announce Two Fantastic Live Music acts For Christmas.
Go to EVENTS PAGE to see upcoming events
THE EDDIE HAYES GROUND HURLING TOURNAMENT
The Draw for the U13 Eddie Hayes Perpetual Ground Hurling Tournament 2023 took place on Monday evening 2nd October in the club rooms Dromakee. This year's competition has 7 entries Crotta, Abbeydorney, Ardfert, Ballyheigue, Ballyduff Causeway and Kilmoyley.
The following are the groups:
Group 1:
Abbeydorney, Ardfert, Crotta, Ballyduff
Group 2:
Kilmoyley, Ballyheigue, Causeway
Top of each group will compete for the Eddie Hayes Cup Final while
Second place in each group will contest the Shield Final.
If possible, please come along and enjoy this unique ground hurling tournament which is in its 24th year with this Saturday being the 19th instalment. Crotta GAA would like to sincerely thank the Hayes Family for their outstanding support of this tournament for almost 1/4 of a century.
The games get underway in the sports field, Dromakee, Kilflynn at 10am. Best of luck to all participating teams.
SPLIT THE BUCKET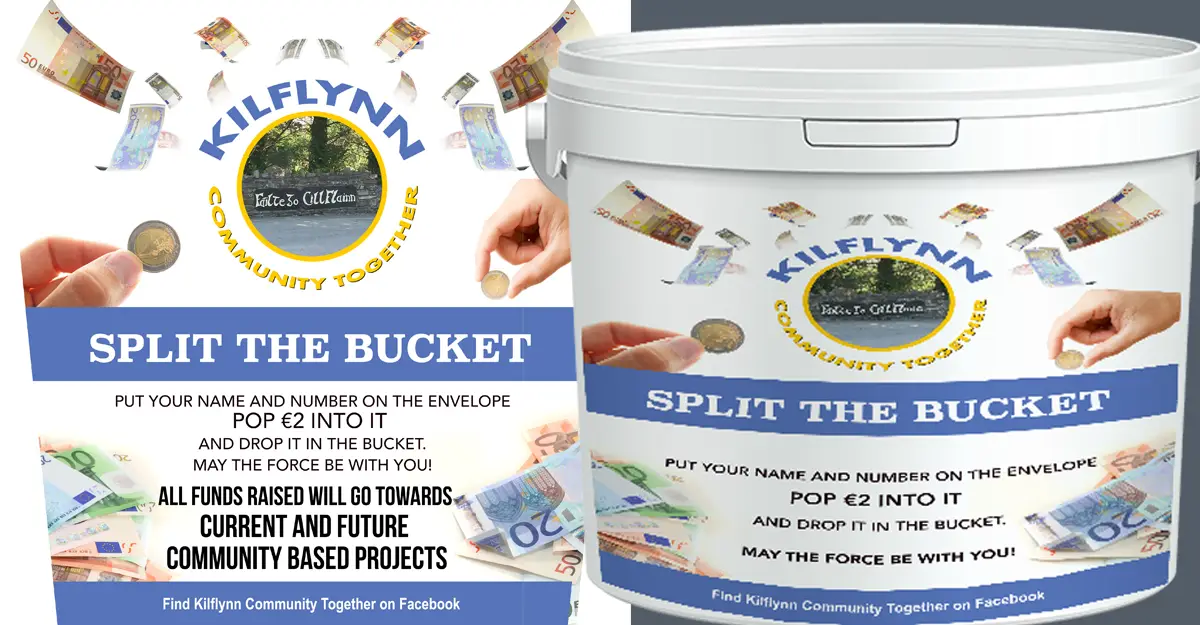 The draw for the August/September Kilflynn Community Together "Split the Bucket" took place on Monday 2nd October in Herbert's Bar, Kilflynn.
The winner was Gareth Mahony, Abbeydorney. Bucket total was €212 and the split was €106. Congratulations to Gareth.
Thank you all for the great response and support. Grainne O'Carroll, Kilflynn drew the winning ticket. Funds raised will be used for projects that will benefit and improve Kilflynn. Your support is greatly appreciated. The next draw for the Kilflynn Community Together "Split the Bucket" will take place Monday 30th October in Parker's Bar, Kilflynn @ 9:30pm.
We would like to thank everyone who continues to buy envelopes every month. The profit we make in the first third of the year goes towards the organizing of the St Patrick's day festivities. The profit from the second third of the year goes towards the cutting of the grass at the cross and the hanging baskets in the village. The money collected for the remainder of the year will help towards the cost of a tree and lights at Christmas.
Get your entries in (as many as you like) before Saturday night 30th October! It could be your lucky Night! We have buckets at various businesses around Kilflynn: –Parkers Pub, Herbert's Bar and Zam Zam Kebab.
The concept of the draw is simple, simply place your €2 into the envelope at the venue, write your name and phone on the envelope and you could possibly 'split the bucket!'
KILFLYNN PARENT AND TODDLER GROUP
Commenced back on Thursday 14th September, and will continue every Thursday thereafter from 10am to 11:30am, in Saint Columba's Community Centre. This group is open to Parents, Grandparents, Guardians and Carers of babies and toddlers up to 4 years old. It's a great way to meet other parents in your area. Refreshments served.
Cost: 3euro per child, or 5euro per family.
Contact Maureen 0879893847 for more information
MOBILE LIBRARY
The Kerry Mobile Library Service for Kilflynn area September to December. Monday 18th September, Monday 2nd and Monday 16th October, Monday 13th and Monday 27th November and 11th December from 2.30p.m to 3.45p.m in St. Mary's Church Car Park, Kilflynn.
SENIOR SCOR 2023
It's that time of year again and Senior Scór is just around the corner. The County Final will take place on Friday 13th October at 7pm in Currow.
Anyone interested in taking part, please contact Crotta Scor Officer Tom Breen (087) 274 8555 by Friday 6th October. The club are seeking Men & Women from our community to represent Crotta Hurling Club as part of Scór Sinsir 2023.
Categories Include:
Figure/ Cèilí Dancing
Solo Singing
Ballad Group
Recitation/ Scèalaíocht
Nuachleas/ Novelty Act
Instrumental Music
Set Dance
Table Quiz
Once we have a list of those interested in taking part in the various disciplines this will provide a fuller picture on how best we proceed with the clubs entries for 2023
Note Finals are scheduled as follows:
Co. Final in13th October @ 7pm in Currow
Munster Semi Final 21st Oct
Munster Final 28th Oct
All Ireland Final 18th Nov @ the INEC Killarney
LADIES COUNTY SENIOR FOOTBALL FINAL
Southern Gaels and Finuge St Senans are to contest the Bon Secours Ladies County Senior Football Championships final on Sunday 8th October at 4.00p.m in Austin Stacks Park, Tralee
In the last four Southern Gaels beat Castleisland 3-10 to 0-9 while Finuge St Senans defeated Dr Crokes 5-7 to 3-9
Well done to the Finuge St Senans team and management, and we wish them all the best in the final.
In a tough physical contest on Sunday morning at St. Senans Gaa Pitch, Mountcoal, in the semi against a hungry Dr. Crokes Finuge St Senans, the team dug deep and came out worthy winners.
Now we turn our focus to the final next Sunday in Austin Stack Park Tralee.
We want the entire Finuge St. Senans community to get behind our team.
As you know, last year, we heartbreakingly lost the final to Southern Gaels following a free kick contest after extra time. This year we face the Southern Gaels again.
We are asking you to come along to the final next weekend and cheer on our team.
We only have a week to get ready so please put out your Finuge St. Senans flags quickly if you have them!
Send the team messages of support on social media and tag our page, we'd love to see this!
This team are exceptional. They have worked so hard and given us brilliant days out this year. They are talented and determined and very deserving of our support.
FASHION SHOW
In St.Columbas Centre, Kilflynn on Friday 24th November 2023.
ST. MARY'S CHURCH, KILFLYNN
Mass Intention for the week in St. Mary's Church: on Wednesday 4th October at 10.00a.m, on Friday 6th October at 10.00a.m (First Friday) and on Saturday 7th October at 6.00 p.m. James, Cathrine and Thomas O'Connor, Laccamore, and Betty Quinn.
Parish Office can be contacted by phone 066 4018996 Tuesday, Thursday & Friday 10.00 a.m. to 1.00 p.m. or by email: abbeydorney@dioceseofkerry.ie
Webcam has been installed in Kilflynn Church – To watch Masses go to www.dioceseofkerry.ie – Abbeydorney Parish and click on 'watch Mass'. Diocesan.
UNDER 16 HURLERS
North Kerry Under 16 Hurling Championship
Sunday, 1 October
Tralee Parnell's 6-17 Abbeydorney/Causeway 1-8
Lixnaw 6-19 St. Brendan's 0-9
Ballyheigue 3-8 Kilmoyley 1-8
Crotta O'Neill's 4-12 Firies 2-10
Sunday, 8 October
Under 16 'A' Championship
Game A : Crotta v Ballyduff
Sunday, 15 October
Under 16 'A' Championship
Semi-Finals
Winner Game A v Winner Game 2
Winner Game 3 v Winner Game 4
[all games 11.00am, extra time if necessary]
Under 16 'B' Championship
Loser Game 1 v Loser Game 2
Loser Game 3 v Loser Game 4
[all games 4.00pm, extra time if necessary]
'A' & 'B' Finals on Sunday, 22 October @ 11.00am
CROTTA U-11 HURLERS
Our U11's had an exciting day when they took part in the Killenaule U11 Hurling Festival in the hurling stronghold of County Tipperary on Saturday 30th September. A fantastic opportunity for our young hurlers to experience hurling outside the county and a trip that will live long in the memory. The lads had games with Douglas, Ardclough, Glenroe and host Killenaule. It's been a brilliant year for the lads with trip to Croker, Páirc Uí Chaoimh and Tipperary. Huge credit due to all the U11's mentors and parents for working tirelessly in providing these sporting opportunities which are invaluable for the children social and hurling development.
KERRY U-21 HURLING CHAMPIONSHIP
The County U-21 Hurling Championship draw took place on Monday night 2nd October. Current title holders Crotta are drawn against neighbours Abbeydorney on Sunday 8th October in the sports field, Abbeydorney. No time fixed.
KERRY COUNTY MUSEUM
The Kerry County Museum are delighted to announce the autumn programme of free events funded by the Department of Tourism, Culture, Arts, Gaeltacht, Sport and Media through their After Hours at the Museum Scheme 2023. All are welcome.
What's the scéal? An evening with master storytellers Sonny & Frances
Join North Kerry legendary storytellers Sonny Egan and Frances Kennedy for an evening of story and entertainment
Thursday 5th October
Time:7:30pm
Venue: Kerry County Museum
Events are free but booking is necessary: 0667127777
ACTIVE RETIRED GROUP
The Abbeydorney/Kilflynn Active Retired Group will meet for a social meeting on Wednesday 4th October in the Abbeydorney Parish Hall., we look forward to meeting our regular participants and if there are any new comers interested in coming along, please contact Marie on 066 7135831.
CROTTA LOTTO JACKPOT RESULTS
The Crotta hurling club weekly lotto draw was held on Monday night 2nd October at Parker's Pub, Kilflynn. The Four numbers drawn out of the drum by the independent observer: Graham Harris, Clounsillagh, Lixnaw were 3,5,19 and 21. There was no winner of the 6,100 Jackpot. Congratulations to the following who won €35 in the lucky dip draw:
Anne Crean Boyd, Irrebeg, Lixnaw, Dick McElligott, Lower Tullig, Kilflynn and Thomas Quille, Clounafineela, Kilflynn
The next draw will take place in Herbert's Bar, Kilflynn on Monday 9th October at 10.30p.m with a €6,200 Jackpot.
Tickets available 3 for €5 online visit www.crottagaa.club or this link https://play.clubforce.com/play_newa.asp?ll_id=427#Anchor or Herbert's Bar/Village Store, Parker's Pub, Zam Zam Kabab, Foley Shop Lixnaw, Abbeydorney Post Office or from Club ticket sellers. Many thanks to all who contribute to our weekly Club Lotto. The Club cannot emphasise enough the importance of our members promoting the Club Lotto among family, friends, and work colleagues. Your continued support is greatly appreciated.