PARKER'S PUB
The Kilflynn Enchanted Fairy festival Entertainment 2022
Saturday Night 27th August: Music, Songs and Craic with Dreams of Freedom at 9. 30p.m
Sunday Evening 28th August: AFTERSHOCK Kerry's Newest Rock band playing at 6.00p.m
CROTTA LOTTO RESULTS
The Crotta hurling club weekly lotto draw was held on Monday 22nd August at Parker's Pub, Kilflynn.
The Four numbers drawn out of the drum by the independent observer: Sonny Egan, Garrynagore, Lixnaw were 7,10,22 and 32.
There was no winner of the 2,800 Jackpot. Congratulations to the following who won €35 in the lucky dip draw:
Jane Joyce, Ballyrehan, Lixnaw, Paud Twomey, Gorthcloghy, Kilflynn and Tadgh Doran, Rathea, Listowel.
The next draw will take place in Herbert's Bar, Kilflynn on Monday 29th August at 10.30p.m with a €2,900 Jackpot.
Tickets available 3 for €5 online visit www.crottagaa.club or this link https://play.clubforce.com/play_newa.asp?ll_id=427#Anchor or Herbert's Bar/Village Store, Parker's Pub, Zam Zam Kabab, Foley Shop Lixnaw, Abbeydorney Post Office or from Club ticket sellers. Many thanks to all who contribute to our weekly Club Lotto. The Club cannot emphasise enough the importance of our members promoting the Club Lotto among family, friends and work colleagues. Your continued support is greatly appreciated.
REVISED FIXTURES
North Kerry Under 14 Hurling 'A' Championships
Friday, 2 September Ballyduff v Crotta Neill's
All games at 6.30pm
The 2022 North Kerry Senior Hurling Championship [John Joe O'Sullivan Cup] Quarter final
Crotta O'Neill's v  Dr. Crokes in the sports field, Dromakee on Monday 29th August at 6.30p.m
MINOR HURLING
North Kerry Minor Hurling Championship Round 3
RESULT
Sunday, 21 August
Lixnaw 3 – 17 Crotta/Kilmoyley 3 – 16
KILFLYNN ENCHANTED FAIRY FESTIVAL
The rescheduled Kilflynn Enchanted Fairy festival will take place the 27th and 28th of August.
After a two-year break, we are all really looking forward to welcoming you back to the magical village of Kilflynn.
Festivities will commence Saturday afternoon at the earlier time of 4pm with a magical parade that will reveal the treasure chest holding the Kilflynn Enchanted map. The map will make its way through the village guarded by the knights and the fairies will then create a spell on the enchanted stage to create hundreds of maps so you can all enjoy the trail on Sunday.
Sunday morning the trail will open at 11am and all visiting magical humans will be sprinkled with fairy dust so that they can see the fairy houses and enjoy a beautiful enchanted magical fairy trail.
As well as fairies there will be bouncy castles, ice cream and delicious food stalls, crafts stalls, face painting and so much more so bring a picnic and dress up for a truly magical experience.
As the parade will take place at the earlier time Saturday evening at 4pm some traffic delays can be expected between 4 and 5 and we apologise for any inconvenience this may cause.
Tickets are on sale now online through Eventbrite for €8 plus booking fee or at the gate on the day for €10-under 2s go free.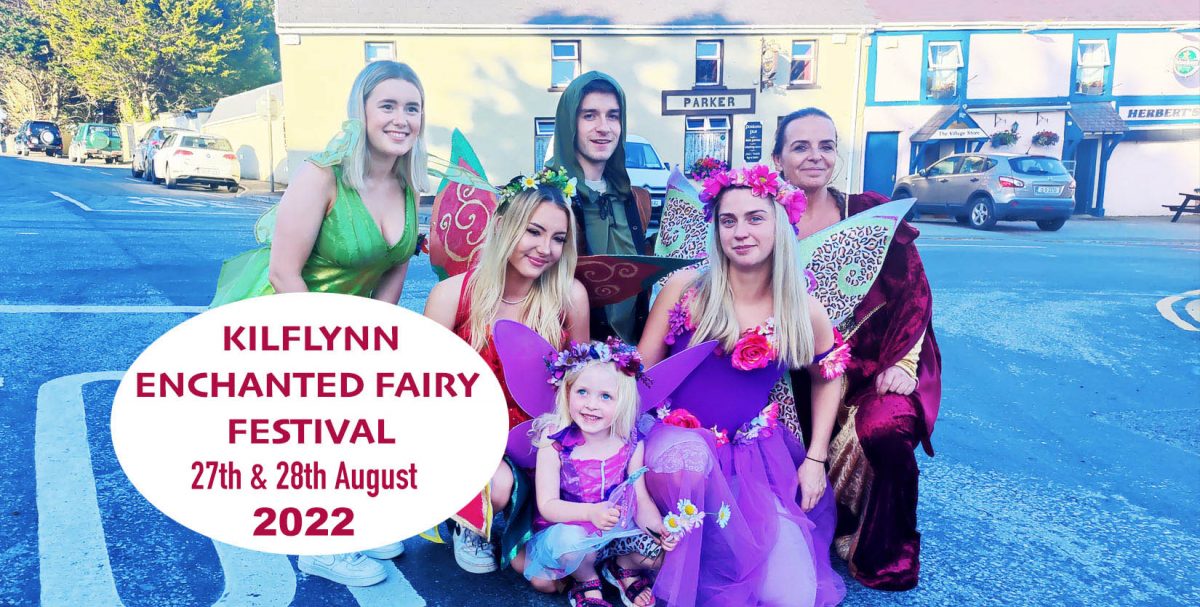 COMEDY NIGHT
Hilarious Comedian Jimmy Jests is bringing his debut Solo Comedy show "It's a Turf Life" to The Venue, in Parker's Pub, Kilflynn on Saturday night 10th September, at 9.30p.m
Longford funny man Jimmy Connell, AKA 'Jimmy Jests', skits have made him a nationwide hit, earning him more than 70,000 followers on his various social media channels.  Tickets available for the show on sale at 10 euro in Parker's Pub or can be bought on www.eventbrite.ie
The Sam Maguire Cup will be present on the night, it will be the ideal opportunity for children and adults to take some photographs with Sam from 7.00p.m.    There will be a spectacular raffle on the night in aid of Brú Columbanús, Cork, with some top-notch prizes to be won including a Signed Kerry Winning All Ireland Jersey 2022. You will be guaranteed a night of laughs, rants, chat, music and song.
ACTIVE RETIRED
The Abbeydorney/Kilflynn retired group will meet again on Wednesday 7th September following their summer break. Any enquiries please contact 066 71 35831. New members are very welcome.
COUNTY MINOR FOOTBALL CHAMPIONSHIP FINAL
North Kerry 1-16 Mid Kerry 2-13 (After extra-time)
North Kerry and Mid Kerry will have to do it all again next Monday after the county minor football championship final failed to separate them after 90 minutes of action before a large vocal crowd at Austin Stack Park on Monday evening 22nd August.
Oisin Healy was the hero of the piece as far as North Kerry were concerned, with the Asdee man converting equalising frees at the end of the regulation 60 minutes and again at the end of extra-time to force a second day out. Indeed, Healy's first leveller came six minutes into additional time at the end of the first hour, which proved the very last kick that saw the teams all square at 1-10 apiece. Well done to the North Kerry team and their management especially Crotta Gaa St. Senan's player, Sean McElligott (Centerfield). Best of luck to Sean and his North Kerry team mates in the replay on Monday evening 29th August at 7pm in Austin Stack's Park, Tralee.
ST. MARY'S CHURCH, KILFLYNN
Mass Intention for the week in St. Mary's Church;  on Wednesday 24th August at 10.00a.m and on Saturday 27th August at 6.00 p.m. Brendan, Teresa & Séamus White, Castletown.
Kilflynn Altar Society for August: Caroline Lynch, Breda Handley.
Parish Office can be contacted by phone 066 4018996 Tuesday, Thursday & Friday 10.00 a.m. to 1.00 p.m. or by email: abbeydorney@dioceseofkerry.ie
Masses from St. Bernard's Church, Abbeydorney are streamed live on www.dioceseofkerry.ie, on Sunday at 10 a.m. Go to Abbeydorney Parish and click on watch live Mass. Webcam has been installed in Kilflynn Church – To watch Masses go to www.dioceseofkerry.ie – Abbeydorney Parish and click on 'watch Mass'. Diocesan
Kilflynn Eucharistic Adoration Monday (7.00 p.m.-8.00 p.m.)
Anyone interested please contact the Parish Office 066 4018996
ABBEYDORNEY/KILFLYNN ST. VINCENT DE PAUL
Confidential number 087 7086253. St. Vincent de Paul Society clothes can be donated locally at the Disposal Facility at Abbeydorney GAA Complex or the Railway Bar Car Park, Lixnaw. Your support is greatly appreciated.
ALONE
Alone are currently looking for befriending volunteers in your area. Visit www.alone.ie for more details and to sign up. If you have concerns about your own wellbeing or you are an older person who would like to receive ALONE's Support & Befriending services, contact ALONE on 0818 222 024 from 8am – 8pm, seven days a week