COVID-19 RESTRICTIONS
It is important for all of us to STAY CONNECTED with family, friends, neighbours and those who are living alone.
We in Kilflynn want to reassure everyone in our community that we are here to help.
The health and well-being of our community is very important to us. Pick up the phone and check if someone needs shopping, medicines or a friendly voice.
Remember community is about reaching out with compassion and staying connected.
Bígí cúramach, bígí sábháilte! Be careful, be safe!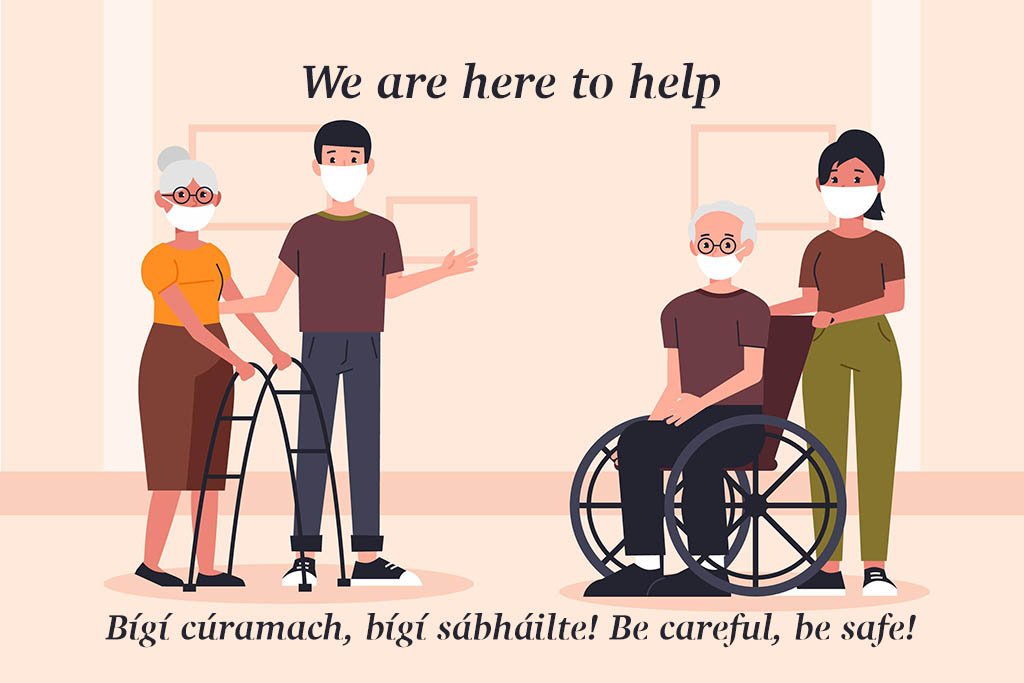 ABBEYDORNEY PARISH
ST. BERNARD'S, ABBEYDORNEY :: ST. MARY'S, KILFLYNN
Monday 2nd November at
10.00 a.m. All Souls Day, Kilflynn November List
7.30 p.m. All Souls Day, Abbeydorney November List
Wednesday 4th November
7.30 p.m.     Kilflynn November List
Saturday  7th November
6.00 p.m.  Glynn Handley, Crotta, Lulu Flaherty, Fahavane, John, Andrew & Vincent O'Sullivan, Clounametig, John Walsh, Cappa
Sunday  8th November
10.00 a.m. John & Molly Dillon, Killahan, Nora Ann O'Regan, Kilmoyley, Deceased members of the Casey & Galvin Families
No Public Masses
Mass will be streamed live on   www.dioceseofkerry.ie, go to Abbeydorney Parish and  Click on watch live Mass
November Offering Envelopes available in both Churches.
Streaming Mass
We have changed the company streaming our masses. Please go to www.dioceseofkerry.ie,  go to Abbeydorney Parish and click on watch live Mass. For parishioners that are using Roku stick on their televisions click into Church media TV & scroll across to Abbeydorney  and click into Mass.
Parish Office will be open Tuesday, Thursday & Friday 10.00 a.m.- 1.00 p.m.
Masses for the Dead on the November List will be celebrated Tuesday 10th & 24th and Wednesday 4th, & 11th at 7.30 p.m. (As well as those given above)
November Masses for those who died during the year:
Abbeydorney       Tuesday November 17that 7.30 p.m.
Kilflynn                Wednesday November 18th at 7.30 p.m.
All Masses will be live streamed from Abbeydorney Church.
If you would like to remember family members who died since last November outside of the Parish, please phone the Parish office (066 4018996) or email (abbeydorney@dioceseofkerry.ie)with the names.
Parish Newsletter and Dear Parishioner is available on www.dioceseofkerry.ie
KERRY CAMOGIE
Kerry made the step up to Intermediate Camogie when they welcomed Meath to Hermitage Park, Lixnaw on Saturday 31st October. Kerry was mindful that Meath had operated at senior level in 2019 while Kerry were in the junior grade.   While the Meath experience was telling, this was a positive performance from Kerry in their first intermediate outing on a final scoreline of Meath 1-12 to Kerry 1-5 .The half-time score was Meath 1-6 Kerry 0-4. The Crotta Hurling club was represented on the Kerry team by Aoife Behan (Wing Forward) and Jackie Hogan (Full Forward)(0-1f)
ST. MARY'S CEMETERY ALTAR
The St. Mary Cemetery, Kilflynn working group would like to thank those who contributed to our funding appeal. We still have a shortfall to complete the covered altar, and would be grateful for any other donations we may receive to enable us complete the project. Thanking you in anticipation Tom Breen, Bess Cashell, Josephine Whyte and Kathleen Moriarty.
 KERRY SENIOR HURLERS/FOOTBALLERS
Congratulations to the Kerry Hurlers as they registered their second victory in as many weeks in the Joe McDonagh Cup,  in TEG Cusack, Mullingar on Saturday 31st October on the final score of Ciarraí 2 – 19 An Iarmhí 0 – 14. The Crotta Hurling was represented on the Kerry team by Tomas O'Connor (Wing back) and Shane Nolan (Midfield) (1-00).
Best wishes to the Kerry Senior Football team and management as they take on Cork in the Munster Football Championship next Sunday, the 8th November in Páirc Uí Chaoimh at 4pm.
CROTTA LOTTO LOTTO JACKPOT HITS 18,000
There was great demand for Crotta hurling club weekly lottery tickets at the weekend with everyone striving their best to win the Jackpot of €17,900.
Due to current Covid-19 guidelines, The Crotta sportsfield, Dromakee, Kilflynn was the venue for the weekly lotto draw on Tuesday 3rd November. The Four numbers drawn out of the drum by the Independent observer: Graham Harris, Clounsillagh, Lixnaw were 6,22,26 and 28. There was No winner of €17,900 Jackpot. Congratulations to the following who won €35 in the lucky dip draw: Tommy and Martha Parkinson, Tullig, Kilflynn, Kathleen O'Connell, Crotta, Kilflynn and Nicola O'Brien (Nicola bought her lucky ticket online).  The Next draw will take place, open air at Crotta GAA grounds, Dromakee at 1pm Tuesday 10th November in compliance with Covid-19 restrictions. Note the cut off for entry to the €17,900 Jackpot draw (online or locally purchased) is 9:30pm on Monday 9th November. Tickets available 3 for €5 online visit www.crottagaa.club or this link https://play.clubforce.com/play_newa.asp?ll_id=427#Anchor or Herberts Village Store, Zam Zam Kabab, Foley Shop Lixnaw, Abbeydorney Post Office, Paddy Weir, Paud Tuomey or Mike Parker. Thank you for your amazing support as always.
ST.VINCENT DE PAUL
Clothes Bank (located near the small gate at Crotta GAA grounds) is opened. We appreciate all donations and thank you for your continued generous support.
Abbeydorney & Kilflynn St. Vincent De Paul Confidential number is 087 7086253