COVID-19 Support Line for Older People:
ALONE manage a national support line and additional supports for older people who have concerns or are facing difficulties relating to COVID-19. The support line is open seven days a week, 8am – 8pm, by calling 0818 222 024.
CROTTA LOTTO RESULTS.
Due to current Covid-19 guidelines, The Crotta sportsfield, Dromakee, Kilflynn was the venue for the Crotta hurling club weekly lotto draw on Tuesday 9th February. The Four numbers drawn out of the drum by the Independent observer: Graham Harris, Clounsillagh, Lixnaw were 7,25,27 and 30.
There was no winner of the 2,100 Jackpot. Congratulations to the following who won €35 in the lucky dip draw:
Kathleen and Cillian O'Sullivan,  Kilmoyley, P.J Barry, Clounsillagh, Lixnaw  and Maurice McElligott, The Village, Kilflynn.
Due to level 5 Government restrictions The Next draw will take place at The Crotta sportsfield, Dromakee, Kilflynn, on Tuesday 16th February in compliance with Covid-19 restrictions. Note the cut off for entry to the €2,200 Jackpot draw (online or locally purchased) is 9:30pm on Monday 15th February. Tickets available 3 for €5 online visit www.crottagaa.club or this link https://play.clubforce.com/play_newa.asp?ll_id=427#Anchor or Herberts Village Store, Zam Zam Kabab, Foley Shop Lixnaw, Abbeydorney Post Office, Paddy Weir, Paud Tuomey or Mike Parker. Many thanks to all who contribute to our weekly Club Lotto. The Club cannot emphasise enough the importance of our members promoting the Club Lotto among family, friends and work colleagues. The Covid-19 restrictions have seriously hampered our fundraising and income. The Lotto is now the critical and only source of funds for the Club. Your continued support is greatly appreciated.
RECOVERY HAVEN CANCER SUPPORT OPERATES THROUGH LEVEL 5:
As we are in another extended period of lockdown and restrictions, people are understandably incredibly anxious, worried, and finding it more difficult to cope. This is particularly true for the more vulnerable in society – among them, cancer patients, their families, and carers.   At Recovery Haven Kerry, we want to reassure you that we are still here for you. While taking every precaution advised, we are here to offer emotional support and practical help to those affected by cancer, their families, or carers.  While much of our group and therapy work is currently on hold due to Covid 19, we are still offering phone support, counselling, and a range of online classes (Stretch and balance, pilates, stress management, look good feel better programme, men's support group and Cancer Thrive and Survive 6 -week self-management programme) throughout Level 5.  So, if you or someone you know needs support, email: reception@recoveryhavenkerry.com or phone 066 7192122
THANKS
Kerry Branch of Samaritans wish to thank parishioners for the continued support of the Christmas Collection which is greatly appreciated.  The amount collected was Kilflynn  €265.82, Abbeydorney €566.53.
ABBEYDORNEY PARISH
ST. BERNARD'S, ABBEYDORNEY/ST. MARY'S, KILFLYNN
Abbeydorney
Masses and Intention for the week:
Tuesday 9th, Thursday 11th  (World Day of the Sick) & Friday 12th Mass  at 10 a.m.
Saturday 13th February at  6.00 p.m. Joe & Kathleen Nolan, Ballybroman
Sunday 14th February at 10.00 a.m. Thomas O'Rourke, Kilgulbin
No Masses in Kilflynn.  Churches open for private prayer
Public Masses from St. Bernard's Church, Abbeydorney are  streamed live on   www.dioceseofkerry.ie, on Saturday at 6 p.m. and on Sunday at 10 a.m.
Parish Office can be contacted by phone 066 4018996
Tuesday, Thursday &Friday  10.00a.m. to 1.00 p.m. or by email: abbeydorney@dioceseofkerry.ie
Go to Abbeydorney Parish and click on watch live Mass
Guidelines regarding Funerals from the bishops of the dioceses of the Cashel Province (Cashel, Cloyne, Cork, Kerry, Killaloe, Limerick & Waterford)
1. Public health guidelines are: attendance at funerals is to be restricted to 10.
2. As recommended in our statement last March, there should be no removal to the church the evening before.
3. People not attending the funeral liturgy should avoid congregating outside the church building or around the hearse.  For the sake of the great majority trying to keep to the public health guidelines, we ask people, difficult as it is, not to approach the bereaved in the church grounds or cemetery to sympathize.
4. As per the public health guidelines regarding social and family gatherings, there should be no wakes or large gatherings for prayers in the house of the deceased nor gatherings in cemeteries.
5. Support for the bereaved can be expressed through social media as an alternative to attending the funeral.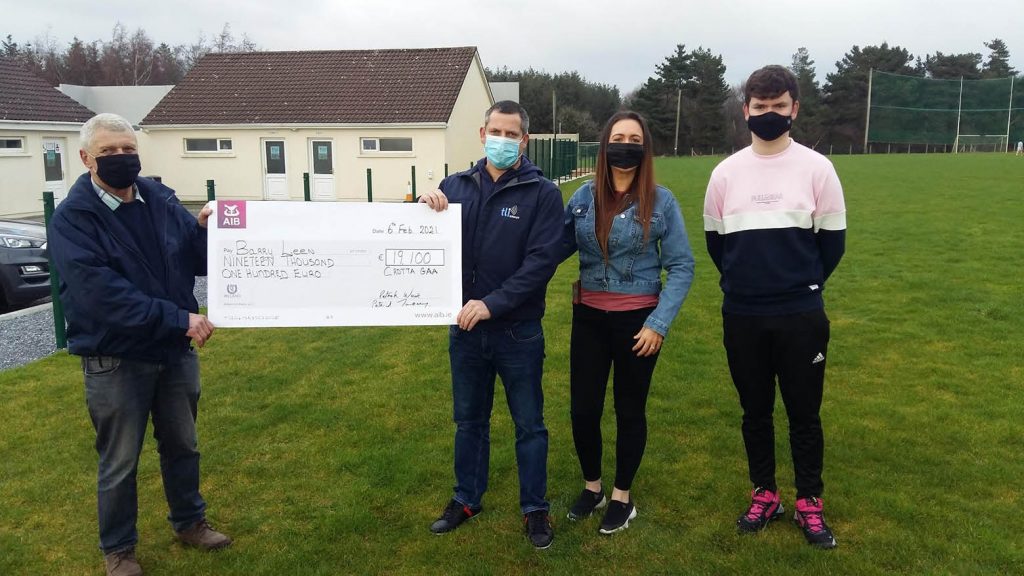 CROTTA LOTTO JACKPOT WINNER
Recent Crotta Hurling Club Jackpot Winner, Barry Leen, Kilcaragh Lawn, Lixnaw, collects his €19,100 Lotto Winnings Cheque from Crotta GAA Club Chairman Paddy Weir at The Crotta sportsfield, Dromakee, Kilflynn on Saturday 6th February. Barry's Four lucky numbers drawn out of the drum by the Independent observer: Graham Harris, Clounsillagh, Lixnaw on Tuesday 26th January were 4,18,24 and 31. Barry is the son of Mike and the late Breda Leen, Casement's View, Ardfert. Barry and his family have always been fantastic supporters of the Club no matter what events the Club has organised through the years and the T.L.I employee bought his lucky ticket online www.crottagaa.club
It's the first time since Monday 14th August 2017 the jackpot has been won by Patrick O'Halloran, Fearann Flainn, Kilflynn.
We wish the best of luck to Barry and to his fiancée Joanne O'Hanlon with their wedding plans in 2022.
The Weekly Lotto tickets with a Jackpot of 2,200 will be on sale in usual outlets so your continued support would be appreciated.
Thank you to all our supporters. Your continued support is greatly appreciated.