CHRISTMAS LIGHTS RAISED €7,891.14 FOR PALLIATIVE CARE UHK
The Murphy family, Dromakee, Kilflynn are delighted to say, on Tuesday 18th of January, there presented a cheque to Palliative Care UHK for a total of €7,891.14.
They want to sincerely thank everyone who made a donation. Your generosity was overwhelming. Thank you so much for choosing to donate to such a worthy cause, through our annual Christmas Lights Fundraising Event.
Thank you to everyone who shared the Facebook post and for all the lovely messages, in particular, Mike Parker, Kilflynn, who helped greatly with publicising the fundraiser.
As a family, as they approached their first Christmas since their dad passed away last June, the support they received through the fundraiser was overwhelming and gave the family a massive lift. They received donations from friends from many parts of the country, some work colleagues took it upon themselves to make collections and friends and neighbours contributed massively.
I hope all those who came to view the lights enjoyed the experience.
Noreen, Michael, Wayne Murphy, Jessica and Brian Nammock, found it very hard to put up the Christmas Lights this Christmas but got strength from carrying their dad's wish and also carrying on his tradition. I know their Dad Mike would be so proud and as a family they are proud beyond measure of their dad and his kind heart.
So again, thank you all for being so generous. Mary Shanahan and all the Palliative Care Unit in UHK were delighted to receive a sum of money that will make a big difference in the lives of those that need it most here in Kerry.
CROTTA GAA
Congratulations to Kilmoyley  Senior hurlers who are heading to Croke Park on Saturday 5th February to play Naas of Kildare at 5pm in the All-Ireland Intermediate Club Final, after their victory over Banagher (Derry) at Connacht G.A.A. Center of Excellence, Bekan, Co. Mayo on Sunday, 23 January on a score of Kilmoyley (Kerry) 2-15 Banagher (Derry) 1-12.
Congratulations to Tralee Parnells made history at Dromakee on Saturday when they won the North Kerry Under-21 championship for the first time, with two goals in the last eight minutes edging them past Crotta O'Neill's for a famous victory after a tense, close contest on the final score of Tralee Parnells 2-8 to Crotta O'Neill's 1-10. Hard luck to the Crotta players Darragh Murnane, Ryan McElligott, Tadhg McKenna, Micheál Kennedy, Cormac White (0-1), Sean McGrath, Niall Heaton, Cillian Trant (0-2), James Sheehan (0-3), Denis Quille, Rory Mahony (0-1), Gavin Parker, Denis Nolan (1-0), Declan O'Donoghue, Darragh O'Donoghue (0-3). Subs: Sean Murnane, Tomas Dillon, Daniel O'Rourke, Eoin Relihan, Aodhán Behan, Eamonn Rohan, Páraic Shanahan, Donncha Sayers and Mark Sheehan.  REFEREE: Mike Sexton (Bruree)
3 BUCKS LEFT LIVE IN PARKER'S PUB
With the lifting of restrictions in Ireland on Saturday 22nd January we are absolutely thrilled to announce that the rescheduled , 3 Bucks Left whirlwind live show in  Parker's Pub & Beer Garden, Kilflynn will take place on Saturday 5th March 2022. Doors open at 7.30p.m Show Starts at 8.00p.m Tickets for the rescheduled show are still valid, whilst there is still a limited number of tickets available at €15 per ticket from Parker's Pub, quick before they're gone.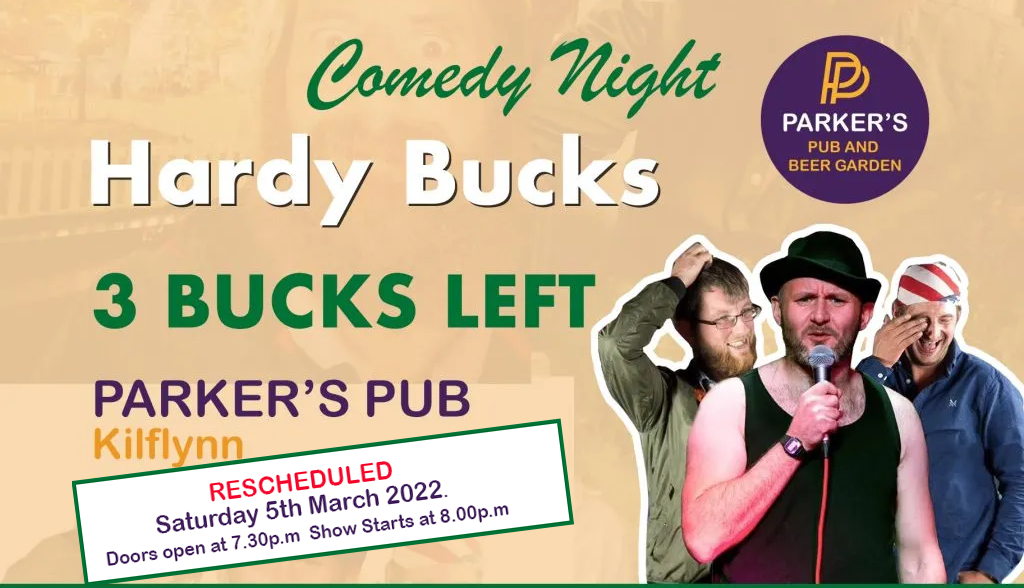 COLLEGES GAA
Tralee CBS play Skibbereen C.S in the TUS Corn Uí Mhuirí U19 A championship the semi-final on Saturday 29th January in Mallow Gaa Complex at 3.30p.m We wish The Green the best of luck.
The Sem, Killarney play Bandon Hamilton High School in the other Semi Final at 5.30p.m also in Mallow.
The Crotta Club will be represented on the Tralee CBS Team by Donnacha Sayers and Sean McGrath and Gavin Parker
THE WEEKLY DARTS RETURN
Due to the lifting of some restrictions, The weekly Darts Double Tournament in Parker's Lounge Bar, will make a return on Saturday 29th January at 9. 00p.m. The winners of the weekly darts will receive a leg of lamb each. All names in for 8.45p.m Sharp. It's great to see the dart players making a return to the oche for their first session since Saturday 14th March 2020 at the Kilflynn venue due to covid restrictions.
ST. MARY'S CHURCH, KILFLYNN
Mass Intention for the week in St. Mary's Church
Wednesday 26th  January  at 10.00 a.m. Friday 28th January at 10.00a.m
Saturday 29th  January at 6.00 p.m. Mary Fuller, Fahavane, Kilflynn
Parish Office can be contacted by phone 066 4018996 Tuesday, Thursday & Friday 10.00 a.m. to 1.00 p.m. or by email: abbeydorney@dioceseofkerry.ie
Masses from St. Bernard's Church, Abbeydorney are streamed live on www.dioceseofkerry.ie, on Sunday at 10 a.m. Go to Abbeydorney Parish and click on watch live Mass.
Kilflynn Eucharistic Adoration  Monday (7.00 p.m.-8.00 p.m.)
CAMOGIE
Clanmaurice made it 5-in-a-row in Munster Junior Club Camogie Championship with a 0-9 to 0-5 win over Rinn of Waterford in Mallow on Saturday 23th January. Congratulations to the players and their management, especially the Crotta players Aoife Behan and Jackie Horgan.
CROTTA LOTTO RESULTS
The Crotta hurling club weekly lotto draw was held on Tuesday 25th  January at Parker's Pub, Kilflynn
The Four numbers drawn out of the drum by the independent observer: Graham Harris, Clounsillagh, Lixnaw were 5, 22,23 and 31.
There was no winner of the 7,100 Jackpot. Congratulations to the following who won €35 in the lucky dip draw:
Sean Weir and Leann Costello, Castletown, Kilflynn, John Condon, Crotta, Kilflynn and Adare Quinlan, Ballyconnell,  Kilflynn.
The Next draw will take place in Herbert's Bar, Kilflynn on Monday 31st January at 10.00p.m in compliance with Covid-19 restrictions for a €7,200 Jackpot.  Tickets available 3 for €5 online visit www.crottagaa.club or this link https://play.clubforce.com/play_newa.asp?ll_id=427#Anchor or Herbert's Bar/Village Store, Parker's Pub, Zam Zam Kabab, Foley Shop Lixnaw, Abbeydorney Post Office, or from any club officer. Many thanks to all who contribute to our weekly Club Lotto. Your continued support is greatly appreciated.
CARE AND REPAIR
Age Action's Care and Repair does small DIY jobs, free of charge, for older people to help them maintain their homes and their independence. For details contact Age Action national helpline 0818 911 109 or email careandrepair@ageaction.ie
ST. VINCENT DE PAUL
The local confidential number is 087 7086253.
COVID-19 SUPPORT LINE FOR OLDER PEOPLE
ALONE manages a national support line and additional support for older people who have concerns or are facing difficulties relating to COVID-19. The support line is open seven days a week, 8am – 8pm, by calling 0818 222 024