CROTTA HURLING CLUB SOCIAL
There is great demand for Crotta hurling club Annual Social Tickets.
The Social will be held on Saturday 18th February in Ballyroe Heights Hotel, Tralee.
The victorious Crotta U-21 hurling panel will receive their County Championship medals, and the victorious Crotta Senior hurling panel will receive their North Kerry Senior "A" Championship medals. As usual the club's hall of fame award (Matt Stack and P J Stack Memorial Trophy) will be presented. The Club Hurler of The Year will receive the Dick Parkinson Memorial Trophy, and The Sam Hilliard Memorial Trophy will be presented to The Club Person of The Year.  The minor hurler of the year will receive The Monty McElligott Memorial award and The Intermediate player of the year will receive the Maurice Egan Memorial award also the U21 player of the year will receive the Diarmuid Galvin Memorial award.
Music by Martin Williams followed by Disco. Tickets @ €35 are available from Parker's Pub, Herbert's Bar and Shop and from Chairman Paddy Weir. So don't miss an opportunity to catch up with friends, enjoy wonderful food and entertainment and join us all to commemorate our players – a memorable night guaranteed
ABBEYDORNEY/KILFLYNN ACTIVE RETIRED
Meeting this Wednesday, 8th February from 10.30 a.m. to 1.30pm in the Abbeydorney Parish Community Hall where a meal will be served. Any enquiries, please contact 066 7135831.
The Rebel Music Queen to Play at Parker's Pub & Venue
First time in Kerry, Eimhear plays at Parker's Pub & Venue on Sunday 16th April 2023 at 6.30pm.
With a growing fan base Eimhéar Ní Ghlacaín, has become one of the most popular artists on the Irish rebel scene. Her passionate and heartfelt renditions of our favourite ballads has earned her the title "Queen of Irish Rebel " , as she continues to draw crowds and sell out concerts across the globe.
Click here to get tickets for this event on Eventbrite
SCOR
It's that time of year again with Scor on the horizon.
Please take note of the following dates coming this year.
North Kerry Final of Scor na nog (Age Level: U17) will take place on Sunday 12th March. Time and venue TBC.
County Final of Scor na Nog is on Saturday March 25th at 6pm in Currow
Scor na bPaisti (Age Level: National School going Children)
North Kerry Final Sunday April 2nd time and Venue TBC
County semi-finals weekend of 14th,15th & 16th April
County Final Sunday April 30th.
For this year only on a trial basis there has been two new categories added to Scor na bPaisti ONLY
Solo Music – One Tune only
Solo Dancing – max 3 minutes
Any queries please contact Crotta Hurling Club Scor Officer Tom Breen (087) 274 8555
KILFLYNN DRAMA GROUP
In association with Kilflynn Community Together presents a play by Sam Cree "Don't Tell The Wife" on Wednesday 1st, Saturday 4th and Sunday 5th March in St Columbas Centre, Kilflynn. Doors open 7.30p.m Curtain 8.00p.m nightly. Bookings Maureen 087 9893847 before 6.00p.m and Mike 066 7135129 after 6.00p.m Bookings is essential as space is limited.
KILFLYNN CITY RUNNING GROUP
Exciting news, our website is now live and open for registrations.
https://kilflynncityrun.net
Our multi terrain Event takes in all the high points of Kilflynn breath-taking views. A stunning half marathon and 10k that starts and finishes in Kilflynn village taking in all that Kilflynn has to offer from stunning views to hidden trails and pathways.
Put the date of April 1st 2023 in your diary, sign up and support the amazing charity of Bru Columbanus. The inaugural Kilflynn city running group  stacks half and 10k is an event not to be missed.
SPLIT THE BUCKET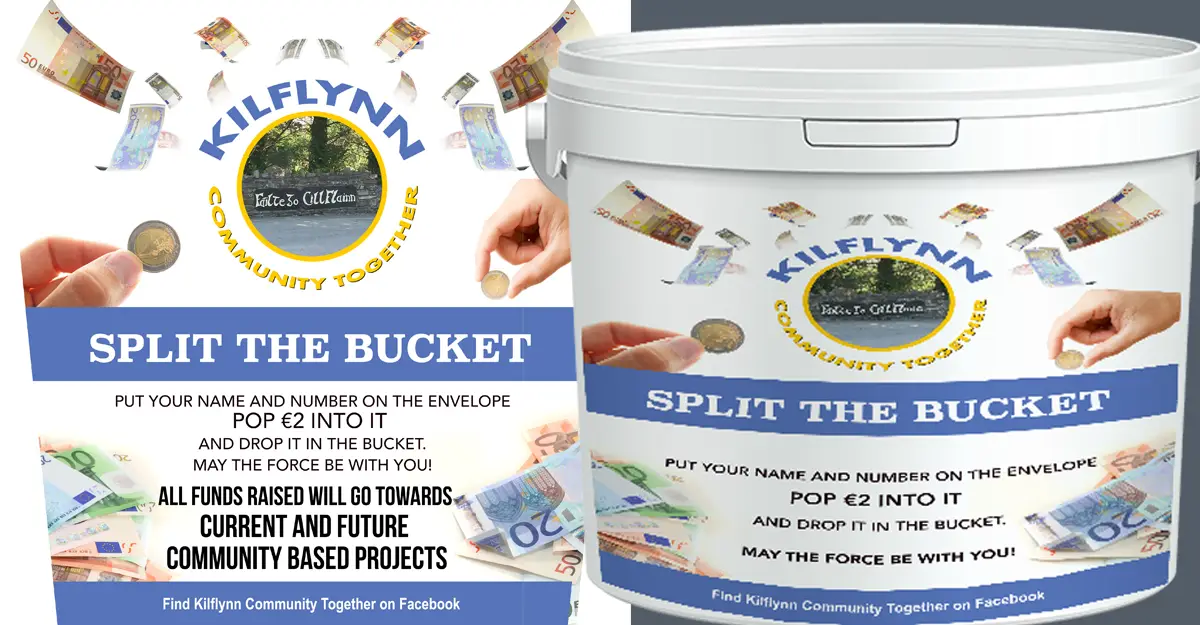 Aoibhinn Brady, Crotta, Kilflynn was the winner of Kilflynn Community Together Split The Bucket draw for January at Herbert's Bar on Saturday 4th February. Congratulations Aoibhinn who won €140. The winning ticket was drawn by Margaret Quinlan, Ballyconnell, Kilflynn and bought in Parker's Pub. As always, thank you for your continued support.
The next draw takes place in Parker's Pub, Kilflynn on Saturday 25th February at 10.30p.m Get your entries in (as many as you like) before the 25th February. It could be your lucky Night!
We have buckets at various businesses around Kilflynn, Parkers Pub, Herbert's Bar and Zam Zam Kebab. The concept of the draw is simple, simply place your €2 into the envelope at the venue, write your name and phone on the envelope and you could possibly 'split the bucket!' Funds raised will be used for projects that will benefit and improve Kilflynn. Your support is greatly appreciated.
ST. MARY'S CHURCH, KILFLYNN
Mass Intention for the week in St. Mary's Church
On Friday 10th  February at  10.00a.m Sat. 11th February at 11.00 a.m. (Our Lady of Lourdes). Mass for the sick of the parish will be celebrated in Kilflynn Church at 11 a.m., during which the Sacrament of the Anointing of the Sick will be given and Saturday 12th February at 6.00 p.m. Mary Canning, Crotta
Parish Office can be contacted by phone 066 4018996 Tuesday, Thursday & Friday 10.00 a.m. to 1.00 p.m. or by email: abbeydorney@dioceseofkerry.ie
Masses from St. Bernard's Church, Abbeydorney are streamed live on www.dioceseofkerry.ie, on Sunday at 10 a.m. Go to Abbeydorney Parish and click on watch live Mass. Webcam has been installed in Kilflynn Church – To watch Masses go to www.dioceseofkerry.ie – Abbeydorney Parish and click on 'watch Mass'. Diocesan
BEREAVEMENTS
The death has occurred of Mary Josephine (nee McElligott) McCarthy (Cork Street, Kinsale and late of Fahavane Kilflynn, on Monday 30thJanuary, peacefully at Aperee Living Belgooly, beloved wife of the late Leo.
On behalf of the community, we offer our sincere sympathy to her son, Michael and daughter Olive, grandchildren Brendan, Colm, Aoife and Ryan, daughter-in-law Bridie, son-in-law Paul, sisters Josephine Hayes and Elizabeth Barrett, relatives and friends.
The death has occurred of Pat Fahey, Ballyrehan, Lixnaw, and late of Windgap, Rathgormack, Co. Waterford. Peacefully, on Thursday 2ndFebruary, at his home, surrounded by his loving family. Beloved husband of the late Helen and brother of the late Jimmy, Eddie, Martin and Mary.
On behalf of the community, we offer our sincere sympathy to his son Tommy, daughters Maura and Patricia, grandchildren Stephanie, Micheál, Pádraig, Daniel, Patrick, Nathan, Diarmuid, Sarah and great-grandchildren Eamon and Willow, brothers Denny, John and Tommy (U.S.A), sisters Peggy Curry (Waterford), Kathleen O'Sullivan (Ballybunion) and Helen McElligott (U.S.A), daughter-in-law Margaret, sons-in-law Eamon and Donal, brothers-in-law, sisters-in-law, nephews, nieces, extended family, neighbours and friends. May They Rest in Peace
KERRY SENIOR HURLERS
NATIONAL HURLING LEAGUE DIVISION 2A ROUND 1
Derry 0-14 Kerry 2-22
The Kerry hurlers have opened their National League Division 2A campaign with a 14-point win away to Derry at Celtic Park, Derry on Saturday, 4th February with goals from Eoin Ross and sub Paudie O'Connor complementing 11 converted frees from Podge Boyle in a performance that will have greatly pleased manager Stephen Molumphy. The Crotta Hurling Club was represented by Sean Weir and Cillian Trant on the Kerry panel. Kerry was fully deserving of the win and they should take on Carlow in Austin Stack Park next Sunday confident of making it back-to-back wins, even if the Leinster men will provide a much sterner test.
Best wishes to the Kerry players and their management.
CROTTA LOTTO RESULTS
The Crotta hurling club weekly lotto draw was held on Monday 6th February at Parker's Pub, Kilflynn.
The Four numbers drawn out of the drum by the independent observer: Graham Harris, Clounsillagh, Lixnaw were 12,16,27 and 30. There was no winner of the 2,700 Jackpot. Congratulations to the following who won €35 in the lucky dip draw: Jessica Cronin, Hillview, Knocknacaska Kilflynn, Patrick O'Halloran, Fearann Flainn, Kilflynn, and Donnchadh Maunsell, Abbeydorney.
The next draw will take place in Parker's Pub, Kilflynn. on Monday 13th February at 10.30p.m with a €2,800 Jackpot.
Tickets available 3 for €5 online visit www.crottagaa.club or this link https://play.clubforce.com/play_newa.asp?ll_id=427#Anchor or Herbert's Bar/Village Store, Parker's Pub, Zam Zam Kabab, Foley Shop Lixnaw, Abbeydorney Post Office or from Club ticket sellers. Many thanks to all who contribute to our weekly Club Lotto. The Club cannot emphasise enough the importance of our members promoting the Club Lotto among family, friends, and work colleagues. Your continued support is greatly appreciated. We would like to wish all our patrons a very Happy Christmas and a healthy New Year.
KILFLYNN TODDLER GROUP
The Kilflynn toddler group meets up every Thursday mornings in St. Columbus Centre, Kilflynn at 10.00-11.30 am
ABBEYDORNEY/KILFLYNN ST. VINCENT DE PAUL
Confidential number 087 7086253. St. Vincent de Paul Society clothes can be donated locally at the Disposal Facility at Abbeydorney GAA Complex or the Railway Bar Car Park, Lixnaw. Your support is greatly appreciated.
ALONE
Alone are currently looking for befriending volunteers in your area. Visit www.alone.ie for more details and to sign up. If you have concerns about your own wellbeing or are an older person who would like to receive ALONE's Support & Befriending services, contact ALONE on 0818 222 024 from 8am – 8pm, seven days a week